Monday
January 19, 2004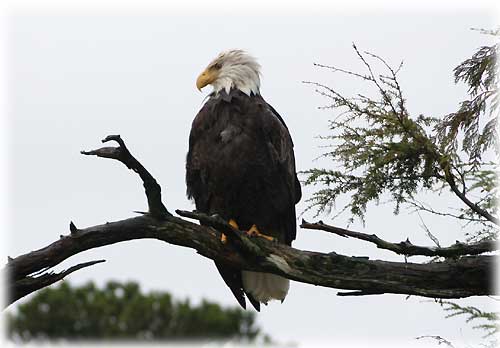 'Eagle'
photo by Carl Thompson
Profile America: Today, the nation pauses to honor Dr. Martin Luther King Jr. - born on January 15, 1929, and assassinated April 4, 1968. The holiday marks King's fight for equality for everyone through nonviolent means. His hopes for America's future were embodied in his famous "I have a dream" speech in Washington, D.C. His dream was that the national creed - that all are created equal - would become reality. Today, America's diverse population continues to work toward that dream, including 230-million whites, 36-million African Americans, 11-million Asians and nearly 3-million American Indians and Alaska natives. About 37- million of the U.S. population are of Hispanic origin. You can find these and more facts about America from the U.S. Census Bureau.

National: Martin Luther King, Jr. Day - In proclaiming Monday, January 19th as Martin Luther King, Jr. Day, President George W. Bush said, "On the Martin Luther King, Jr., Federal Holiday, our Nation honors an American who dedicated his life to the fundamental principles of freedom, opportunity, and equal justice for all. Today, all Americans benefit from Dr. King's work and his legacy of courage, dignity, and moral clarity."
The President said, "Forty years ago this past August, on the steps of the Lincoln Memorial, Dr. King spoke passionately of his dream for America. He dreamed of an America where all citizens would be judged by the content of their character and not by the color of their skin. He dreamed of an America where all would enjoy the riches of freedom and the security of justice. He dreamed of an America where the doors of opportunity would be open to all of God's children." - Read more...
Monday - January 19, 2004 - 12:15 am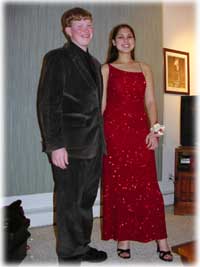 People of Ketchikan
Ketchikan High School's Winter Ball was held this past weekend. Pictured are Ketchikan High School Junior Lan Sivertsen & his date, Victoria Pilcher.
Photo by Gigi Pilcher
Alaska Science: On the Track of the Wolverine - Skiing on a remote river, I saw a hairy creature trotting toward me. When the wolverine spotted me, it popped up in the air like an antelope, landed like a cat, and bounced away into the high country of the Wrangell Mountains.
Nicknamed the devil bear, woods devil or carcajou, the wolverine has a Latin name, Gulo gulo, that means "glutton." The few biologists who have studied wolverines in Alaska say wolverines don't deserve that label.
"They're hard-pushing animals, with a lot of perseverance. They're on the go all the time," said biologist Audrey Magoun, who studied wolverines in the Brooks Range for her 1985 Ph.D. thesis at the University of Alaska. "Wolverines have a weasel personality, only they're about 30 times bigger." Magoun said she loves to study wolverines because so little is known about them. Legends of wolverines wrecking traps and trashing cabins are common, she said, but the actual events are rare because wolverines numbers are low, and they avoid people.
Craig Gardner, an Alaska Department of Fish and Game biologist in Tok who did graduate research on wolverines, found that only about five wolverines roamed every thousand square kilometers in southcentral Alaska where he did his research. "Take the wolf numbers in that area and divide by five, and you've got a pretty good estimate of the number of wolverines," he said. - Read more...
Monday - January 19, 2004 - 12:15 am
Ketchikan Volunteer Fire Department
circa 1905 - Photographer: Harriet Hunt
Donor: Bertha Hunt Wells,
Courtesy Tongass Historical Society
June Allen Column
Ketchikan's Volunteer Legacy; Buckets to hydrants to hi-tech

A fire department in any community, large or small, commands citizen respect. When fire sirens blare, traffic obediently tries to pull over and people hold their breaths - hoping it's not their house, their business, their school or anyone they know. Fire has been a frightening scourge in history from Nero in Rome to Chicago's Mrs. O'Leary to Ketchikan's Bill Mitchell. As new American communities sprang up in the "Go west, young man" spirit of the nineteenth century, one of the first things responsible pioneers did was establish fire departments. When the westward-ho movement reached the Pacific coast and the settlement-surge angled north, fire departments were among the very first organizations founded in Alaska. - Read the rest of this story...
Thursday - January 15, 2004 - 12:50 am

Read more stories by June Allen...
June Allen's Column Is Made Possible In-Part By These Local Sponsors:
Madison Lumber & Hardware, Inc. ~ Downtown Drugstore ~ Alaska Glass & Supply ~ Sourdough Bar Liquor Store ~ Davies-Barry Insurance ~ Sitnews...
Weather

---

E-mail your news tips, stories, news releases & photos to:
editor@sitnews.org

E-mail large photo files to
photos@sitnews.org

Edited by Dick Kauffman:
editor@sitnews.org

E-mail the Webmaster:
webmaster@sitnews.org

Sitnews
Stories in the News
©1999 - 2003
Ketchikan, Alaska

Published online since
August 2000

'Our Troops'


---

Copyright Applies - Please obtain written permission before reproducing photographs, features, columns, etc. that are published on Sitnews.

Sitnews is not a
commercial web site.