Saturday
January 10, 2004
21 Candidates Vie For Seats On Charter Commission
Pictured: Richard Tombaugh; Joseph E. Johnston; Mike Sallee; Robert G. Reeser; Brad Finney; and Mike Painter's forum representative...
Candidates Mike Painter, David A. Albertson, Joel Jackson and Joe Williams
were unable to attend the forum and photos are unavailable.
Thursday's Front Page Photos Friday's Front Page Photos
Photos by Carl Thompson - Graphic by MC Kauffman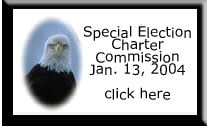 January 2004
Click on the date to read the stories & to view photos published on that day...

| | | | | | | |
| --- | --- | --- | --- | --- | --- | --- |
| S | M | T | W | T | F | S |
| 28 | 29 | 30 | 31 | 1 | 2 | 3 |
| 4 | 5 | 6 | 7 | 8 | 9 | 10 |
| 11 | 12 | 13 | 14 | 15 | 16 | 17 |
| 18 | 19 | 20 | 21 | 22 | 23 | 24 |
| 25 | 26 | 27 | 28 | 29 | 30 | 31 |

Ketchikan: Watch Web Movies of Statments Made by Candidates at the Charter Commission Candidates Forum - Twenty-one candidates have filed for 7 seats on the Charter Commission. Eighteen candidates participated in a forum sponsored by the Greater Ketchikan Chamber of Commerce Wednesday evening. The special election is Tuesday, January 13, 2004. - Learn more about the candidates, view movies of their statements...
Last updated: Friday - January 09, 2003 - 1:30 am
GCI will be broadcasting the entire forum this weekend on GCI Cable channel 11.
Saturday at 12:00PM; Sunday at 2:00PM; and Monday at either 5:30 or 6:00PM (to be announced)
National: Farmed salmon more toxic than wild salmon, study finds; Eating farmed salmon may pose health risks - A study of more than two metric tons of North American, South American and European salmon has shown that PCBs and other environmental toxins are present at higher levels in farm-raised salmon than in their wild counterparts.
Researchers at Indiana University and five other research centers say increased toxin levels in farm-raised salmon may pose health risks to people who eat the economically important fish. Their study, which appears in this week's (Jan. 9) Science, is the most comprehensive analysis to date of salmon toxin concentrations. - Read more...
Saturday - January 10, 2003 - 1:00 am
Alaska: Wild Alaskan Salmon a Healthy Choice Says Governor; Calls Study on Farmed Salmon "Enlightening" - Alaska Governor Frank Murkowski on Friday called the recent study outlining the risks associated with farmed salmon enlightening and said it was an important finding. The study led by Indiana University chemistry professors found that salmon farmed in pens in countries like Norway and Chile revealed higher levels of cancer causing toxins and contaminants compared with wild Alaskan salmon. - Read more...
Saturday - January 10, 2003 - 1:00 am
Alaska: Earth-Observing Project a Big Deal for Alaska - Alaska sits on the collision point of two of Earth's colossal plates, which makes the state North America's leader in earthquakes and volcanic eruptions. This unstable perch has also made Alaska part of a huge national study that local scientists are calling "a dream come true." - Read more...
Saturday - January 10, 2003 - 1:00 am
Dr. Wynelle Snow
Photo courtesy KGH
Ketchikan: Wynelle Snow, MD, achieves APA Fellow-status - Wynelle Snow, MD, psychiatrist for PeaceHealth Psychiatry Services, has been approved for Fellow status in the American Psychiatric Association (APA). Four current Fellows of the APA supported her application and recommended her for this honor. The letter Snow received from the Association states, "the honor of Fellow reflects your dedication to the work of the APA and the psychiatric profession." - Read more...
Saturday - January 10, 2003 - 1:00 am

Ketchikan: Listen to this story... The Ketchikan Gateway Borough is defending its decision to award the sale or lease of property in Herring Cove to Alaska Rainforest Sanctuary, even though the company did not present the borough with a sealed bid. The company - which is partially owned by the Borough Mayor's son - offered less money than the only official bidder. Deanna Garrison reports.
KRBD - Ketchikan Public Radio - linked Saturday - January 10, 2004

Ketchikan: Listen to this story... As many as 20 timber sales totaling 138 million board feet of timber could be cancelled in an offer announced Friday. Under the offer, the U.S. Forest Service would allow successful bidders to walk away from Tongass Timber sales purchased as far back as 1995. Jay Marble has this report.
KRBD - Ketchikan Public Radio - linked Saturday - January 10, 2004
Courthouse Hill, 1912
Photographer: Harriet Elizabeth Hunt; Donor: Ketchikan Public Library;
Courtesy Tongass Historical Society
June Allen Column

Thanks, Ladies, for the Library; From Bookcase to Building(s) - One thing Ketchikan's founding fathers didn't think of was a library. In their 1900 petition for Incorporation of the city - and thereby for the ability to qualify for outside assistance as well as the right to raise local taxes to pay for community needs - one of the first things those men had been thinking of was the need for a school. In fact, there were those fellows who were certain their down-south sweethearts or wives would refuse to join them in the wilds of Revilla Island if there were no school for their children! And so the first schoolhouse was promptly built. As mothers arrived with their children and newcomer families also began to arrive, Ketchikan promised to grow. And it was the women of Ketchikan who thought immediately of the need for a library. - Read the rest of this story by June Allen...
Thursday - January 01, 2004 - 1:00 am

Read more stories by June Allen...
June Allen's Column Is Made Possible In-Part By These Local Sponsors:
Madison Lumber & Hardware, Inc. ~ Downtown Drugstore ~ Alaska Glass & Supply ~ Sourdough Bar Liquor Store ~ Davies-Barry Insurance ~ Sitnews...