Friday
January 09, 2004
21 Candidates Vie For Seats On Charter Commission
Pictured: Glen Thompson; A. Fred Miller; Justin L. Carro;
Jerry L. Kiffer; Eric Muench; & Kevin Murphy
Photos by Carl Thompson - Graphic by MC Kauffman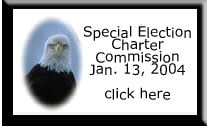 January 2004
Click on the date to read the stories & to view photos published on that day...

| | | | | | | |
| --- | --- | --- | --- | --- | --- | --- |
| S | M | T | W | T | F | S |
| 28 | 29 | 30 | 31 | 1 | 2 | 3 |
| 4 | 5 | 6 | 7 | 8 | 9 | 10 |
| 11 | 12 | 13 | 14 | 15 | 16 | 17 |
| 18 | 19 | 20 | 21 | 22 | 23 | 24 |
| 25 | 26 | 27 | 28 | 29 | 30 | 31 |

Ketchikan: Watch Web Movies of Statments Made by Candidates at the Charter Commission Candidates Forum - Twenty-one candidates have filed for 7 seats on the Charter Commission. Eighteen candidates participated in a forum sponsored by the Greater Ketchikan Chamber of Commerce Wednesday evening. The special election is Tuesday, January 13, 2004. - Learn more about the candidates, view movies of their statements...
Friday - January 09, 2003 - 1:30 am
GCI will be broadcasting the entire forum this weekend on GCI Cable channel 11.
Saturday at 12:00PM;
Sunday at 2:00PM; and
Monday at either 5:30 or 6:00PM (to be announced)
Eagle-Human Transformation Dance Rattle. Norman Jackson, 2003.
Carved yellow cedar, paint, creek pebbles, spruce root. 10.5 x 5 in.
Photo courtesy Ketchikan Museums

Ketchikan: RASMUSON FOUNDATION AWARDS ART GRANTS TO KETCHIKAN MUSEUMS - Thanks to generous grants from the Rasmuson Foundation, three important artworks by Ketchikan artists have recently been acquired for the permanent collection of the Ketchikan Museums. Leaping Salmon Sharks, a diptych of mixed media drawings by Ray Troll; Eagle-Human Transformation, a painted, yellow-cedar dance rattle by Tlingit carver Norman Jackson; and Aleut Hunter, an oil painting by Mary Ida Henrikson, were all purchased through a new Rasmuson Foundation program, the Art Acquisition Initiative. The Rasmuson Foundation created The Art Acquisition Initiative early in 2003 to encourage and support practicing Alaskan artists by helping museums within the state to purchase their work. The program is administered by Museums Alaska, the statewide association of museums.
Leaping Salmon Sharks is currently displayed at the Tongass Historical Museum, as part of Ray Troll's traveling exhibit, Sharkabet: A Sea of Sharks from A to Z. Norman Jackson's rattle was recently exhibited in the Totem Heritage Center's Student and Instructor Art Show. Mary Ida Henrikson's painting was shown at the Tongass Historical Museum in 1998, in conjunction with Qajaq: Kayaks of Siberia and Alaska, a traveling exhibit from the Alaska State Museum. It is currently at the Anchorage Museum of History and Art, where it is in consideration for inclusion in the upcoming All-Alaska Juried Art Exhibition. - More art photos...
Friday - January 09, 2003 - 1:30 am
Courthouse Hill, 1912
Photographer: Harriet Elizabeth Hunt; Donor: Ketchikan Public Library;
Courtesy Tongass Historical Society
June Allen Column

Thanks, Ladies, for the Library; From Bookcase to Building(s) - One thing Ketchikan's founding fathers didn't think of was a library. In their 1900 petition for Incorporation of the city - and thereby for the ability to qualify for outside assistance as well as the right to raise local taxes to pay for community needs - one of the first things those men had been thinking of was the need for a school. In fact, there were those fellows who were certain their down-south sweethearts or wives would refuse to join them in the wilds of Revilla Island if there were no school for their children! And so the first schoolhouse was promptly built. As mothers arrived with their children and newcomer families also began to arrive, Ketchikan promised to grow. And it was the women of Ketchikan who thought immediately of the need for a library. - Read the rest of this story by June Allen...
Thursday - January 01, 2004 - 1:00 am

Read more stories by June Allen...
June Allen's Column Is Made Possible In-Part By These Local Sponsors:
Madison Lumber & Hardware, Inc. ~ Downtown Drugstore ~ Alaska Glass & Supply ~ Sourdough Bar Liquor Store ~ Davies-Barry Insurance ~ Sitnews...