Latest news & features from hundreds of sources:
Updated throughout the day - every day!
Déjà Vu
Front Page Photo by Carl Thompson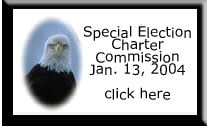 Candidate Forum
Wednesday, January 7th
6:00 - 8:00PM
Ketchikan High School Auditorium
Hosted by the
Chamber of Commerce
January 2004
Click on the date to read the stories & to view photos published on that day...

| | | | | | | |
| --- | --- | --- | --- | --- | --- | --- |
| S | M | T | W | T | F | S |
| 28 | 29 | 30 | 31 | 1 | 2 | 3 |
| 4 | 5 | 6 | 7 | 8 | 9 | 10 |
| 11 | 12 | 13 | 14 | 15 | 16 | 17 |
| 18 | 19 | 20 | 21 | 22 | 23 | 24 |
| 25 | 26 | 27 | 28 | 29 | 30 | 31 |
Ketchikan: Funding Available for Fishing and Maritime Training Programs - The University of Alaska Southeast Ketchikan has $2,000 available in funding resources for people in Southeast Alaska employed in fishing and fishing related industries and their families to take UAS course work. The deadline to seek this funding is Monday, January 12, 2004.
Eligible persons can have part or all of tuition and fees funded to take fisheries technology or maritime training courses at the UAS Ketchikan Technical Center. The funding is provided through a grant from American Seafoods Company with matching money from UAS Ketchikan. - Read more...
Wednesday - January 07, 2003 - 12:40 am
Alaska: AST Report 67 Arrests Statewide For DUI Over Holidays - Tuesday, the Alaska State Trooopers released their statewide holiday DUI enforcement statistics.
"Although there are still drivers who choose to take the risk and drive after drinking, we think that a lot of people are getting the message that it's just not worth it," said Colonel Julia Grimes, director of the Alaska State Troopers. "We hope that people who made the extra effort during the holidays will continue the practice of not drinking and driving. It is just as true today as it was over the holidays, if you drive hammered you'll get nailed."
According to information provided by the AST, between December 19th and January 4th, Alaska State Troopers made 67 arrests for Driving Under the Influence. - Read more...
Wednesday - January 07, 2003 - 12:40 am

Ketchikan: FLY Dance Company To Perform In Ketchikan - When hip hop meets Vivaldi, what happens is out of the ordinary. On January 27th at 7:30pm at the Kayhi auditorium, the audience of FLY Dance Company will get to witness the graceful, athletic, and hilarious results of such a collision. FLY Dance Company is an all-male group of self-taught street dancers aged 21 to 25. Director Kathy Wood, veteran choreographer and show producer, has melded their style, moves, and tricks with contemporary choreography and staging to produce a fresh, new dance style.
FLY dance performances are marked by youthful energy, risk-taking, and the obvious joy that the dancers have for dancing. They have performed in such varied venues as the Kennedy Center's Imagination Celebration, the Boys and Girls Clubs of America Convention, and the Cirque du Soleil Opening Night Party, not to mention wowing audiences in concert halls all over America and Europe. Imagine a cold January night enlivened by amazing dance to an eclectic mix of music, ranging from Vivaldi to your do-wop favorites from the fifties, and ending up with the raging blues of B.B. King. - Read more...
Wednesday - January 07, 2003 - 12:40 am
Alaska: Marijuana Legalization Initiative Certified - Lieutenant Governor Loren Leman on Tuesday notified sponsors of the initiative petition 01MRNA, "An Act to Decriminalize and Regulate Cannabis (Hemp Including Marijuana)" that their initiative has been certified for placement on the November 2, 2004 General Election ballot. - Read more...
Wednesday - January 07, 2003 - 12:40 am
Alaska & Nationwide: American Lung Association calls on governors and legislatures to stand up for public health; Report card shows many states failing to protect the public with proven tobacco policies - While there were bright spots in 2003, according to the American Lung Association State of Tobacco Control 2003 report card most states are not taking the necessary measures to protect children and adults from the deadly effects of tobacco smoke. The American Lung Association looked at laws on smoking in the workplace, cigarette taxes, youth access to tobacco and funding of smoking prevention programs. Sadly, most states failed to make the grade, and the fact remains that more than 440,000 people die from tobacco-related illnesses each year. - Read more...
Wednesday - January 07, 2003 - 12:40 am
Courthouse Hill, 1912
Photographer: Harriet Elizabeth Hunt; Donor: Ketchikan Public Library;
Courtesy Tongass Historical Society
June Allen Column

Thanks, Ladies, for the Library; From Bookcase to Building(s) - One thing Ketchikan's founding fathers didn't think of was a library. In their 1900 petition for Incorporation of the city - and thereby for the ability to qualify for outside assistance as well as the right to raise local taxes to pay for community needs - one of the first things those men had been thinking of was the need for a school. In fact, there were those fellows who were certain their down-south sweethearts or wives would refuse to join them in the wilds of Revilla Island if there were no school for their children! And so the first schoolhouse was promptly built. As mothers arrived with their children and newcomer families also began to arrive, Ketchikan promised to grow. And it was the women of Ketchikan who thought immediately of the need for a library. - Read the rest of this story by June Allen...
Thursday - January 01, 2004 - 1:00 am

Read more stories by June Allen...
June Allen's Column Is Made Possible In-Part By These Local Sponsors:
Madison Lumber & Hardware, Inc. ~ Downtown Drugstore ~ Alaska Glass & Supply ~ Sourdough Bar Liquor Store ~ Davies-Barry Insurance ~ Sitnews...
Weather

---

E-mail your news tips, stories, news releases & photos to:
editor@sitnews.org

E-mail large photo files to
photos@sitnews.org

Edited by Dick Kauffman:
editor@sitnews.org

E-mail the Webmaster:
webmaster@sitnews.org

Sitnews
Stories in the News
©1999 - 2003
Ketchikan, Alaska

Published online since
August 2000

'Our Troops'


---

Copyright Applies - Please obtain written permission before reproducing photographs, features, columns, etc. that are published on Sitnews.

Sitnews is not a
commercial web site.