Saturday
January 17, 2004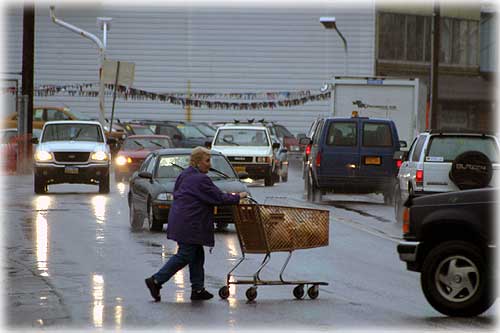 'Rush Hour'
photo by Carl Thompson
Alaska: Canadians To Conduct Bradfield Road Overview - Representative Peggy Wilson (R-Wrangell) reported that Greg Halsey-Brandt British Columbia Minister of State in the BC provincial government recently announced his government's intention to perform an overview of Alaska's proposed Bradfield-Iskut road. The Alaska Department of Transportation and Public Facilities has a study underway to demonstrate the effects of such a road on the economies of southern Southeast Alaska communities and to an extent the impacts on BC communities including but not limited to Prince Rupert. - Read more...
Saturday - January 17, 2004 - 12:30 am

Ketchikan: Listen to this story... The Ketchikan City Council Thursday night voted to lift parking restrictions on the preferred site for the proposed Ketchikan Community Center for the Arts. The Council also voted to create a new Public Safety Director position. Deanna Garrison has this report.
KRBD - Ketchikan Public Radio - linked Friday - January 16, 2004 - 10:44 pm

Ketchikan: Listen to this story... One of the area's local airlines is further reducing its winter schedule. A bad economy, problems with the U.S. Post Office and improved ferry service are all factors that PROMECH cites as reason for cutting back. Jay Marble has this report.
KRBD - Ketchikan Public Radio - linked Friday - January 16, 2004 - 10:44 pm
Thank you Ketchikan
Pictured from left to right: Mr. and Mrs. Davies from Salvation Army, Heather Phelps and Dawn Jahnke from Credit Union One, Jackie Freeman President of P.A.T.H., Kate Vikstrom from Ketchikan General Hospital, and Trooper Mark Eldridge with Alaska State Troopers. - Photo courtesy The Plaza Mall

Ketchikan: Plaza's Teddy Bear Adoption Campaign A Success - On January 15th, The Plaza staff said their final goodbyes to the last of the Teddy Bears that staff said "were donated by so many wonderful people in our community."
According to information provided by Plaza Marketing Assistant Blaine Ashcraft, the Plaza's Teddy Bear adoption campaign was started back in May with no idea of the response that it would receive. Blaine noted that "as the word got out, more and more of the little furry fellows came in, and in they came!" By the time the holiday season had arrived Plaza Manager Penny Eubanks and Ashcraft knew that their holiday visualization would become a realization.
Before adoption, the Teddy Bears had starring roles in the Plaza's holiday decor, which dressed out the Plaza through the holiday season keeping with The Plaza's Holiday Theme "A Beary Merry Christmas". - Read more...
Saturday - January 17, 2004 - 12:30 am
Ketchikan Volunteer Fire Department
circa 1905 - Photographer: Harriet Hunt
Donor: Bertha Hunt Wells,
Courtesy Tongass Historical Society
June Allen Column
Ketchikan's Volunteer Legacy; Buckets to hydrants to hi-tech

A fire department in any community, large or small, commands citizen respect. When fire sirens blare, traffic obediently tries to pull over and people hold their breaths - hoping it's not their house, their business, their school or anyone they know. Fire has been a frightening scourge in history from Nero in Rome to Chicago's Mrs. O'Leary to Ketchikan's Bill Mitchell. As new American communities sprang up in the "Go west, young man" spirit of the nineteenth century, one of the first things responsible pioneers did was establish fire departments. When the westward-ho movement reached the Pacific coast and the settlement-surge angled north, fire departments were among the very first organizations founded in Alaska. - Read the rest of this story...
Thursday - January 15, 2004 - 12:50 am

Read more stories by June Allen...
June Allen's Column Is Made Possible In-Part By These Local Sponsors:
Madison Lumber & Hardware, Inc. ~ Downtown Drugstore ~ Alaska Glass & Supply ~ Sourdough Bar Liquor Store ~ Davies-Barry Insurance ~ Sitnews...
Weather

---

E-mail your news tips, stories, news releases & photos to:
editor@sitnews.org

E-mail large photo files to
photos@sitnews.org

Edited by Dick Kauffman:
editor@sitnews.org

E-mail the Webmaster:
webmaster@sitnews.org

Sitnews
Stories in the News
©1999 - 2003
Ketchikan, Alaska

Published online since
August 2000

'Our Troops'


---

Copyright Applies - Please obtain written permission before reproducing photographs, features, columns, etc. that are published on Sitnews.

Sitnews is not a
commercial web site.