Thursday
January 15, 2003
Ketchikan Volunteer Fire Department
circa 1905 - Photographer: Harriet Hunt
Donor: Bertha Hunt Wells, Courtesy Tongass Historical Society

it's not their house, their business, their school or anyone they know. Fire has been a frightening scourge in history from Nero in Rome to Chicago's Mrs. O'Leary to Ketchikan's Bill Mitchell. As new American communities sprang up in the "Go west, young man" spirit of the nineteenth century, one of the first things responsible pioneers did was establish fire departments. When the westward-ho movement reached the Pacific coast and the settlement-surge angled north, fire departments were among the very first organizations founded in Alaska. - Read the rest of this story...
Thursday - January 15, 2004 - 12:50 am

June Allen's Column Is Made Possible In-Part By These Local Sponsors:
Madison Lumber & Hardware, Inc. ~ Downtown Drugstore ~ Alaska Glass & Supply ~ Sourdough Bar Liquor Store ~ Davies-Barry Insurance ~ Sitnews...

News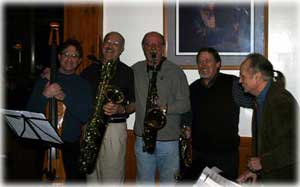 "Jazz Classics"
Left to right: Bob Bloom (Bass), Lynn Caldwell (Sax), Bob Kindred of New York (Sax), Dale Curtis (Trumpet) and Bernie Hendricks (Piano)
Photo by Carl Thompson -

Bob Kindred is from New York City. Kindred, an accomplished Sax player, is in Ketchikan for a couple of weeks teaching music to local high school students and is one of a group of people sponsored by the Ketchikan Arts and Humanities Council to teach and perform with local talent.
The local jazz group call themselves "Jazz Classics". When asked why the name "Jazz Classics", Caldwell said because we're all "old classics". - More Photos...
---



Alaska: AARP Endorses Governor's SeniorCare Program - AARP of Alaska, which represents more than 76,000 AARP members in Alaska, has endorsed Governor Frank H. Murkowski's SeniorCare program, which is currently being considered by the Alaska State Legislature. The SeniorCare program proposal passed out of the Alaska House Health, Education and Social Services committee on Tuesday, and Senate HESS committee Wednesday of this week. - Read more...
Thursday - January 15, 2004 - 12:50 am

National: In School Testing, as in Polling, "Margin of Error" Matters; Report Shows Pitfalls of Reporting Test Results for Small Groups - One of the many requirements of the federal "No Child Left Behind" Act (NCLB) is the public reporting of test results to document whether students are making "adequate yearly progress" (AYP) in school. As a result, newspapers across the country are now telling parents, students, teachers, and community members how schools are doing. In many cases, schools are being labeled as "failing" under NCLB. But what does it all mean? Researcher Theodore Coladarci of the University of Maine warns that, when it comes to reporting test scores-particularly those for small schools-a little caution is in order. - Read more...
Thursday - January 15, 2004 - 12:50 am
National: No cow left behind; Professor advocates testing of all cows for mad cow disease - For the first time in history, the United States is faced with a confirmed case of bovine spongiform encephalopathy (BSE) or mad cow disease within its borders, but according to Northeastern University professor of chemistry Ira Krull there are many more undocumented cases just waiting to be discovered. - Read more...
Thursday - January 15, 2004 - 12:50 am
Columnists

Joann Flora Column: Chinese New Year: HAPPY 4701; THE YEAR OF THE MONKEY! - January 22nd, begins the 15 day celebration of Chinese New Year. You may enjoy participating in this unique event designed to get us off on the right foot for the new year.
Even in the west, we can benefit from this ancient tradition. Preparation, the Festival, and Superstitions are the three components of the Chinese New Year Celebration. - Read more & view the photo gallery...
Thursday - January 15, 2004 - 12:50 am
Mike Reagan Column: It's Not a Campaign, It's a Temper Tantrum - If I had to find a definition for the Democrat campaign for the presidency it would be that it's a temper tantrum.
I just can't believe that America would want a party that thinks throwing fits of anger is an appropriate form of campaigning for the highest office in the land. The thought of a president - the most powerful man in the world - winning office by campaigning on a platform of hatred is frightening. - Read more...
Thursday - January 15, 2004 - 12:50 am
Weather

---

E-mail your news tips, stories, news releases & photos to:
editor@sitnews.org

E-mail large photo files to
photos@sitnews.org

Edited by Dick Kauffman:
editor@sitnews.org

E-mail the Webmaster:
webmaster@sitnews.org

Sitnews
Stories in the News
©1999 - 2003
Ketchikan, Alaska

Published online since
August 2000

'Our Troops'


---

Copyright Applies - Please obtain written permission before reproducing photographs, features, columns, etc. that are published on Sitnews.

Sitnews is not a
commercial web site.