Friday
January 16, 2004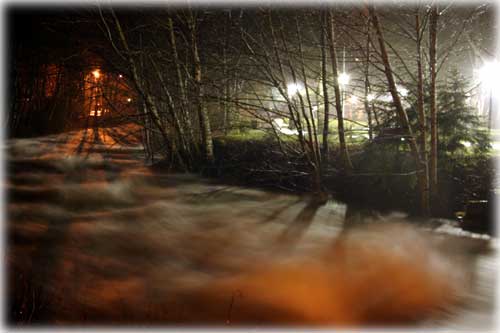 'Illusion'
Front Page Photo by Carl Thompson

Ketchikan: Listen to this story... The Ketchikan City Council Thursday night voted to lift parking restrictions on the preferred site for the proposed Ketchikan Community Center for the Arts. The Council also voted to create a new Public Safety Director position. Deanna Garrison has this report.
KRBD - Ketchikan Public Radio - linked Friday - January 16, 2004 - 10:44 pm

Ketchikan: Listen to this story... One of the area's local airlines is further reducing its winter schedule. A bad economy, problems with the U.S. Post Office and improved ferry service are all factors that PROMECH cites as reason for cutting back. Jay Marble has this report.
KRBD - Ketchikan Public Radio - linked Friday - January 16, 2004 - 10:44 pm
Ketchikan: Assembly Member Sarber Suffers Stroke - Gateway Borough Assembly member Maggie Sarber is being treated at Harborview Hospital in Seattle after suffering a stroke a week ago. She was medivaced south Jan. 8. Her husband, Frank, is with her in Seattle.
Maggie is serving the second of two terms on the Ketchikan Borough Assembly. She previously served on the Ketchikan school board.
Since her retirement as pharmacist and manager of Stenford's Pharmacy some years ago, she most recently has been working part-time at Island Pharmacy. - Photo courtesy Maggie Sarber...
Friday - January 16, 2004 - 1:25 pm
Alaska: Casino talk gets attention; GAMBLING: "White elephant building'' could become gleaming mecca for players. - Just imagine: A huge gleaming casino in Anchorage, staffed with blackjack dealers from Bush Alaska and buzzing with well-heeled gamblers from Taiwan, Japan and Korea. - Read this story...
Anchorage Daily News - Friday - January 16, 2004

Alaska: State says video poker could raise $80 million - A lottery would be a losing bet for the state, but video poker machines could generate $80 million to fund the government. - Read this story...
Anchorage Daily News - Friday - January 16, 2004

Ketchikan: State considers road from Ketchikan to Petersburg - By 2025, a trip out of Ketchikan might mean a drive to the north end of Revillagigedo Island, a ferry ride across Behm Canal and another drive across the upper Cleveland Peninsula. - Read this story...
Anchorage Daily News - Friday - January 16, 2004

Ketchikan: Listen to this story... The Ketchikan School Board Wednesday night approved a partial funding request for the Tongass School of Arts and Sciences and put off passage of an employee relationship policy. Deanna Garrison has this report.
KRBD - Ketchikan Public Radio - linked Frinday - January 16, 2004
Alaska: State ordered to negotiate on ferry contracts - The State of Alaska has been ordered to "cease and desist" its refusal to bargain with a maritime labor union over employee
contracts for the new fast ferry Fairweather. - Read this story...
Juneau Empire - Friday - January 16, 2004
Alaska: Worker faces prison term as fraud cases in Alaska exceed $2.7 million - Superior Court Judge Larry Card has imposed a four-year prison sentence with two years suspended and 10 years of probation on an Anchorage line cook found guilty of filing more than 30 false unemployment insurance claims with the state. - Read more...
Friday - January 16, 2004 - 1:00 am
Alaska: Hoonah Forest District gets new leader - A new leader will take the reins of the Tongass National Forest's Hoonah District in February. John Baldwin, who is currently the wildlife biologist at Nebraska National Forest's Bessey Ranger District near Halsey, Neb., has been selected as the Hoonah District Ranger. Baldwin officially reports to his new position Feb. 22. - Read more...
Friday - January 16, 2004 - 1:00 am

Alaska Science: The Physics of Slapshots and Mid-ice Collisions - When two NHL hockey players collide, their pads and body tissues can absorb enough energy to power a 100-watt light bulb for a minute and a half. During the 60 minutes of a hockey game, players can burn 6,000 calories and lose up to 15 pounds. - Read more...
Friday - January 16, 2004 - 1:00 am

Ketchikan News In Photos: Lewis Motors Helps Sponsor Bowl For Kids Sake - Lewis Motors became an event sponsor for the Big Brothers Big Sisters upcoming event Bowl for Kids Sake which takes place in Ketchikan April 4th. Lewis Motors promoted BBBS of Ketchikan by offering to donate $100.00 per car sold during the month of December to BBBS.
Robert Skinner is one of the owner's of Lewis Motors of Ketchikan. Skinner is also on the Board of Directors for BBBS of Southeast Alaska and has also been very active in BBBS as a Big Brother in the school program. - Read more...
Friday - January 16, 2004 - 1:00 am

Ketchikan News In Photos: Bowl For Kids Sake Receives Support From Wal-Mart - Gretchen Klein, program manager of Big Brothers Big Sisters of Ketchikan receives a check from Wal-Mart of Ketchikan for Bowl for Kids Sake on January 15th.
Terry Smith the manager of Wal-Mart is encouraging any associate from the Ketchikan store to get involved in becoming a Big Sister or Big Brother. According to information provided by Klein, if a Wal-Mart employee donates 15 hours a quarter by becoming a Big Brother or Big Sister the corporation will give additional funding to the BBBS program. Klein said at this time there is one Wal-Mart employee signed-up to be a Big. Klein added, "We hope more get involved. Don't forget to get a team of 4-5 people for Bowl for Kids Sake." - More...
Friday - January 16, 2004 - 1:00 am
Columnist
Dick Morris Column: Hispanics: Key To GOP's Future - President Bush's immigration/amnesty proposal will probably be remembered in history as the idea that saved a political party.
By taking the lead in extending the benefits of legal protections to more than 10 million illegal immigrants now living in the United States, Bush has taken a bold and dramatic step to avert the extinction of his own party. - Read more...
Friday - January 16, 2004 - 1:00 am
Ketchikan Volunteer Fire Department
circa 1905 - Photographer: Harriet Hunt
Donor: Bertha Hunt Wells,
Courtesy Tongass Historical Society
June Allen Column
Ketchikan's Volunteer Legacy; Buckets to hydrants to hi-tech

A fire department in any community, large or small, commands citizen respect. When fire sirens blare, traffic obediently tries to pull over and people hold their breaths - hoping it's not their house, their business, their school or anyone they know. Fire has been a frightening scourge in history from Nero in Rome to Chicago's Mrs. O'Leary to Ketchikan's Bill Mitchell. As new American communities sprang up in the "Go west, young man" spirit of the nineteenth century, one of the first things responsible pioneers did was establish fire departments. When the westward-ho movement reached the Pacific coast and the settlement-surge angled north, fire departments were among the very first organizations founded in Alaska. - Read the rest of this story...
Thursday - January 15, 2004 - 12:50 am

Read more stories by June Allen...
June Allen's Column Is Made Possible In-Part By These Local Sponsors:
Madison Lumber & Hardware, Inc. ~ Downtown Drugstore ~ Alaska Glass & Supply ~ Sourdough Bar Liquor Store ~ Davies-Barry Insurance ~ Sitnews...
Weather

---

E-mail your news tips, stories, news releases & photos to:
editor@sitnews.org

E-mail large photo files to
photos@sitnews.org

Edited by Dick Kauffman:
editor@sitnews.org

E-mail the Webmaster:
webmaster@sitnews.org

Sitnews
Stories in the News
©1999 - 2003
Ketchikan, Alaska

Published online since
August 2000

'Our Troops'


---

Copyright Applies - Please obtain written permission before reproducing photographs, features, columns, etc. that are published on Sitnews.

Sitnews is not a
commercial web site.