Latest news & features from hundreds of sources:
Updated throughout the day - every day!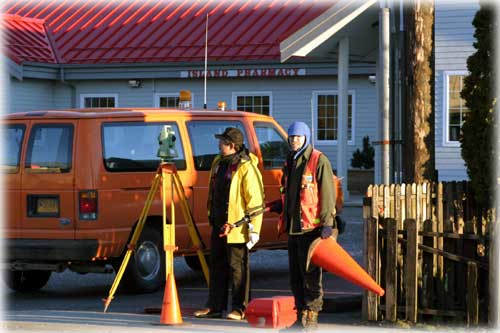 'Men at Work'
George Cottrelland and Robert Bioussard...Read more
Front Page Photo by Carl Thompson
Ketchikan: KFD Responds To Motor Home Fire - Lt. Dave Breitkreutdz of the Ketchikan Fire Department told Sitnews Sunday evening that the Ketchikan Fire Department received a call at 3:14 pm Sunday reporting a motor home fire on Stedman Street at the rock pit location south of Tatsuda's IGA.
Breitkreutdz said there was extensive fire damage to the unoccupied motor home and that the motor home was probably a total loss. He said the boat parked next to the motor home also suffered some damage.
There were no injuries and Lt. Breitkreutdz said the cause of the fire is still under investigation.
The firefighters had the job wrapped up by 4:30 pm. - More photos...
Monday - January 26, 2004 - 12:30 am
News In Photos
Williams Cuts Ribbon At KGH Van Dedication
Photo by J.C. Conley
Ketchikan: Williams Cuts Ribbon At KGH Van Dedication - Representative Bill Williams (Saxman - R) cuts the ribbon during Friday's dedication of the new long term care van for Ketchikan General Hospital. Williams was able to secure $45,000 for the final funding for the vehicle. - Photos...
Monday - January 26, 2004 - 12:30 am
Alaska: Stedman: Resources are top priority - Sen. Bert Stedman spent six months finishing the woodwork in his Sitka home, including carved banisters, Brazilian rosewood flooring and steamed cherry and padouk inlays. - Read this story...
Juneau Empire - Monday - January 26, 2004
Alaska: Native language programs running afoul of No Child Left Behind - Some western Alaska schools that for decades have taught and helped preserve the Native Yupik language are in a quandary over meeting new federal testing requirements under the No Child Left Behind Act. - Read this story...
Juneau Empire - Monday - January 26, 2004
Ketchikan Volunteer Fire Department
circa 1905 - Photographer: Harriet Hunt
Donor: Bertha Hunt Wells,
Courtesy Tongass Historical Society
June Allen Column
Ketchikan's Volunteer Legacy; Buckets to hydrants to hi-tech

A fire department in any community, large or small, commands citizen respect. When fire sirens blare, traffic obediently tries to pull over and people hold their breaths - hoping it's not their house, their business, their school or anyone they know. Fire has been a frightening scourge in history from Nero in Rome to Chicago's Mrs. O'Leary to Ketchikan's Bill Mitchell. As new American communities sprang up in the "Go west, young man" spirit of the nineteenth century, one of the first things responsible pioneers did was establish fire departments. When the westward-ho movement reached the Pacific coast and the settlement-surge angled north, fire departments were among the very first organizations founded in Alaska. - Read the rest of this story...
Thursday - January 15, 2004 - 12:50 am

Read more stories by June Allen...
June Allen's Column Is Made Possible In-Part By These Local Sponsors:
Madison Lumber & Hardware, Inc. ~ Downtown Drugstore ~ Alaska Glass & Supply ~ Sourdough Bar Liquor Store ~ Davies-Barry Insurance ~ Sitnews...
---

E-mail your news tips, stories, news releases & photos to:
editor@sitnews.org

E-mail large photo files to
photos@sitnews.org

Edited by Dick Kauffman:
editor@sitnews.org

E-mail the Webmaster:
webmaster@sitnews.org

'Our Troops'


---

Copyright Applies - Please obtain written permission before reproducing photographs, features, columns, etc. that are published on Sitnews.

Sitnews
Stories in the News
©1999 - 2003
Ketchikan, Alaska

Published online since
August 2000

Sitnews is not a
commercial web site.