Saturday
January 24, 2004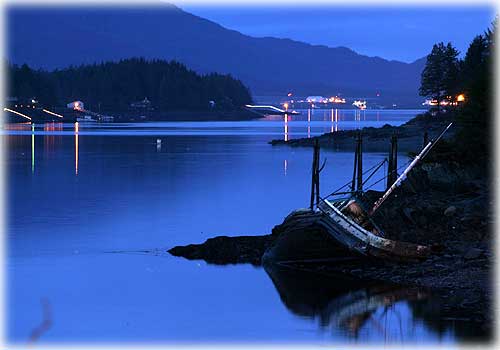 'Dawn'
Front Page Photo by Carl Thompson
January 2004
Click on the date to read the stories & to view photos published on that day...

| | | | | | | |
| --- | --- | --- | --- | --- | --- | --- |
| S | M | T | W | T | F | S |
| 28 | 29 | 30 | 31 | 1 | 2 | 3 |
| 4 | 5 | 6 | 7 | 8 | 9 | 10 |
| 11 | 12 | 13 | 14 | 15 | 16 | 17 |
| 18 | 19 | 20 | 21 | 22 | 23 | 24 |
| 25 | 26 | 27 | 28 | 29 | 30 | 31 |
Alaska: Governor Accepts Producers' Gas Pipeline Application - Friday Governor Frank Murkowski delivered letters to Conoco-Phillips, BP and Exxon saying the State of Alaska has accepted the joint application from the three major North Slope producers to enter into negotiations on terms to construct a natural gas pipeline to the Lower 48. The application is the second Stranded Gas application the Governor has announced this week, following yesterday's announcement of an application from a consortium that includes MidAmerican Energy Holding Company, Pacific Star Energy, and CIRI. - Read more...
Saturday - January 24, 2004 - 1:10 am
Alaska: Alaskan Physicians To Receive Pay Boost Under New Medicare Law - U.S. Sen. Lisa Murkowski said she welcomed news by the Department of Health and Human Services on Friday confirming that physicians in Alaska will see their Medicare payment rates increase by more than 50 percent in 2004. Total Medicare payments to doctors for services under the Medicare Physician Fee Schedule will increase by about $25 million to about $75 million in 2004, compared to roughly $50 million in 2003. - Read more...
Saturday - January 24, 2004 - 1:10 am
Ray Troll - Alaskan Artist
Photo by Chip Porter;
Courtesy Ray Troll
Ketchikan: Ray Troll's Top 5 (and then some) CD's for 2003 - 2003 was a transitional year in the world of music for me, as it was for lots of other folks just like me. I found myself adrift in a town without local record shops, and finding my way through the brave new world of free downloads and 'honest' 99 cent guilt-free songs from Itunes. Despite the downhill slide for profit making by the major music labels,the music scene is alive as ever. Several exceptionally strong records hit the younger music scene (The White Stripes, Coldplay, the Yeah, Yeah, Yeahs, Death Cab for Cutie, Jack Johnson, and Outkast all come to mind) so I'm heartened that there is a future for good music. My two teenaged kids have played them all to death around the house. While I found myself bopping along to them, the following 5 records are the ones I spent the most time with this last year. You'll see that it's been an 'old school' kinda' year for me. - Read more...
Saturday - January 24, 2004 - 1:10 am
Ketchikan: New report on visitors details who rides ferry - Visitors who traveled aboard state ferries last summer were less well-heeled than their cruise and air visitor counterparts, according to a tourism survey. - Read this story...
Anchorage Daily News - Saturday - January 24, 2004
PhysiciansSupport Smokefree Workplaces
Photo courtesy Ketchikan General Hospital
Ketchikan: Local Doctors Stand For Smokefree Workplaces - The Ketchikan General Hospital (KGH) Medical Staff has voted to support a resolution that endorses measures to protect workers and the public from secondhand tobacco smoke.
This Medical Staff resolution joins resolutions by the Alaska Association of Nurses, Revilla Island Prevention Coalition, Alaskans for Tobacco-Free Kids, KGH Prevention Services, Gateway Center for Human Services, PatchWorks, the Alaska Association of Student Governments, American Cancer Society, the American Lung Association, and Ketchikan Public Health Center calling for protections from secondhand smoke. In addition, 96 local businesses and hundreds of individuals have signed their support for smokefree public places, worksites, and restaurants in Ketchikan. - Read more...
Saturday - January 24, 2004 - 1:10 am
Red salmon, a traditional food
high in omega-3 fatty acids.
Photo by Ned Rozell.
Alaska Science: Researchers Eye Link Between Diet, Depression - During the last 50 years, Alaska Natives have eaten fewer seals from the Bering Sea and more steaks from Nebraska. The drastic change in diet that comes with the influence of another culture may be an overlooked factor in mental health problems of northern Natives, according to a team of researchers at the University of Alaska Fairbanks.
Alaska Natives and other circumpolar people have experienced "a complete change in diet from marine mammals, salmon, eggs from marine birds," said Abel Bult-Ito, an associate professor of biology with UAF's Institute of Arctic Biology. "Those have been replaced by steaks and Crisco, you name it. Plus soda--the consumption of those sort of sweetened beverages has skyrocketed." - Read more...
Saturday - January 24, 2004 - 1:10 am
Science: Earthquakes kill thousands in 2003; Deadliest year since 1990 - According to the U.S. Geological Survey (USGS), 2003 closed as the deadliest year for earthquakes since 1990, 25 times more fatal than 2002; 43,819 deaths have been reported for the past year, as confirmed by the United Nations Office for Coordination of Humanitarian Affairs (OCHA). In 2002, 1711 people died in quakes around the world; in 1990, 51,916 people were killed in various seismic events. - Read more...
Saturday - January 24, 2004 - 1:10 am
Ketchikan Volunteer Fire Department
circa 1905 - Photographer: Harriet Hunt
Donor: Bertha Hunt Wells,
Courtesy Tongass Historical Society
June Allen Column
Ketchikan's Volunteer Legacy; Buckets to hydrants to hi-tech

A fire department in any community, large or small, commands citizen respect. When fire sirens blare, traffic obediently tries to pull over and people hold their breaths - hoping it's not their house, their business, their school or anyone they know. Fire has been a frightening scourge in history from Nero in Rome to Chicago's Mrs. O'Leary to Ketchikan's Bill Mitchell. As new American communities sprang up in the "Go west, young man" spirit of the nineteenth century, one of the first things responsible pioneers did was establish fire departments. When the westward-ho movement reached the Pacific coast and the settlement-surge angled north, fire departments were among the very first organizations founded in Alaska. - Read the rest of this story...
Thursday - January 15, 2004 - 12:50 am

Read more stories by June Allen...
June Allen's Column Is Made Possible In-Part By These Local Sponsors:
Madison Lumber & Hardware, Inc. ~ Downtown Drugstore ~ Alaska Glass & Supply ~ Sourdough Bar Liquor Store ~ Davies-Barry Insurance ~ Sitnews...
Weather

---

E-mail your news tips, stories, news releases & photos to:
editor@sitnews.org

E-mail large photo files to
photos@sitnews.org

Edited by Dick Kauffman:
editor@sitnews.org

E-mail the Webmaster:
webmaster@sitnews.org

Sitnews
Stories in the News
©1999 - 2003
Ketchikan, Alaska

Published online since
August 2000

'Our Troops'


---

Copyright Applies - Please obtain written permission before reproducing photographs, features, columns, etc. that are published on Sitnews.

Sitnews is not a
commercial web site.