Latest news & features from hundreds of sources:
Updated throughout the day - every day!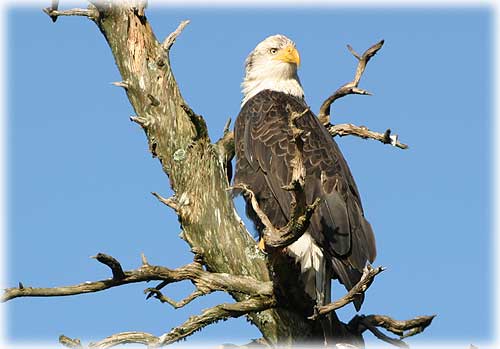 'Majestic Eagle'
View Eagle & Ravens' photo
Front Page Photo by Carl Thompson...

Ketchikan: Listen to this story... After hearing that South Tongass residents could not pay for emergency medical services without the formation of a service area, the Ketchikan Gateway Borough Assembly Monday night voted unanimously to move forward with the process of forming an EMS Service Area on the South end. As Deanna Garrison reports, The Assembly passed a resolution finding that an EMS Service Area is warranted after holding a public hearing on the question at the Saxman Tribal Hall.
KRBD - Ketchikan Public Radio - linked Tuesday - January 27, 2004 - 2:05 pm
Ketchikan: Regional Cold Storage Preliminary Grant Award Announced - Ketchikan Borough Manager Roy Eckert & the Fisheries Development Committee announced Monday that the Ketchikan Gateway Borough has received notification that it has been given a preliminary commitment from the State of Alaska for $1.4 million to begin the development of a Regional Cold Storage in Ketchikan at Ward Cove. According to information provided by Eckert, the Ketchikan Borough has donated the land at the Ward Cove Industrial Complex for the construction of the facility, and that land is to be used as the Borough's matching portion of the grant. - Read more...
Tuesday - January 27, 2004 - 1:00 am

Ketchikan: Listen to this story... The Ketchikan Gateway Borough announced Monday that the State of Alaska has preliminarily committed $1.4 million to go towards a regional cold storage plant to be built in Ward Cove. As Deanna Garrison reports, the Borough is seeking $8 million for the plant, which would be used by both fishermen and processors.
KRBD - Ketchikan Public Radio - linked Tuesday - January 27, 2004 - 1:00 am
Thule overwintering site, as reconstructed by the Canadian Museum of Civilization. It is situated at Resolute Bay, Cornwallis Island, Nunavut, which is north of the Somerset Island site.
Photo by: J.P. Smol

Arctic Science: Inuit whalers changed Arctic ecosystems long before arrival of Europeans, new study shows - New findings from Canadian scientists dispel the belief that European settlers were the first humans to cause major changes to Canadian and U.S. freshwater ecosystems.
A University of Toronto-led, multidisciplinary team including researchers from Queen's, McGill, and University of Ottawa show for the first time that prehistoric Inuit whalers dramatically altered high Arctic pond ecosystems through their hunting practices eight centuries ago - a legacy that is still evident today. - Read more...
Tuesday - January 27, 2004 - 1:00 am

Science: New study shows Neanderthals were not our ancestors - In the most recent and mathematically rigorous study to date determining whether Neanderthals contributed to the evolution of modern humans, a team of anthropologists examining the skulls of modern humans and Neanderthals as well as 11 existing species of non-human primates found strong evidence that Neanderthals differ so greatly from Homo sapiens as to constitute a different species. - Read more...
Tuesday - January 27, 2004 - 1:00 am
Alaska: Workers upgrade reindeer processing skills - A team of workers from a Mekoryuk facility that produces reindeer meat have increased their processing skills and will have seasonal jobs after graduating from a training program funded by the Alaska Department of Labor and Workforce Development.
Nuniwarmiut Reindeer and Seafood Products officials expect the workers' additional job qualifications to contribute to increased profitability and substantiate plant expansion. The Mekoryuk facility is located in western Alaska about 30 miles offshore on Nunivak Island. - Read more...
Tuesday - January 27, 2004 - 1:00 am
Ketchikan Volunteer Fire Department
circa 1905 - Photographer: Harriet Hunt
Donor: Bertha Hunt Wells,
Courtesy Tongass Historical Society
June Allen Column
Ketchikan's Volunteer Legacy; Buckets to hydrants to hi-tech

A fire department in any community, large or small, commands citizen respect. When fire sirens blare, traffic obediently tries to pull over and people hold their breaths - hoping it's not their house, their business, their school or anyone they know. Fire has been a frightening scourge in history from Nero in Rome to Chicago's Mrs. O'Leary to Ketchikan's Bill Mitchell. As new American communities sprang up in the "Go west, young man" spirit of the nineteenth century, one of the first things responsible pioneers did was establish fire departments. When the westward-ho movement reached the Pacific coast and the settlement-surge angled north, fire departments were among the very first organizations founded in Alaska. - Read the rest of this story...
Thursday - January 15, 2004 - 12:50 am

Read more stories by June Allen...
June Allen's Column Is Made Possible In-Part By These Local Sponsors:
Madison Lumber & Hardware, Inc. ~ Downtown Drugstore ~ Alaska Glass & Supply ~ Sourdough Bar Liquor Store ~ Davies-Barry Insurance ~ Sitnews...
Weather

---

E-mail your news tips, stories, news releases & photos to:
editor@sitnews.org

E-mail large photo files to
photos@sitnews.org

Edited by Dick Kauffman:
editor@sitnews.org

E-mail the Webmaster:
webmaster@sitnews.org

Sitnews
Stories in the News
©1999 - 2003
Ketchikan, Alaska

Published online since
August 2000

'Our Troops'


---

Copyright Applies - Please obtain written permission before reproducing photographs, features, columns, etc. that are published on Sitnews.

Sitnews is not a
commercial web site.