Thursday
January 29, 2004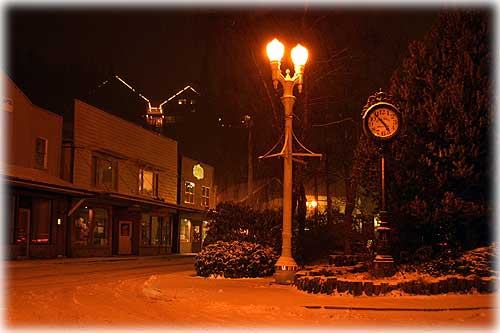 'Whale Park'
Front Page Photo by Carl Thompson...More

Ketchikan: Listen to this story... Heavy snow canceled flights and forced school administrators to close schools early Thursday and all together Friday. As Deanna Garrison reports, about a foot of snow fell in Ketchikan between Wednesday and Thursday afternoon.
KRBD - Ketchikan Public Radio - linked Thursday - January 29, 2004 - 8:00 pm

Ketchikan: Listen to this story... The State of Alaska Wednesday released its salmon forecast for 2004. As Deanna Garrison reports, the state is projecting an above-average return for pink salmon in Southeast Alaska.
KRBD - Ketchikan Public Radio - linked Thursday - January 29, 2004 - 8:00 pm

Ketchikan: Listen to this story... The newly revised Southeast Alaska Transportation Plan calls for the construction of the Bradfield road and several new ferries that would service Ketchikan. As Deanna Garrison reports, the state is holding meetings throughout the region to solicit public comment on the updated plan.
KRBD - Ketchikan Public Radio - linked Thursday - January 29, 2004 - 8:00 pm
Alaska: Judge raises Exxon damages; Punitive award from 1989 oil spill put at nearly $7 billion with interest - An Anchorage federal judge Wednesday ordered Exxon Mobil Corp. to pay $4.5 billion in punitive damages to commercial fishermen, Alaska Natives and others whose livelihoods were hurt by the 1989 oil spill in Prince William Sound. - Read this story...
Anchorage Daily News - Thursday - January 29, 2004
Alaska: Exxon Plans Quick Appeal in Valdez Case; Exxon Mobil Plans Quick Appeal on $6 Billion Damage Order From Exxon Valdez Disaster - Forming another appeals court showdown, a federal judge is ordering Exxon Mobil Corp. to pay $4.5 billion in punitive damages plus interest to thousands of Alaskans who suffered losses from the 1989 Exxon Valdez oil tanker catastrophe. - Read this story...
ABC News - Thursday - January 29, 2004
Alaska: State offers standard for qualified teachers; HOUSSE: Instructors earn points for their achievements, or take test - The federal No Child Left Behind Act requires all students to have highly qualified teachers in each of their core academic subjects by the end of the 2005-06 school year. - Read this story...
Anchorage Daily News - Thursday - January 29, 2004
Steve DeChellis, NTFD Chief
file photo by Dick Kauffman
Ketchikan: North Tongass Fire Department Ready To Respond; Will be answering all emergencies in their area Feb. 1st - North Tongass Fire Department Chief Steve DeChellis said the North Tongass Fire Department is now prepared to respond to all fires and EMS calls in the North Tongass District. DeChellis said, "As of February 1st, the North Tongass Fire Department will be answering all emergencies in their area. It's been a long and challenging road, but we did it."
Chief DeChellis said it took six-months of preparation to be able to respond to all the calls in the North Tongass District . He said, "Some people might think that 6-months was way too long for doing such a deed. As the Fire Chief with the North Tongass Fire Department, I think that we needed at least 6-months to prepare for such a task. With regards to the number of hours needed to train all of its members in fighting fires and in responding to EMS calls, getting the appropriate fire apparatus and stalking it with all the right equipment, and all other matters that need to take place prior to being ready to respond to all calls in ones area, 6-months isn't a long time at all." - Read more...
Thursday - January 29, 2004 - 12:30 am
Ken Thompson, president and CEO of Pacific Star Energy; David Sokol, chairman and CEO of MidAmerican Energy Holdings Company; Gov. Frank H. Murkowski; and Carl Marrs, president and CEO of Cook Inlet Region, Inc., pose with the shovel that the Governor presented to them last Thursday in Fairbanks, symbolizing their mutual desire to get to work on a pipeline bringing North Slope natural gas to Lower 48 markets.
Photo courtesy Office of the Governor...
Alaska: MidAmerican Natural Gas Pipeline Application Accepted - Governor Frank Murkowski announced Wednesday that the state has reviewed and accepted the application submitted last week by a consortium of companies, led by MidAmerican Energy Holdings Company, to enter negotiations on fiscal and tax issues related to building a natural gas pipeline from the North Slope to Canada. - Read more...
Thursday - January 29, 2004 - 12:30 am
Alaska: Sen. Murkowski Says It's Vital For All Gas Provisions In Energy Bill To Pass - U.S. Sen. Lisa Murkowski said Wednesday that it is vital for Congress to approve comprehensive energy legislation quickly so that regulatory and financial incentives go into effect to help move Alaska's huge reserves of natural gas to gas-starved Lower 48 markets. - Read more...
Thursday - January 29, 2004 - 12:30 am
Alaska: New Labeling Bills Would Benefit Fish Consumers - Alaska fish consumers get a heads up when peddlers of farmed or genetically modified fish are trolling for customers in Alaska under the provisions of a pair of Senate bills introduced Wednesday. - Read more...
Thursday - January 29, 2004 - 12:30 am
Alaska: Plans Announced To Protect Alaskans' Privacy Rights - Senator Gretchen Guess (D-Anchorage) and Representative Eric Croft (D-Anchorage) announced plans Wednesday to protect Alaskans' privacy rights. It was brought to their attention by a survivor of domestic violence that the list of PFD applicants and their addresses are currently public information. Although this appears benign on the surface, to victims of violent crime, disclosing their mailing address can be a terrifying and potentially life-threatening mistake. - Read more...
Thursday - January 29, 2004 - 12:30 am
National: Cyber Alert System Unveiled - The National Cyber Security Division (NCSD) of the Department of Homeland Security (DHS) on Wednesday unveiled the National Cyber Alert System, an operational system delivering to Americans timely and actionable information to better secure their computer systems. - Read more...
Thursday - January 29, 2004 - 12:30 am
Columnist
Mike Reagan: It's Time to Strike Back - Hatred of President Bush is what drives the Democratic candidates for their party's presidential nomination, says Larry Sabato, the widely respected political observer at the University of Virginia - and he thinks it's time for President Bush to wake up to that fact and go on the offensive. - Read more...
Thursday - January 29, 2004 - 12:30 am
Ketchikan Volunteer Fire Department
circa 1905 - Photographer: Harriet Hunt
Donor: Bertha Hunt Wells,
Courtesy Tongass Historical Society
June Allen Column
Ketchikan's Volunteer Legacy; Buckets to hydrants to hi-tech

A fire department in any community, large or small, commands citizen respect. When fire sirens blare, traffic obediently tries to pull over and people hold their breaths - hoping it's not their house, their business, their school or anyone they know. Fire has been a frightening scourge in history from Nero in Rome to Chicago's Mrs. O'Leary to Ketchikan's Bill Mitchell. As new American communities sprang up in the "Go west, young man" spirit of the nineteenth century, one of the first things responsible pioneers did was establish fire departments. When the westward-ho movement reached the Pacific coast and the settlement-surge angled north, fire departments were among the very first organizations founded in Alaska. - Read the rest of this story...
Thursday - January 15, 2004 - 12:50 am

Read more stories by June Allen...
June Allen's Column Is Made Possible In-Part By These Local Sponsors:
Madison Lumber & Hardware, Inc. ~ Downtown Drugstore ~ Alaska Glass & Supply ~ Sourdough Bar Liquor Store ~ Davies-Barry Insurance ~ Sitnews...
Weather

---

E-mail your news tips, stories, news releases & photos to:
editor@sitnews.org

E-mail large photo files to
photos@sitnews.org

Edited by Dick Kauffman:
editor@sitnews.org

E-mail the Webmaster:
webmaster@sitnews.org

Sitnews
Stories in the News
©1999 - 2003
Ketchikan, Alaska

Published online since
August 2000

'Our Troops'


---

Copyright Applies - Please obtain written permission before reproducing photographs, features, columns, etc. that are published on Sitnews.

Sitnews is not a
commercial web site.