Saturday
January 31, 2004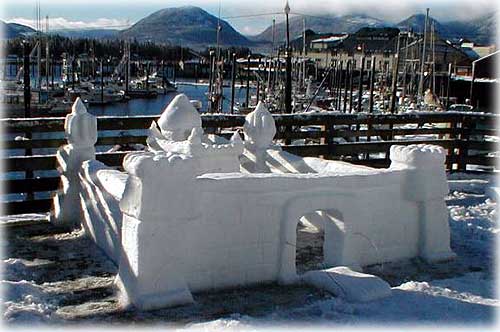 'Snow Castle'
Front Page Photo by Harley Bray
Alaska: Union Coaltion to Bargain on New Fast Ferries - The Murkowski administration's labor relations representatives have reached agreement with the representatives of the Masters, Mates, and Pilots Union (MM&P) and the Marine Engineers Beneficial Association (MEBA) to jointly represent and bargain for the licensed employees on the Fairweather class fast ferries.
State labor relations director Art Chance said, "The agreement to bargain jointly will allow for a separate contract covering the Fairweathers' unique operating conditions and the special skill sets required of its licensed crew. It was very important to the Marine Highway System that these vessels be distinct from the traditional fleet." - Read more...
Saturday - January 31, 2004 - 1:10 am
Alaska: Stedman Says Bill Would Help Small-Boat Fishermen - Sen. Bert Stedman (R-Sitka) introduced legislation Friday that he says will make the Fisheries Business Tax more fair for direct market fishermen.
"This bill will encourage fishermen who want to focus on quality and process their harvest in Alaska," Stedman said. "By marketing their own value-added products, fishermen can become more integrated into the supply chain. SB 286 helps them take that step by providing fairness in the tax structure. It will put money in the pockets of small business fishermen throughout coastal Alaska." - Read more...
Saturday - January 31, 2004 - 1:10 am
Alaska: Seward Doctor Convicted of Writing Fraudulent Prescriptions - The State convicted Seward medical doctor Robert Fox on Wednesday of a felony drug charge for writing fraudulent prescriptions.
In pleading guilty to a charge of fourth degree misconduct involving controlled substances. Fox admitted to the court that between October 2002 and March 2003 he wrote prescriptions for narcotic medications that were not medically necessary, and then obtained the drugs for his personal use. Because he wrote the prescriptions for Medicaid recipients, the state Medicaid program paid for the drugs. - Read more...
Saturday - January 31, 2004 - 1:10 am
Alaska: Municipal Bond Bank Sells Bonds for Sitka, Fairbanks; State's AA Credit Rating Benefits Municipalities - The first bond issue of the Alaska Municipal Bond Bank Authority in 2004 will save the City of Fairbanks and the City and Borough of Sitka approximately $345,000. Savings are achieved by the strong credit rating of the Bond Bank, and efficiency in operation by pooling multiple community bonds into one Bond Bank bond issue. In 2003 the Bond Bank saved Alaskans more than $5 million in reduced debt payments by issuing $120.8 million in tax-exempt bonds for low cost loans to ten communities.
On February 5 the Alaska Municipal Bond Bank Authority will close on $19,985,000 in general obligation bonds to provide funding for projects in the City of Fairbanks and the City and Borough of Sitka. The 20-year bonds, carrying an insured rating of AAA, were purchased at competitive sale by Wachovia Securities, LLC at an interest rate of 3.69%. Of the four firms that submitted bids, Wachovia provided the Bond Bank with the lowest interest rate on the bonds. - Read more...
Saturday - January 31, 2004 - 1:10 am
Death of a Temperature Inversion
Fairbanks meteorologist Jim Brader measures 30 below zero at Fairbanks International Airport, often one of the coldest spots in town during a temperature inversion.
Ned Rozell photo...
Alaska: Death of a Temperature Inversion - Fairbanks, Alaska experiences one of the most extreme temperature inversions on the planet. During a temperature inversion, hilltops are warmer than valleys as warm air traps cold air beneath it. To measure this phenomenon-which is caused by short days, low winds, and hills that form walls around a town-I rigged my car with an outdoor thermometer and enlisted Jim Brader to drive me around Fairbanks. Brader is a meteorologist with the National Weather Service Office in Fairbanks.
The digital thermometer attached to my ski rack read minus 28 Fahrenheit when I met Brader at his house near Creamer's Field in Fairbanks. Creamer's Field is a low spot in Fairbanks where cold air often pools in both summer and winter.
The temperature rose to minus 21 as Brader drove into the heart of Fairbanks at the corner of Cushman Street and Second Avenue. The rise in temperature might have been due to Fairbanks' "heat island" effect, Brader said. Warmth leaking from buildings and absorbed by asphalt often makes cities warmer than outlying areas. - Read more...
Saturday - January 31, 2004 - 1:10 am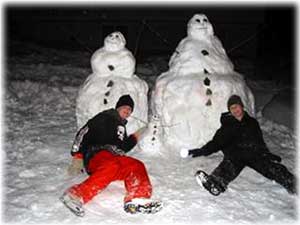 'Snow People'
Photo by Cindy Moody
People of Ketchikan: Tim Murphy and Bryan Moody enjoy a 'snow' day off from school Friday relaxing with the snow people they created. (Larger photo)
Columnist
Dick Morris: Dems' Race Ain't Over Yet - Most analyses of the New Hampshire results miss the point. In fact, the Democratic nomination probably won't be decided by a contest in which John Kerry beats Howard Dean and never really has to come to terms with also-rans like John Edwards and Wesley Clark.
Only the liberal wing of the Democratic Party has reached a conclusion in its designation of Kerry as their finalist for the nomination. There is still a big opening for a moderate candidate such Edwards or Clark.
Remember, the one-two finishers in New Hampshire were favorite sons from next-door states: Massachusetts' Kerry and Vermont's Dean. It was quite natural that they'd draw two-thirds of the votes, especially considering the amount of time each has spent in that state. But it doesn't mean the nomination is over or that a liberal will necessarily win.
Democrats held two primaries on Tuesday in New Hampshire. In the liberal contest, Kerry bested Dean by a sufficient margin to endanger the ex- governor's candidacy. But the moderate primary was essentially a three-way tie -Edwards and Clark at 12 percent each, with Joe Lieberman only slightly behind at 9 percent. - Read more...
Saturday - January 31, 2004 - 1:10 am
Ketchikan Volunteer Fire Department
circa 1905 - Photographer: Harriet Hunt
Donor: Bertha Hunt Wells,
Courtesy Tongass Historical Society
June Allen Column
Ketchikan's Volunteer Legacy; Buckets to hydrants to hi-tech

A fire department in any community, large or small, commands citizen respect. When fire sirens blare, traffic obediently tries to pull over and people hold their breaths - hoping it's not their house, their business, their school or anyone they know. Fire has been a frightening scourge in history from Nero in Rome to Chicago's Mrs. O'Leary to Ketchikan's Bill Mitchell. As new American communities sprang up in the "Go west, young man" spirit of the nineteenth century, one of the first things responsible pioneers did was establish fire departments. When the westward-ho movement reached the Pacific coast and the settlement-surge angled north, fire departments were among the very first organizations founded in Alaska. - Read the rest of this story...
Thursday - January 15, 2004 - 12:50 am

Read more stories by June Allen...
June Allen's Column Is Made Possible In-Part By These Local Sponsors:
Madison Lumber & Hardware, Inc. ~ Downtown Drugstore ~ Alaska Glass & Supply ~ Sourdough Bar Liquor Store ~ Davies-Barry Insurance ~ Sitnews...
Weather

---

E-mail your news tips, stories, news releases & photos to:
editor@sitnews.org

E-mail large photo files to
photos@sitnews.org

Edited by Dick Kauffman:
editor@sitnews.org

E-mail the Webmaster:
webmaster@sitnews.org

Sitnews
Stories in the News
©1999 - 2003
Ketchikan, Alaska

Published online since
August 2000

'Our Troops'


---

Copyright Applies - Please obtain written permission before reproducing photographs, features, columns, etc. that are published on Sitnews.

Sitnews is not a
commercial web site.