Friday
January 30, 2004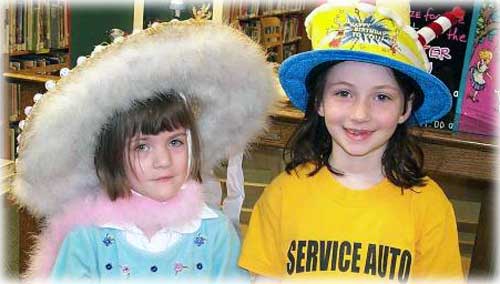 Annual Mad Hatter Tea Party
Alyssa Jackson and Jilliane Fazakerly and their spectacular hats...
Alyssa Jackson was the winner of the "Zaniest Hat" contest with her great "Birdnest and Tea set" hat. - Read more & view photos...
Photo courtesy Ketchikan Public Library, Debbie Gravel

Listen to this story... Alaska Marine Highway employees turned out in force Thursday night for a state hearing on the newest revision of the Southeast Alaska Transportation Plan. As Deanna Garrison reports, the majority of the public hearing participants opposed the state's plan to replace mainliner ferries with a series of fast ferries and day shuttles.
KRBD - Ketchikan Public Radio - linked Friday - January 30, 2004 - 7:45 pm

Listen to this story... The Inter-Island Ferry Authority is asking for proposals from architects and engineers on two big projects. As Jay Marble reports, the IFA wants updated design plans for the motor vessel Stikine and a design plan for new terminal facilities at Hollis.
KRBD - Ketchikan Public Radio - linked Friday - January 30, 2004 - 7:45 pm
Ketchikan & Statewide: Conference of Alaskans Taps Talents of Residents From Across the State; Bob Weinstein of Ketchikan Among Delegates Chosen - Mike Burns, chairman of the Conference of Alaskans, announced the 55 delegates to the Conference of Alaskans Thursday afternoon in Anchorage.
According to information provided by the Conference of Alaskans, the 55 participants selected represent a broad-based, bipartisan cross section of Alaskans, with representation from Kiana to Ketchikan, and Unalakleet to Copper Center. Rural and urban Alaska will be represented at the conference, along with a diverse group of individuals representing various segments of Alaska's population.
The gathering was proposed by Governor Frank H. Murkowski in the State of the State address. The Governor has asked delegates to develop a concensus on the role of the Permanent Fund in the state's future. The Conference of Alaskans will meet in Fairbanks from February 10-12 to discuss four issues referred to it by the Governor. - Read more...
Friday - January 30, 2003 - 1:00 am
Alaska: State Files Amicus Brief in Bristol Bay Case - Attorney General Gregg Renkes filed an "amicus brief" Wednesday in the case of Alakayak v. All Alaska Seafoods, Inc. challenging the proposed payment of nearly $12 million in attorneys fees plus $4.5 million in expenses to lawyers who lost a case last year for Bristol Bay fishermen. The fishermen's attorneys claimed that several fish processors violated antitrust laws by conspiring to set the price of salmon in Bristol Bay. The case went to trial in February of 2003, and a jury found that no price-fixing occurred. - Read more...
Friday - January 30, 2003 - 1:00 am

Alaska: Toxic Farmed Salmon (Listen to this story) - Health officials have consistently said a diet that includes fish such as salmon lowers the chance of heart disease and other ailments. And while that advice remains true today, scientists who just completed a study of contaminants in the world's salmon supply say not all salmon are safe to eat. Doug Schneider has more. Listen to this story...
Arctic Science Journeys Radio - linked Friday - January 30, 2004
Ketchikan Volunteer Fire Department
circa 1905 - Photographer: Harriet Hunt
Donor: Bertha Hunt Wells,
Courtesy Tongass Historical Society
June Allen Column
Ketchikan's Volunteer Legacy; Buckets to hydrants to hi-tech

A fire department in any community, large or small, commands citizen respect. When fire sirens blare, traffic obediently tries to pull over and people hold their breaths - hoping it's not their house, their business, their school or anyone they know. Fire has been a frightening scourge in history from Nero in Rome to Chicago's Mrs. O'Leary to Ketchikan's Bill Mitchell. As new American communities sprang up in the "Go west, young man" spirit of the nineteenth century, one of the first things responsible pioneers did was establish fire departments. When the westward-ho movement reached the Pacific coast and the settlement-surge angled north, fire departments were among the very first organizations founded in Alaska. - Read the rest of this story...
Thursday - January 15, 2004 - 12:50 am

Read more stories by June Allen...
June Allen's Column Is Made Possible In-Part By These Local Sponsors:
Madison Lumber & Hardware, Inc. ~ Downtown Drugstore ~ Alaska Glass & Supply ~ Sourdough Bar Liquor Store ~ Davies-Barry Insurance ~ Sitnews...
Weather

---

E-mail your news tips, stories, news releases & photos to:
editor@sitnews.org

E-mail large photo files to
photos@sitnews.org

Edited by Dick Kauffman:
editor@sitnews.org

E-mail the Webmaster:
webmaster@sitnews.org

Sitnews
Stories in the News
©1999 - 2003
Ketchikan, Alaska

Published online since
August 2000

'Our Troops'


---

Copyright Applies - Please obtain written permission before reproducing photographs, features, columns, etc. that are published on Sitnews.

Sitnews is not a
commercial web site.