Wednesday
February 11, 2004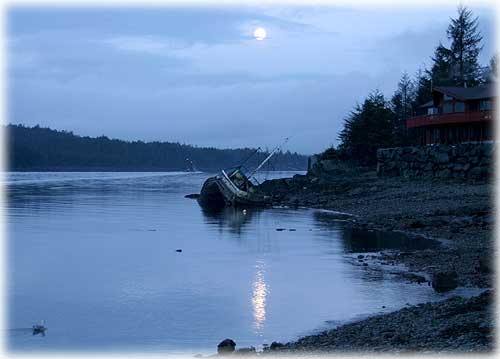 'Home From the Sea'
photo by Carl Thompson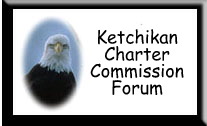 KCC Information
Agendas, Minutes,
Informational Packets,
Commissions' Comments
Public Comments
Last updated Feb. 11, 2004
February 2004
Click on the date to read the stories & to view photos published on that day...

| | | | | | | |
| --- | --- | --- | --- | --- | --- | --- |
| S | M | T | W | T | F | S |
| 1 | 2 | 3 | 4 | 5 | 6 | 7 |
| 8 | 9 | 10 | 11 | 12 | 13 | 14 |
| 15 | 16 | 17 | 18 | 19 | 20 | 21 |
| 22 | 23 | 24 | 25 | 26 | 27 | 28 |
| 29 | | | | | | |
Alaska: POMV plan wins informal thumbs-up; Delegates to vote on endowment plan at end of Fairbanks conference Thursday - A new method of managing the Alaska Permanent Fund would prevent the possibility of a zero dividend, a scenario that Alaskans faced last year, according to the fund's trustees. - Read this story...
Juneau Empire - Wednesday - February 11, 2004
Alaska: Hammond shakes up conference agenda with his proposal for state's fiscal woes - It didn't take long for delegates to the Conference of Alaskans to stray from the agenda set by Gov. Frank Murkowski. - Read this story...
Juneau Empire - Wednesday - February 11, 2004
Alaska: Legislature feels pressure on school funding - Pressure is mounting on the Legislature to put more money into education as school districts around the state write budgets that call for deep staff cuts next year. - Read this story...
Fairbanks Daily News Miner - Wednesday - February 11, 2004
Alaska: Governor Appeals to Delegates to Do What is Right - Speaking to the opening session of the 3-day Conference of Alaskans, Governor Frank H. Murkowski on Tuesday appealed to delegates to "do what they think is right." The Governor evoked the memory of Alaska's Constitutional Convention in 1955, when politics were left at the door to do what was right for Alaska.
Murkowski noted that in his 30-years of public service, he had never "stood on a threshold like this and looked so clearly into the face of our future. I cannot remember so much opportunity, condensed into such a concentrated moment in time for Alaska."
"This is our date with destiny," Murkowski said. "This is our shining hour. You are the face of our state and in the next three days, you will be the architect of its future."
Murkowski called upon delegates not to get bogged down with what they thought would "fly" with the Legislature, but to recommend the right public policy for the future. He also reiterated his request that they concentrate their time on finding answers to the four policy questions he had asked of them. - Read more...
Wednesday - February 11, 2004 - 12:50 am
Alaska: Drivers Urged To Check Child Safety Devices During Child Passenger Safety Week - Attorney General Gregg Renkes sent a memo to Alaska law enforcement personnel asking them to give extra attention to child safety device laws in recognition of Child Passenger Safety Week, which runs February 8 to 14. The memo was partially in response to concerns expressed by the public about enforcement of child safety restrain laws. Car accidents are the leading cause of death for children ages 2 to 14. Many of these lives can be saved by properly using child car restraints.
"We all need to stop and ask ourselves whether we are making the extra effort to keep our children safe," Renkes said. "I urge parents to make sure their children are buckled into the proper type of safety seat before even starting the car. Child safety seats save lives."
"We cannot stress enough how important it is for children to use the proper safety device in the car," added Colonel Julia Grimes, Director of the Alaska State Troopers. "It is important for everyone to wear their seatbelts, but it is especially important for children."
Child safety seats in passenger cars reduce the risk of death by 71 percent for infants, and by 54 percent for toddlers. Children ages 4 to 7 who use booster seats are 59 percent less likely to be injured in a car accident than children restrained only by a safety belt.- Read more...
Wednesday - February 11, 2004 - 12:50 am

More Alaska & Ketchikan News
Joann Flora Column
Compliments to Your Health: Listening To The Groundhog - Last week, the groundhog poked his head above the snow, saw his shadow and decided we'd have six more weeks of winter. That being said, it's important to remember that along with the winter months come health considerations. By continuing to follow some basic cold and flu season guidelines, we can make it till spring with minimal inconvenience. - Read more...
Wednesday - February 11, 2004 - 12:50 am
Wrangel Island, which is located off the northern coast of Eastern Siberia and straddles the East Siberian Sea and the Chukchi Sea.
Credit: Jacques Descloitres, MODIS Land Rapid Response Team, courtesy NASA...
June Allen Column
A Story of an Unfriendly Arctic Island
And the heroine who survived it
There is a desolate island in the Chukchi Sea on the frigid top of the planet. It is 83 miles north of the coast of Siberia and it is named Wrangel Island - Wrangel with one L. It is roughly kidney-shaped and said to be about 80 miles long and 18 to 30 miles across, with a cluster of low mountains at its center. During the warmth of its very brief summer, rivers flow north and south over rolling tundra to the sea. Along the frosty riverbanks are buried the bones of a race of woolly mammoths, evidence of dwarfed survivors of a larger race of Russian Steppe mammoths of perhaps 20,000 or 30,000 years ago. The island today is inhabited by a tiny Russian-Eskimo settlement and is largely visited by polar bears, seals, foxes, ducks and geese and the occasional scientist from around the world. - Read the rest of this story...
Monday - February 02, 2004 - 1:00 am

Read more stories by June Allen...
June Allen's Column Is Made Possible In-Part By These Local Sponsors:
Madison Lumber & Hardware, Inc. ~ Downtown Drugstore ~ Alaska Glass & Supply ~ Sourdough Bar Liquor Store ~ Davies-Barry Insurance ~ Sitnews...
Weather

---

E-mail your news tips, stories, news releases & photos to:
editor@sitnews.org

E-mail large photo files to
photos@sitnews.org

Edited by Dick Kauffman:
editor@sitnews.org

E-mail the Webmaster:
webmaster@sitnews.org

Sitnews
Stories in the News
©1999 - 2003
Ketchikan, Alaska

Published online since
August 2000

'Our Troops'


---

Copyright Applies - Please obtain written permission before reproducing photographs, features, columns, etc. that are published on Sitnews.

Sitnews is not a
commercial web site.