Wednesday
February 04, 2004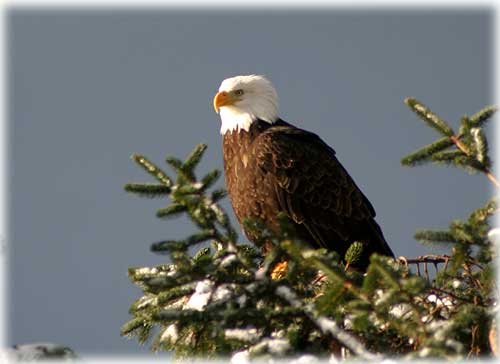 Alaska: Murkowski wants speedy resolution on 2005 taxes - Gov. Frank Murkowski is pressing GOP legislative leaders to either pass $100 million in taxes this year or come up with their own plan to close a gaping budget hole. - Read this story...
Fairbanks Daily News Miner - linked - Wednesday - February 04, 2004

Ketchikan: Listen to this story...The Ketchikan Gateway Borough Assembly on Monday voted to drop its bid to expand the borough boundaries. As Deanna Garrison reports, the annexation plan was seen as a way to increase the Borough's timber receipt revenue and was widely opposed throughout the region.
KRBD - Ketchikan Public Radio - linked - Wednesday - February 04, 2004

Ketchikan: Listen to this story... During Monday night's Ketchikan Gateway Borough Assembly meeting, the Assembly voted to postpone action on a contract bid for the Borough's new sludge treatment plant. The move came after considerable discussion about whether the project needed to include a composting facility. Deanna Garrison has this report.
KRBD - Ketchikan Public Radio - linked - Wednesday - February 04, 2004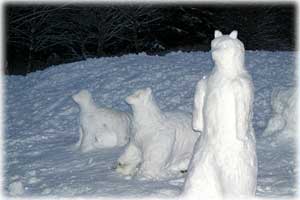 Snow Bears
Papa Bear, Mama Bear and Baby Bear
photo by Carl Thompson
These south of Ketchikan snow bears were created by Boyd and Diane Porter with help from their family and friends.
Ketchikan: Oral History Forums To Be Sponsored By UAS Ketchikan - From February 5th to March 25th, the Southeast Alaska Native Oral History Forums, sponsored by UAS Ketchikan, will be held from 6:00 to 7:30pm each Thursday evening at the UAS Ketchikan Technical Center, Robertson Building Room 116 located at 600 Stedman. There will not be a forum on March 4th.
The forums will showcase and preserve the knowledge of cultural teachers and elders from three local native tribes: Haida, Tlingit and Tsimshian. - Read more...
Wednesday - February 04, 2004 - 1:15 am
Alaska: State Joins Brief to Support Constitutionality of Telephone Privacy Laws - Attorney General Gregg Renkes signed an "amicus" or "friend of the court" brief last week supporting the constitutionality of North Dakota's telephone privacy laws. Alaska joined seven other states on the brief in a case before the Eighth Circuit Court of Appeals.
"We joined the brief to support the states' authority to regulate telephone solicitations to protect consumers from fraud and invasion of their privacy," Renkes said. "Consumers do not want the peace of their homes disturbed by unwanted telemarketing calls." - Read more...
Wednesday - February 04, 2004 - 1:15 am
Columnist
Dick Morris: Hillary's Veepstakes - The demise of Howard Dean's candidacy opens the door to a Kerry/Clinton ticket in 2004. As long as Dean was favored to get the nomination, Hillary likely wasn't interested in the second slot on the ticket. With the Vermont governor almost certain to go down to a massive defeat, Hillary probably wanted no part in the ensuing carnage. But now that the Democrats have a real chance to win, it makes all kinds of sense to offer her the nomination and for her to accept it.
Very few vice-presidential candidates can actually win votes for the top of the ticket: Hillary can. She is the most popular Democrat in the nation. And a woman vice presidential candidate - particularly Hillary - would electrify the Democratic base and guarantee a huge turnout. It would transform a campaign into a crusade.
The voters she'd alienate? Already voting for Bush. And much as they might like to, they can't vote against Hillary more than once (one hopes). - Read more...
Wednesday - February 04, 2004 - 1:15 am
Wrangel Island, which is located off the northern coast of Eastern Siberia and straddles the East Siberian Sea and the Chukchi Sea.
Credit: Jacques Descloitres, MODIS Land Rapid Response Team, courtesy NASA...
June Allen Column
A Story of an Unfriendly Arctic Island
And the heroine who survived it
There is a desolate island in the Chukchi Sea on the frigid top of the planet. It is 83 miles north of the coast of Siberia and it is named Wrangel Island - Wrangel with one L. It is roughly kidney-shaped and said to be about 80 miles long and 18 to 30 miles across, with a cluster of low mountains at its center. During the warmth of its very brief summer, rivers flow north and south over rolling tundra to the sea. Along the frosty riverbanks are buried the bones of a race of woolly mammoths, evidence of dwarfed survivors of a larger race of Russian Steppe mammoths of perhaps 20,000 or 30,000 years ago. The island today is inhabited by a tiny Russian-Eskimo settlement and is largely visited by polar bears, seals, foxes, ducks and geese and the occasional scientist from around the world. - Read the rest of this story...
Monday - February 02, 2004 - 1:00 am

Read more stories by June Allen...
June Allen's Column Is Made Possible In-Part By These Local Sponsors:
Madison Lumber & Hardware, Inc. ~ Downtown Drugstore ~ Alaska Glass & Supply ~ Sourdough Bar Liquor Store ~ Davies-Barry Insurance ~ Sitnews...
Weather

---

E-mail your news tips, stories, news releases & photos to:
editor@sitnews.org

E-mail large photo files to
photos@sitnews.org

Edited by Dick Kauffman:
editor@sitnews.org

E-mail the Webmaster:
webmaster@sitnews.org

Sitnews
Stories in the News
©1999 - 2003
Ketchikan, Alaska

Published online since
August 2000

'Our Troops'


---

Copyright Applies - Please obtain written permission before reproducing photographs, features, columns, etc. that are published on Sitnews.

Sitnews is not a
commercial web site.