Tuesday
February 10, 2004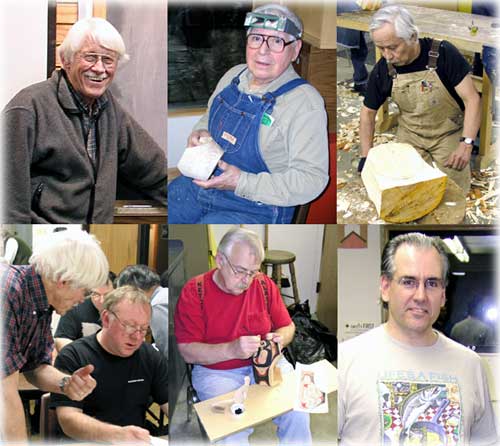 Advanced Classes Taught By Renowned Seattle Artist Bill Holm
Top L -R: Bill Holm; Ernie Smeltzer; Nathan Jackson
Bottom L-R: Bill Holm & Jack Navitsky of Sitka; Pete Richards; Bill Pfeifer
Photos courtesy Ketchikan Museums - Photo Essay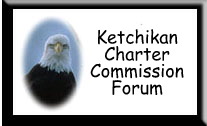 KCC Information
Agendas, Minutes,
Informational Packets,
Commissions' Comments
Last updated Feb. 09, 2004
February 2004
Click on the date to read the stories & to view photos published on that day...

| | | | | | | |
| --- | --- | --- | --- | --- | --- | --- |
| S | M | T | W | T | F | S |
| 1 | 2 | 3 | 4 | 5 | 6 | 7 |
| 8 | 9 | 10 | 11 | 12 | 13 | 14 |
| 15 | 16 | 17 | 18 | 19 | 20 | 21 |
| 22 | 23 | 24 | 25 | 26 | 27 | 28 |
| 29 | | | | | | |

Ketchikan: Listen to this story... There has been a rash of vehicle thefts in Ketchikan since the beginning of the year. Police report five car thefts in the City of Ketchikan alone since January 1st. Deanna Garrison has this report.
KRBD - Ketchikan Public Radio - linked Tuesday - February 10, 2004 - 3:40 pm

Ketchikan: Listen to this story... The number one destination for visitors traveling on Alaska Marine Highway Ferries this past summer was Anchorage, according to a recent survey released by the Marine Highway System. As Deanna Garrison reports, six of the top ten destinations for ferry travelers from out of state were either in South Central or Interior Alaska.
KRBD - Ketchikan Public Radio - linked Tuesday - February 10, 2004 - 3:40 pm
Alaska: State, Flint Hills Reach Agreement on Royalty Oil Purchase - Governor Frank Murkowski announced Monday that the State of Alaska has reached agreement with Flint Hills Resources on the sale of North Slope royalty oil for use in the North Pole refinery Flint Hills is buying from Williams. The contract allows Flint Hills to purchase up to 77,000 barrels per day for up to 10 years. - Read more...
Tuesday - February 10, 2004 - 1:10 am
Alaska: Ulmer Joins National Parks Group - Fran Ulmer, former lieutenant governor of Alaska, has joined the board of trustees of the National Parks Conservation Association (NPCA). The board is the governing body for the nonpartisan watchdog organization. - Read more...
Tuesday - February 10, 2004 - 1:10 am
Education: 'No Child Left Behind' Holds Potential for Teacher Improvement - "No Child Left Behind," the federal education reform act implemented two years ago, warrants broader support among universities for its push to strengthen teacher quality, according to a position paper by The Renaissance Group. - Read more...
Tuesday - February 10, 2004 - 1:10 am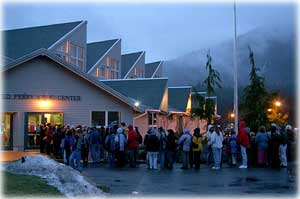 'Final Performance'
Sunday, a long line of people wait to enter the Ted Ferry Civic Center to enjoy the final performance of the Fly by Night: the 18th Annual Wearable Art Show.
Photo by Carl Thompson
Medical: Researchers Find Leptin Turns Fat-Storing Cells Into Fat-Burning Cells - Increasing leptin, a protein involved in regulating body weight, in laboratory animals transforms fat-storing cells into unique fat-burning cells, researchers at UT Southwestern Medical Center at Dallas report. They speculate that these findings could provide "a quick and safe solution" to the obesity problem in humans. - Read more...
Tuesday - February 10, 2004 - 1:10 am
Science: A shocking surprise: high voltage + rats = ozone, reopens power-line debate - Rats subjected to extreme electromagnetic fields produce dangerous levels of the toxic gas ozone, according to a new study out of the Pacific Northwest National Laboratory that is sure to reenergize the decade-dormant debate about safety around power lines and household appliances. - Read more...
Tuesday - February 10, 2004 - 1:10 am
Wrangel Island, which is located off the northern coast of Eastern Siberia and straddles the East Siberian Sea and the Chukchi Sea.
Credit: Jacques Descloitres, MODIS Land Rapid Response Team, courtesy NASA...
June Allen Column
A Story of an Unfriendly Arctic Island
And the heroine who survived it
There is a desolate island in the Chukchi Sea on the frigid top of the planet. It is 83 miles north of the coast of Siberia and it is named Wrangel Island - Wrangel with one L. It is roughly kidney-shaped and said to be about 80 miles long and 18 to 30 miles across, with a cluster of low mountains at its center. During the warmth of its very brief summer, rivers flow north and south over rolling tundra to the sea. Along the frosty riverbanks are buried the bones of a race of woolly mammoths, evidence of dwarfed survivors of a larger race of Russian Steppe mammoths of perhaps 20,000 or 30,000 years ago. The island today is inhabited by a tiny Russian-Eskimo settlement and is largely visited by polar bears, seals, foxes, ducks and geese and the occasional scientist from around the world. - Read the rest of this story...
Monday - February 02, 2004 - 1:00 am

Read more stories by June Allen...
June Allen's Column Is Made Possible In-Part By These Local Sponsors:
Madison Lumber & Hardware, Inc. ~ Downtown Drugstore ~ Alaska Glass & Supply ~ Sourdough Bar Liquor Store ~ Davies-Barry Insurance ~ Sitnews...
Weather

---

E-mail your news tips, stories, news releases & photos to:
editor@sitnews.org

E-mail large photo files to
photos@sitnews.org

Edited by Dick Kauffman:
editor@sitnews.org

E-mail the Webmaster:
webmaster@sitnews.org

Sitnews
Stories in the News
©1999 - 2003
Ketchikan, Alaska

Published online since
August 2000

'Our Troops'


---

Copyright Applies - Please obtain written permission before reproducing photographs, features, columns, etc. that are published on Sitnews.

Sitnews is not a
commercial web site.