Thursday
February 05, 2004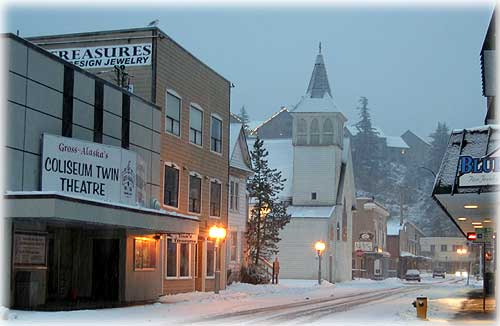 'My Home Town'
Front Page Photo by Carl Thompson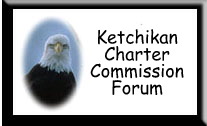 KCC Information
Agendas, Minutes,
Informational Packets
Last updated Feb. 04, 2004
February 2004
Click on the date to read the stories & to view photos published on that day...

| | | | | | | |
| --- | --- | --- | --- | --- | --- | --- |
| S | M | T | W | T | F | S |
| 1 | 2 | 3 | 4 | 5 | 6 | 7 |
| 8 | 9 | 10 | 11 | 12 | 13 | 14 |
| 15 | 16 | 17 | 18 | 19 | 20 | 21 |
| 22 | 23 | 24 | 25 | 26 | 27 | 28 |
| 29 | | | | | | |
Alaska: Governor Gives Details of Gas Pipeline Negotiations To Joint Session of Legislature - At the invitation of the President of the Senate and the Speaker of the House, Governor Frank Murkowski spoke Wednesday to a joint session of the Alaska Legislature, laying out his administration's efforts to negotiate acceptable draft contracts with two sponsor groups interested in building a pipeline to transport North Slope natural gas to markets in the Lower 48. - Read more...
Thursday - February 05, 2004 - 1:00 am
Ketchikan & Statewide: Governor Declares Feb. 7 "Joe Soloy Day"; In Memory of Pioneer Alaskan Aviator - With an executive proclamation, Governor Frank Murkowski has designated February 7, 2004, as "Joe Soloy Day" in recognition of the contributions Soloy made to Alaska aviation and to aviation safety. Soloy passed way on Sunday, February 1st in Washington state - Read more...
Thursday - February 05, 2004 - 1:00 am
Ketchikan: UAS Ketchikan Students Make Honors List - University of Alaska Southeast Ketchikan announced the names of the students making the UAS Chancellor and Dean's list for the Fall 2003 Semester.
Jane Blasingame, Joseph Branco, Jean Burns, Leslie Chapel, Anastasia Connolly, Dollee Enright, Jody Fletcher, Diane Hack, and Kerry McNeil made the Fall 2003 semester Chancellor's List. To be eligible for the Chancellor's List, a student must earn a 4.00 grade point average and complete at least 12 credit hours during the semester. - Read more...
Thursday - February 05, 2004 - 1:00 am
Alaska: Report...Inflation Erodes Education Dollars; Impact of Legislative appropriations diminish over time - A report released Tuesday by Legislative Research confirms what school districts across Alaska already know: state classroom funding, measured in inflation adjusted dollars, has fallen significantly in recent years.
"Every year the foundation formula is not increased, it's a decrease in the spending power of classroom funding," said Representative Mary Kapsner (D-Bethel). "Districts are under tremendous pressure to meet the new, underfunded federal No Child Left Behind and the state's Department of Education requirements." - Read more...
Thursday - February 05, 2004 - 1:00 am
Columnist
Mike Reagan: Lies and Slander - It's interesting to see John Kerry and Terry McAuliffe questioning Bush's status as commander in chief, falsely claiming that he was allegedly AWOL from the Air National Guard during the Vietnam War while other Democrat candidates allow their surrogates to repeat this instead of standing up and telling them, "You're wrong."
But they just let it go and say that they have a right to have their opinions and that Mr. Bush has to answer this charge. Well Mr. Bush answered this slander in the 2000 elections. So did George magazine, which did a brilliant job of investigating this whole matter on Oct. 10, 2000. They - and the New York Times as well - found the charge to be bogus ­ that the president indeed did serve his time. Yes, he did take time off to get involved in a senate campaign in Alabama but then made up the time and was given an honorable discharge - something they don't give to people who haven't lived up to their obligations. Read more...
Thursday - February 05, 2004 - 1:00 am
Wrangel Island, which is located off the northern coast of Eastern Siberia and straddles the East Siberian Sea and the Chukchi Sea.
Credit: Jacques Descloitres, MODIS Land Rapid Response Team, courtesy NASA...
June Allen Column
A Story of an Unfriendly Arctic Island
And the heroine who survived it
There is a desolate island in the Chukchi Sea on the frigid top of the planet. It is 83 miles north of the coast of Siberia and it is named Wrangel Island - Wrangel with one L. It is roughly kidney-shaped and said to be about 80 miles long and 18 to 30 miles across, with a cluster of low mountains at its center. During the warmth of its very brief summer, rivers flow north and south over rolling tundra to the sea. Along the frosty riverbanks are buried the bones of a race of woolly mammoths, evidence of dwarfed survivors of a larger race of Russian Steppe mammoths of perhaps 20,000 or 30,000 years ago. The island today is inhabited by a tiny Russian-Eskimo settlement and is largely visited by polar bears, seals, foxes, ducks and geese and the occasional scientist from around the world. - Read the rest of this story...
Monday - February 02, 2004 - 1:00 am

Read more stories by June Allen...
June Allen's Column Is Made Possible In-Part By These Local Sponsors:
Madison Lumber & Hardware, Inc. ~ Downtown Drugstore ~ Alaska Glass & Supply ~ Sourdough Bar Liquor Store ~ Davies-Barry Insurance ~ Sitnews...
Weather

---

E-mail your news tips, stories, news releases & photos to:
editor@sitnews.org

E-mail large photo files to
photos@sitnews.org

Edited by Dick Kauffman:
editor@sitnews.org

E-mail the Webmaster:
webmaster@sitnews.org

Sitnews
Stories in the News
©1999 - 2003
Ketchikan, Alaska

Published online since
August 2000

'Our Troops'


---

Copyright Applies - Please obtain written permission before reproducing photographs, features, columns, etc. that are published on Sitnews.

Sitnews is not a
commercial web site.