Friday
February 06, 2004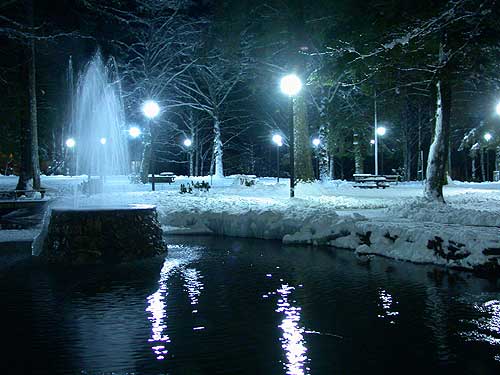 'Fountain In City Park'
Front Page Photo by Kip Tyler...More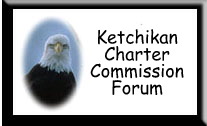 KCC Information
Agendas, Minutes,
Informational Packets
Last updated Feb. 04, 2004
February 2004
Click on the date to read the stories & to view photos published on that day...

| | | | | | | |
| --- | --- | --- | --- | --- | --- | --- |
| S | M | T | W | T | F | S |
| 1 | 2 | 3 | 4 | 5 | 6 | 7 |
| 8 | 9 | 10 | 11 | 12 | 13 | 14 |
| 15 | 16 | 17 | 18 | 19 | 20 | 21 |
| 22 | 23 | 24 | 25 | 26 | 27 | 28 |
| 29 | | | | | | |
National/World News
Alaska: Resolution Introduced To Constitutionally Protect The Permanent Fund Dividend - Republican Senators Scott Ogan, Lyda Green and Tom Wagoner of the Alaska State Legislature introduced SJR 24 Thursday, a resolution to constitutionally protect the permanent fund dividend. - Read more...
Friday - February 06, 2004 - 12:40 am
Alaska: Democrats, Former State Revenue Official, Call for End To Unjustified Oil Tax Breaks; Former Governors Hammond and Hickel say 1989 tax breaks need to be re-examined - Thursday Democratic Representatives Les Gara, Eric Croft, Beth Kerttula and David Guttenberg filed legislation which they say wil help Alaskans recover a fair share for their oil. Former Governors Jay Hammond and Wally Hickel also stated this week that it is time to review the fairness of oil tax exemptions contained in a 1989 law known as "the ELF", or Economic Limit Factor (Hammond's full statement follows). Former Deputy Commissioner of Revenue Deborah Vogt, who supports the bill, said "the proposal is well thought out, and long overdue."- Read more...
Friday - February 06, 2004 - 12:40 am
Alaska: February 6th Ronald Reagan Day - Alaska will celebrate Ronald Reagan Day today, on the President's 93 birthday. - Read more...
Friday - February 06, 2004 - 12:40 am
Alaska: Governor Proposes Alaska Veterans Home - Thursday Governor Frank Murkowski introduced a bill that designates a home in the Alaska Pioneer Home system as a state Veterans Home. The bill also enables the State of Alaska to access Veterans Benefits, Medicaid, and other sources to fund the Alaska Pioneer Home system. "Taken together, these actions serve Alaska veterans and help sustain the Pioneer Home system and the Alaska Veterans Home for future years," Murkowski said.
The Governor has endorsed the selection of the Palmer Pioneers Home for conversion to a state Veterans Home. Today, he introduced legislation to address the legal requirements to establish an Alaska Veterans Home that meets the requirements of the federal Veterans Administration. - Read more...
Friday - February 06, 2004 - 12:40 am
The terrain of Coronation Island in southeast Alaska, which Alaska biologists stocked with wolves in 1960.
Dave Klein photo...
Alaska: When Biologists Stocked Alaska with Wolves - The killing of wolves to boost moose and caribou populations in Alaska is making headlines all over the country. Back in 1960, a government program to stock an Alaska island with wolves received less attention.
Alaska had been a state for one year when its department of fish and game conducted a wolf-planting experiment on Coronation Island in southeast Alaska. At the time, the remote 45-square-mile island exposed to the open Pacific had a high density of blacktailed deer and no wolves. In 1960, biologists from Fish and Game released two pairs of wolves on the island.
The experiment was the only wolf-stocking effort undertaken in Alaska and probably the whole world at that time, said Dave Klein, a professor emeritus with the University of Alaska's Institute of Arctic Biology. Klein, who had studied deer on the island for his PhD thesis, helped the state make the decision to introduce wolves to Coronation Island.
"Alaska had just become a state and you had a brand new department of fish and game staffed with young biologists who wanted to do things based on biology rather than a mix of politics and science. It'd be much more difficult to do it now."
In 1960, Fish and Game biologists released two male and two female wolves at Egg Harbor on Coronation Island. Before they left, the researchers shot five deer to provide food for the wolves. - Read more...
Friday - February 06, 2004 - 12:40 am
Wrangel Island, which is located off the northern coast of Eastern Siberia and straddles the East Siberian Sea and the Chukchi Sea.
Credit: Jacques Descloitres, MODIS Land Rapid Response Team, courtesy NASA...
June Allen Column
A Story of an Unfriendly Arctic Island
And the heroine who survived it
There is a desolate island in the Chukchi Sea on the frigid top of the planet. It is 83 miles north of the coast of Siberia and it is named Wrangel Island - Wrangel with one L. It is roughly kidney-shaped and said to be about 80 miles long and 18 to 30 miles across, with a cluster of low mountains at its center. During the warmth of its very brief summer, rivers flow north and south over rolling tundra to the sea. Along the frosty riverbanks are buried the bones of a race of woolly mammoths, evidence of dwarfed survivors of a larger race of Russian Steppe mammoths of perhaps 20,000 or 30,000 years ago. The island today is inhabited by a tiny Russian-Eskimo settlement and is largely visited by polar bears, seals, foxes, ducks and geese and the occasional scientist from around the world. - Read the rest of this story...
Monday - February 02, 2004 - 1:00 am

Read more stories by June Allen...
June Allen's Column Is Made Possible In-Part By These Local Sponsors:
Madison Lumber & Hardware, Inc. ~ Downtown Drugstore ~ Alaska Glass & Supply ~ Sourdough Bar Liquor Store ~ Davies-Barry Insurance ~ Sitnews...
Weather

---

E-mail your news tips, stories, news releases & photos to:
editor@sitnews.org

E-mail large photo files to
photos@sitnews.org

Edited by Dick Kauffman:
editor@sitnews.org

E-mail the Webmaster:
webmaster@sitnews.org

Sitnews
Stories in the News
©1999 - 2003
Ketchikan, Alaska

Published online since
August 2000

'Our Troops'


---

Copyright Applies - Please obtain written permission before reproducing photographs, features, columns, etc. that are published on Sitnews.

Sitnews is not a
commercial web site.