Monday
February 16, 2004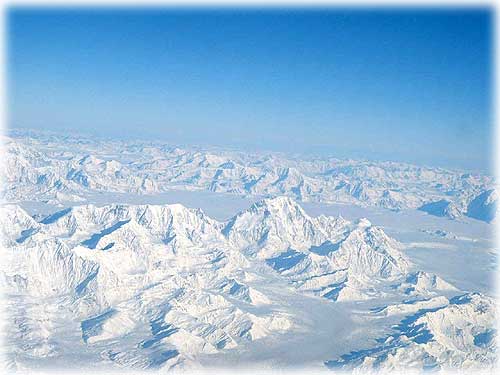 'College Ice Field'
College Ice Field near Cordova, Alaska photographed Sunday...
Front Page Photo by Chris Wilhelm
Yeda Hicks
Photo by Gigi Pilcher
Ketchikan, Saxman: Yeda Hicks Honored For Service; Retires From Saxman's Youth Outreach Director Position - Friends, co-workers and community agency leaders gathered for a luncheon at the Cape Fox Hotel Friday to honor Yeda Hicks who is retiring from his position as Saxman's Youth Outreach Director.
Hicks has provided services - along with friendship - to the youth of Saxman and their families officially for seven years and unofficially for ten years. During that time, Hicks has provided outstanding services in many programs including the Culture Camp, Breakfast Club and suicide prevention.
As for his retirement plans, Hicks plans to continue living in Saxman and plans to remain active in supporting youth in both Ketchikan and Saxman through volunteer activities. He said he also plans to take the next year "learning how to breathe again." - View photo gallery...
Monday - February 16, 2004 - 12:40 am
M/V Fairweather at 42 knots
Feb. 5, 2004 - Photo courtesy Alaska DOT
Alaska: M/V Fairweather Conducts Sea Trials ; Expected to arrive in Juneau Spring 2004 - History was made February 5th when the Alaska Marine Highway's newest vessel, the fast vehicle ferry (FVF), M/V Fairweather, got underway for the first time with a professional team made up of engineering and vessel operations personnel from the Marine Highway, equipment manufacturers, the shipbuilder and subcontractors.
According to Gary Smith, FVF Program Manager, this first trip went well. "Following a series of required tests of control, auxiliary and propulsion equipment and systems, the vessel was gradually increased in speed. At mid-day the Fairweather was at 36 knots coming up to full power. She is riding beautifully," said Smith. The Fairweather reached full power for one hour while maintaining a speed of 42 knots or 48 mph.
Phil Grasser, Marine Engineering Manager, noted that a four-day dry-docking of the vessel followed by a three-day Acceptance Trial are the remaining significant events needed before the Marine Highway will certify Delivery Acceptance of the new ship. Shortly thereafter, the Fairweather will begin a three-week delivery voyage through the Panama Canal before its official acceptance in Juneau in mid- March. - Read more...
Monday - February 16, 2004 - 12:40 am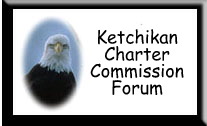 KCC Information
Agendas, Minutes,
Informational Packets,
Commissions' Comments
Public Comments
Last updated Feb. 16, 2004
February 2004
Click on the date to read the stories & to view photos published on that day...

| | | | | | | |
| --- | --- | --- | --- | --- | --- | --- |
| S | M | T | W | T | F | S |
| 1 | 2 | 3 | 4 | 5 | 6 | 7 |
| 8 | 9 | 10 | 11 | 12 | 13 | 14 |
| 15 | 16 | 17 | 18 | 19 | 20 | 21 |
| 22 | 23 | 24 | 25 | 26 | 27 | 28 |
| 29 | | | | | | |
Columnists
Up On My Soapbox by Mike Harpold: Ketchikan's Brain Drain - Fewer youth return to Ketchikan after leaving home to pursue jobs or post secondary education than to any other borough or municipality in Alaska. This is according to research done by economist Jeff Hadland published in the January issue of Alaska Economic Trends.
Using Permanent Fund Dividend application records, Mr. Hadland tracked 16,114 young Alaskans who were 15 and 16 years old in 1994. Among his other findings, just over 62 percent of these youths were still Alaska residents in 2002, compared with 71.3 percent of the total population. In 2002, the 1994 youth were 23 and 24 years old and out of high school for more than five years. Quoting directly from the report, only 50.5% of youth from Ketchikan, 52.5% of Juneau youth, and 57.1% of Sitka youth remained in Alaska in 2002.
Leaving home to find economic opportunity is a familiar and expected story in America. I grew up in a small community in Southwestern Wisconsin whose economy depended entirely on dairy farming, not a bright future for a kid who hated to get out of bed in the morning. Still, the town tried hard to provide a future for its' youth, working hard to attract industry and eventually landing a satellite campus of the University of Wisconsin. Ketchikan is little different, struggling to bring some industry to town to replace our closed pulp mill and supporting a local campus of the University of Alaska. But being first in the category of Alaska towns whose children are least likely to return is saddening and ought to move all of us to try harder.- Read more...
Monday - February 16, 2004 - 12:50 am
Dear Crabby: PROACTIVE MOTHER and HEAD-ACHES!...
Monday - February 16, 2004 - 12:50 am
Wrangel Island, which is located off the northern coast of Eastern Siberia and straddles the East Siberian Sea and the Chukchi Sea.
Credit: Jacques Descloitres, MODIS Land Rapid Response Team, courtesy NASA...
June Allen Column
A Story of an Unfriendly Arctic Island
And the heroine who survived it
There is a desolate island in the Chukchi Sea on the frigid top of the planet. It is 83 miles north of the coast of Siberia and it is named Wrangel Island - Wrangel with one L. It is roughly kidney-shaped and said to be about 80 miles long and 18 to 30 miles across, with a cluster of low mountains at its center. During the warmth of its very brief summer, rivers flow north and south over rolling tundra to the sea. Along the frosty riverbanks are buried the bones of a race of woolly mammoths, evidence of dwarfed survivors of a larger race of Russian Steppe mammoths of perhaps 20,000 or 30,000 years ago. The island today is inhabited by a tiny Russian-Eskimo settlement and is largely visited by polar bears, seals, foxes, ducks and geese and the occasional scientist from around the world. - Read the rest of this story...
Monday - February 02, 2004 - 1:00 am

Read more stories by June Allen...
June Allen's Column Is Made Possible In-Part By These Local Sponsors:
Madison Lumber & Hardware, Inc. ~ Downtown Drugstore ~ Alaska Glass & Supply ~ Sourdough Bar Liquor Store ~ Davies-Barry Insurance ~ Sitnews...
Weather

---

E-mail your news tips, stories, news releases & photos to:
editor@sitnews.org

E-mail large photo files to
photos@sitnews.org

Edited by Dick Kauffman:
editor@sitnews.org

E-mail the Webmaster:
webmaster@sitnews.org

Sitnews
Stories in the News
©1999 - 2003
Ketchikan, Alaska

Published online since
August 2000

'Our Troops'


---

Copyright Applies - Please obtain written permission before reproducing photographs, features, columns, etc. that are published on Sitnews.

Sitnews is not a
commercial web site.