'Log Raft'
Bringing float across...
Chuck Slagle is the employer of the workers pictured and is the owner of the skiff and logs. The raft was assembled to replace the one at Pro Mech Air, which was due for replacement after several tough storms this past winter. - More photos...
Front Page Photo by Chris Wilhelm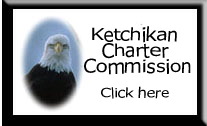 Viewpoints
Opinions/Letters

Trash in Ketchikan by M.L. Dahl - 02/27/04


Re: Does anybody care anymore? by Penny Eubanks - 02/27/04


Herring Harvest: An Imminent Crisis by Snapper Carson - 02/27/04


Read more Viewpoints


Publish A Letter
Ketchikan
Ketchikan - Statewide: Alaska's January Unemployment Rate 8.9 Percent; Ketchikan's Rate 11.8 percent - Alaska's unemployment rate climbed to 8.9 percent in January, up five tenths of a percentage point from December's revised rate of 8.4 percent which was earlier reported by the Alaska Department of Labor as 8.0 percent. According to the Alaska Department of Labor, the state's rate historically reaches its high point for the year in January or February and then begins to fall as seasonal employment picks up.
The comparable national rate (not seasonally adjusted) for January was 6.3 percent. Dan Robinson, an economist with the Alaska Department of Labor and Workforce Development, reported the numbers.
Five of the state's six economic regions recorded higher rates in January, the exception being in the Gulf Coast where seasonal jobs related to Kodiak's January crab fishery pushed the rate lower.
Anchorage's unemployment rate remained substantially lower that other areas in the state, increasing from 5.6 percent in December to 6.0 percent in January. Fairbanks saw a larger increase, from 7.1 percent to 8.0 percent.
At 7.5 percent, Juneau's rate remained well below those of other Southeast boroughs and census areas. Sitka is the only other community in Southeast that does not have a double-digit unemployment rate.
The Ketchikan Gateway Borough's unemployment rate for January was reported at 11.8 percent, up from December's 9.6 percent. (For more information about Ketchikan's Labor Force, click here).
January's unemployment rate for Prince of Wales was 20.2 percent, up from December's 16.0 percent. - Read more...
Friday - February 27, 2004 - 1:00 am
Ketchikan: Coast Guard terminates fishing vessel voyage for safety violations - A Coast Guard boarding team terminated the voyage of a fishing vessel for safety violations after a routine at-sea boarding in the Tongass Narrows, near Ketchikan, Wednesday. - Read more...
Friday - February 27, 2004 - 1:00 am