Thursday
February 26, 2004

'Quilting in the Rain XIII'
Best Wearable Art
1st Place: Tea Party Coat and Hat - Jeanne Sande
Front Page Photo by Weston Davis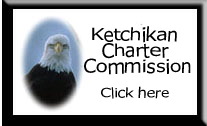 Viewpoints
Opinions/Letters

Does anybody care anymore? by Jerry A. Cegelske - 02/26/04


Funding for school activities by Mike Harpold - - 02/26/04


An Urgent Letter to the Governor by Andy Rauwolf and John Harrington - 02/26/04


School District's budget meeting by Susan Walsh - 02/26/04


Read more Viewpoints


Publish A Letter
February 2004
Click on the date to read the stories & to view photos published on that day...

| | | | | | | |
| --- | --- | --- | --- | --- | --- | --- |
| S | M | T | W | T | F | S |
| 1 | 2 | 3 | 4 | 5 | 6 | 7 |
| 8 | 9 | 10 | 11 | 12 | 13 | 14 |
| 15 | 16 | 17 | 18 | 19 | 20 | 21 |
| 22 | 23 | 24 | 25 | 26 | 27 | 28 |
| 29 | | | | | | |

Ketchikan: Listen to this story... A Ketchikan man found unconscious near his deceased 21-month-old child Tuesday afternoon appeared today in District Court after being arrested on thirty-one felony counts of possession of child pornography last night. Ketchikan Police will not say whether 44-year-old James Paul would also be charged in the death of his daughter. The toddler died just four days after her mother told a state magistrate that she feared that her daughter "might be at risk" in Paul's custody. Deanna Garrison reports.
KRBD - Ketchikan Public Radio - linked Thursday - February 26, 2004 - 2:30 pm
Ketchikan: Quilting in the Rain XIII Winners - The Annual Quilting in the Rain XIII quilt show was held February 14th and 15th at the Plaza Mall. The Quilting in the Rain show concluded with winners galore in a number of categories. - Read more and view Weston Davis' photo gallery...
Thursday - February 26, 2004 - 12:30 am
Ketchikan: Safety on the Water - Discovery Center, Feb. 27, 2004 7-8:00 pm - The Coast Guard will be giving a presentation this Friday on Water Safety at the Southeast Alaska Discovery Center. There will be a short video then a short discussion on water safety from representatives of the Coast Guard. They will also share what the Coast Guard does and the many adventures of life in the Coast Guard. - Read more...
Thursday - February 26, 2004 - 12:30 am
USCG Base Ketchikan
Photograph by Carl Thompson ©2004
Alaska: U.S. Coast Guard Auxiliary members commended for volunteer efforts in Alaska - Rear Admiral James W. Underwood, commander of the 17th District United States Coast Guard, presented the Coast Guard Meritorious Unit Commendation to the 412 members of the Coast Guard Auxiliary in Alaska Feb. 15. The award, which recognized "America's Volunteer Lifesavers" for exceptionally meritorious service since August 1999, was one of many presented at the 17th District United States Coast Guard Auxiliary's annual winter statewide conference Feb 13-15. - Read more...
Thursday - February 26, 2004 - 12:30 am
Chris Budke and his wife, Terri, with their family (from left) Casey, 17, Emmanuel, 5, and Halle, 2 12, in Hoonah. Chris Budke, a forestry technician and a native of Juneau, is the 2003 recipient of the Hector Gandara Memorial Civil Rights Award.
Photo by Tina Dinzl-Pederson
Southeast: Tongass Employee Earns Regional Civil Rights Award - The Forest Service Alaska Region recently recognized an employee from the Tongass National Forest's Hoonah Ranger District for his accomplishments and contributions to civil rights.
Chris Budke, a forestry technician and a native of Juneau, is the 2003 recipient of the Hector Gandara Memorial Civil Rights Award. - Read more...
Thursday - February 26, 2004 - 12:30 am

Ketchikan: Listen to this story... Ketchikan Police say a twenty-one month old child was found dead next to her unconscious father Tuesday afternoon - just four days after a judge ordered him to turn over the child to her mother. The father is identified as 44-year-old James Paul. The name of the female toddler is being withheld. Deanna Garrison reports.
KRBD - Ketchikan Public Radio - linked Wednesday - February 25, 2004 - 6:15 pm

Ketchikan: Listen to this story... Ketchikan Gateway Borough Assembly Member Jack Shay announced Tuesday night that he will seek the House District One Republican nomination. As Deanna Garrison reports, Shay is the first candidate to announce for the house seat. The house seat is being vacated this fall by Saxman Representative Bill Williams, who is running for the State Senate.
KRBD - Ketchikan Public Radio - linked Wednesday - February 25, 2004 - 6:15 pm
Number 4 and Number 5 Creek Street, 1975
Photographer: Jim Clark
Donor: Mildred Manty Estate,
Photo Courtesy Tongass Historical Society
Ketchikan's Creek Street Dance Hall
echoes of music from the past
By June Allen

Visually, not too much has changed along Creek Street over the past century. Several of the vacant shacks once occupied by sporting women of the past have managed to survive for decades, boarded off, defying demolition. A few of today's remaining ramshackle houses along the boardwalk are more valuable for atmosphere than occupancy. But the Good Fortune restaurant at #4 now welcomes patrons where shady lady Annie Watkins once welcomed her gentlemen callers. Then of course at the other end of the street, at #24, there's Dolly's House ­ now a museum and gift shop. Dolly's House today, crowded with cruise ship tourists, would surprise the sporting woman who owned and occupied it for half a century. - Read the rest of this story...
Saturday - February 21, 2004 - 12:50 am

Read more stories by June Allen...
June Allen's Column Is Made Possible In-Part By These Local Sponsors:
Madison Lumber & Hardware, Inc. ~ Downtown Drugstore ~ Alaska Glass & Supply ~ Sourdough Bar Liquor Store ~ Davies-Barry Insurance ~ Sitnews...
Weather

---

E-mail your news tips, stories, news releases & photos to:
editor@sitnews.org

E-mail large photo files to
photos@sitnews.org

Edited by Dick Kauffman:
editor@sitnews.org

E-mail the Webmaster:
webmaster@sitnews.org

Sitnews
Stories in the News
©1999 - 2003
Ketchikan, Alaska

Published online since
August 2000

'Our Troops'


---

Copyright Applies - Please obtain written permission before reproducing photographs, features, columns, etc. that are published on Sitnews.

Sitnews is not a
commercial web site.