Tuesday
February 24, 2004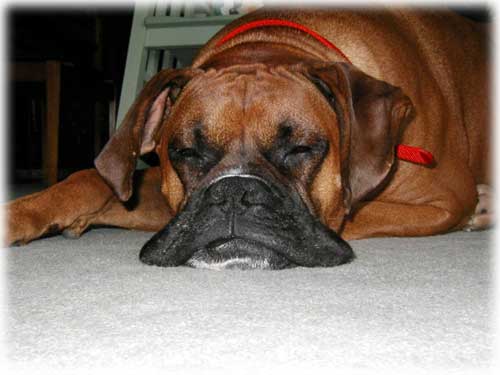 'Dog Tired'
Dempsey, a member of Jim & ML Dahl's family.
Front Page Photo by Mary L. Dahl
---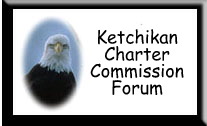 KCC Information
Agendas, Minutes,
Informational Packets,
Commissions' Comments
Public Comments
Last updated Feb. 20, 2004
February 2004
Click on the date to read the stories & to view photos published on that day...

| | | | | | | |
| --- | --- | --- | --- | --- | --- | --- |
| S | M | T | W | T | F | S |
| 1 | 2 | 3 | 4 | 5 | 6 | 7 |
| 8 | 9 | 10 | 11 | 12 | 13 | 14 |
| 15 | 16 | 17 | 18 | 19 | 20 | 21 |
| 22 | 23 | 24 | 25 | 26 | 27 | 28 |
| 29 | | | | | | |
Ketchikan: Listen to this story... Rescuers have resumed their search for a missing Cape Pole fisherman after his dog was found alive Thursday evening at Port Alice on Heceta Island. As Deanna Garrison reports, Greg Clark has been missing since the fishing vessel he and his dog were on ran aground off the Northwest Coast of Prince of Wales Island last month.
KRBD - Ketchikan Public Radio - linked Tuesday - February 24, 2004 - 2:30 pm
Education: Paige Smears Teachers' Group as 'Terrorist'- During a private gathering of American governors Monday in Washington, U.S. Secretary of Education Rod Paige called the nation's largest teachers' union - the National Education Association - "a terrorist organization," according to the Associated Press.
NEA President Reg Weaver said, "It is morally repugnant to equate those who teach America's children with terrorists. NEA is 2.7 million teachers and educators who are fighting for children and public education. Yet this is the kind of rhetoric we have come to expect from this Administration whenever one challenges its worldview." - Read more...
Tuesday - February 24, 2004 - 1:00 am
Ketchikan: Listen to this story... The Alaska Department of Environmental Conservation is soliciting comments on a draft log storage permit for the Ketchikan Gateway Borough's Ward Cove Veneer Mill. As Deanna Garrison reports, the log storage permit is just one of the hurdles the borough says it must overcome in order to find an operator to run the plant.
KRBD - Ketchikan Public Radio - linked Tuesday - February 24, 2004 - 1:00 am
Littles Amy and Daniel...
Photo courtesy BBBS
Ketchikan: Ketchikan Kicks Off Sign Up for Bowl for Kids Sake - On February 20th sign-up for Bowl for Kids Sake in Ketchikan kicked off. Eight Teams with four persons per team signed up to go out and get pledges. Gretchen Klein, Coordinator for Ketchikan Big Brothers Big Sisters program, said, "These people are committed to giving $150.00 pledges each. Please join us in raising money for kids and helping to build life long friendships!" The big event - Bowl For Kids Sake - is scheduled for April 4th. - Read more...
Tuesday - February 24, 2004 - 1:00 am
Columnists
Joann Flora - Compliments to Your Health: Jan's Story: Update - On May 30th, 2003, I shared with Sitnews readers the story of my Ohio friend, Jan Lively (see Sitnews #14). Jan had survived breast cancer only to have it metastasize as liver cancer. In January of 2001, her tumor marker count (a measure of the number of cancerous cells in her body) was 4500. A friend introduced her to medical qigong and she began to practice routinely. She found a physician who placed her on a diet of macrobiotic, organic whole foods. I met Jan at a month long Chi-Lel Qigong retreat in Hawaii in February of 2002. At that time, her tumor marker count was 2500; a count of 50 or less is considered "normal". - Read more...
Tuesday - February 24, 2004 - 1:00 am
Dear Crabby: YOUNG AND OVERWEIGHT and 'SURVIVOR' OF FEAR FACTOR, ETC - This is so ridiculous that I almost feel stupid writing to you. My mother got very ill three years back, and since we were the only family she had living in the same state, my husband and I asked her to move in with us. She's recovered nicely, and hasn't been any trouble. The kids are in college, so the house is not overcrowded or anything like that. - Read more...
Tuesday - February 24, 2004 - 1:00 am
Number 4 and Number 5 Creek Street, 1975
Photographer: Jim Clark
Donor: Mildred Manty Estate,
Photo Courtesy Tongass Historical Society
Ketchikan's Creek Street Dance Hall
echoes of music from the past
By June Allen

Visually, not too much has changed along Creek Street over the past century. Several of the vacant shacks once occupied by sporting women of the past have managed to survive for decades, boarded off, defying demolition. A few of today's remaining ramshackle houses along the boardwalk are more valuable for atmosphere than occupancy. But the Good Fortune restaurant at #4 now welcomes patrons where shady lady Annie Watkins once welcomed her gentlemen callers. Then of course at the other end of the street, at #24, there's Dolly's House ­ now a museum and gift shop. Dolly's House today, crowded with cruise ship tourists, would surprise the sporting woman who owned and occupied it for half a century. - Read the rest of this story...
Saturday - February 21, 2004 - 12:50 am

Read more stories by June Allen...
June Allen's Column Is Made Possible In-Part By These Local Sponsors:
Madison Lumber & Hardware, Inc. ~ Downtown Drugstore ~ Alaska Glass & Supply ~ Sourdough Bar Liquor Store ~ Davies-Barry Insurance ~ Sitnews...
Weather

---

E-mail your news tips, stories, news releases & photos to:
editor@sitnews.org

E-mail large photo files to
photos@sitnews.org

Edited by Dick Kauffman:
editor@sitnews.org

E-mail the Webmaster:
webmaster@sitnews.org

Sitnews
Stories in the News
©1999 - 2003
Ketchikan, Alaska

Published online since
August 2000

'Our Troops'


---

Copyright Applies - Please obtain written permission before reproducing photographs, features, columns, etc. that are published on Sitnews.

Sitnews is not a
commercial web site.