Tuesday
March 02, 2004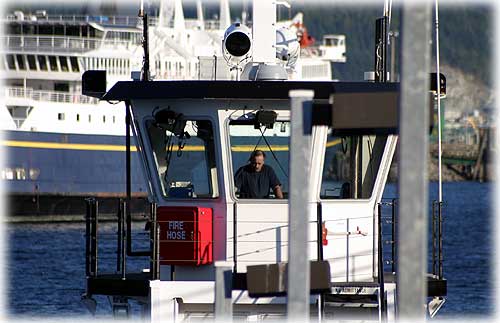 'Skipper'
Clint Peavey is the skipper pictured in the airport ferry's pilot house.
Front Page Photo by Carl Thompson
Viewpoints
Opinions/Letters

Personal freedoms, rights & second hand smoke by Rebecca Kleinschmidt - 03/02/04


Smoking Ban? Right Approach
by Joseph Branco - 03/02/04


To ban smoking or not to ban smoking by Neil Gray - 03/02/04


Smoking Ban? Wrong Approach by Hunter Davis
- Ketchikan - 03/02/04


Read more Viewpoints


Publish A Letter
Ketchikan

Previous Stories & Photos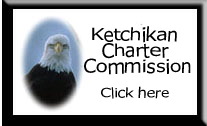 Ketchikan: Alaska General Seafoods Agrees to Fix Fish Waste Problems; Company also to pay $110,000 for illegal discharges of fish waste - The Northwest regional office of the Environmental Protection Agency recently announced that Alaska General Seafoods (AGS) has agreed to fix water pollution problems at the company's seafood processing facility in Ketchikan, Alaska. The proposed settlement requires the company to pay $110,000 in penalties for violations of the federal Clean Water Act and prevent discharges of seafood processing waste into Tongass Narrows during the 2004 and 2005 processing seasons. The proposed settlement also requires AGS to barge or use an alternate means of disposal until the remediation of its existing waste piles occurs. - Read more...
Tuesday - March 02, 2004 - 12:30 am
Ketchikan: Autopsy shows child likely did not die from physical trauma - An autopsy of a 22-month-old child found deceased last week at the home of her father shows that the child likely did not die from physical trauma. - Read this story...
KRBD - Ketchikan Public Radio - linked Monday pm - March 01, 2004

Ketchikan: View Finders: Ketchikan Photographers - View Finders, the Tongass Historical Museum's latest exhibition, opened on Friday, February 20 with a public reception attended more than 190 local residents and visitors. The event provided an opportunity to visit with featured photographers, listen to live guitar and flute music provided by Harvey and Annette Hansen, and enjoy a tasty assortment of refreshments. - Read more and view photos...
Tuesday - March 02, 2004 - 12:30 am
Education: "Take A Stand. Lend A Hand. Stop Bullying Now!"; Campaign to Prevent Youth Bullying Announced - Health & Human Services Secretary Tommy G. Thompson on Monday announced a new campaign to educate more Americans about how to prevent bullying and youth violence -- behaviors that can have tremendous negative impact on children's success in school and overall well-being. - Read more...
Tuesday - March 02, 2004 - 12:30 am
Illustration of Black Hole with
Accretion Disk and Torus
Illustration Courtesy: CXC/M.Weiss - NASA
Science: Information Paradox Solved? If So, Black Holes Are "Fuzzballs" - Stephen Hawking and Kip Thorne may owe John Preskill a set of encyclopedias.
In 1997, the three cosmologists made a famous bet as to whether information that enters a black hole ceases to exist -- that is, whether the interior of a black hole is changed at all by the characteristics of particles that enter it.
Samir Mathur
Hawking's research suggested that the particles have no effect whatsoever. But his theory violated the laws of quantum mechanics and created a contradiction known as the "information paradox." - Read more...
Tuesday - March 02, 2004 - 12:30 am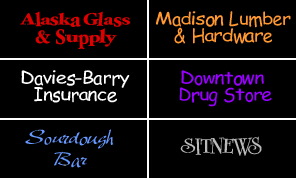 The June Allen column is made possible
in part by these sponsors.
Cick on each name to visit web sites.
June Allen Column