Duck Race Money At Work
First City Rotary's picnic shelter project...
Front Page Photo by Dick Kauffman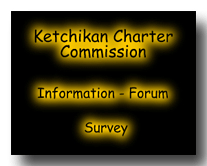 Ketchikan: Ketchikan Charter Commission Conducts Survey - In an effort to reduce the cost and size of government in a fair and equitable manner, the Ketchikan Charter Commission is asking you to fill out a questionnaire. For your convenience you may fill out the questionnaire online. This is a chance to help mold the future of Ketchikan. - Fill out the survey...
Published Tuesday - March 23, 2004 - 1:15 am
Viewpoints
Opinions/Letters

RE: "Move the museum, enlarge the library" by Michael Naab - Ketchikan, AK - 03/29/04


Re: It's that time again.... by Neil Gray - Lakeside, CA - 03/29/04


RE: It's that time again... by Kevin Mackey - Ketchikan - 03/29/04


Mother Squirrel by Richard Conn - Juneau - 03/28/04


Thanks Ketchikan by Cecelia Johnson - Ketchikan - 03/28/04


It's that time again... by Dr. Peter York- Ketchikan - 03/28/04


Read more Viewpoints


Publish A Letter

Ketchikan: Duck Race Money At Work - Have you ever wondered how the money raised by First City Rotary's annual Fourth of July Duck Race benefits the community? Susan Bethel, President of the First City Rotary, said this past year their organization selected three projects in the community to complete using money raised from the annual duck race.
Currently, First City Rotary is working on a public picnic shelter at Totem Bight. Bethel said, "We have had a lot of help with the project. Delmar, Dave and Rusty Shull donated the rockwork and backhoe." She said the Welding and Construction class from the University of Alaska Southeast Ketchikan Campus and public works from the US Coast Guard Base have also been involved in the project. Alaska Marine Lines donated the freight and Rotary 2000 donated two handicap accessible picnic tables for the project. Bethel said, "The brackets for the structure were constructed by the welding class and then sent to Seattle to be galvanized. The Construction Class at the UAS provided their expertise and labor helping to get the structure built. Of course, we have had Rotarians on the site working each weekend."
The First City Rotary's project at Totem Bight isn't yet completed and work will continue on the project week after next. The organization has been working on the Totem Bight project for several weekends. Working on the project Saturday were Bruce King the head foreman on the project, Bob St. Clair, Glen Thompson, David Owings, Jim Schumaker, Jack Shay, Susan Bethel, Scott Brandt-Erichsen, Billiye Sewell, Reggie Reinhardt, Mary Kowalczyk and Scott Westerlund.
The picnic shelter is not located in the Park, but outside the park near a parking area. Totem Bight is located eight miles north of the Alaska Ferry Terminal and displays fifteen Haida and Tlingit Totem Poles, plus a replica of a clan house. The totems in the park, carved from 1938 to 1941, are replicas of original totems. The park is listed on the National Register of Historic Places. Bethel said the project is the First City Rotary's Centennial Project and "we hope to have it completed before the summer." - Read more and view the photo gallery...
Monday - March 29, 2004