'Crocus Flowers'
Front Page Photo by Dick Kauffman

Spring Forward: Sunday, April 4th. Daylight Saving Time begins at 2 a.m. - when clocks should be set forward an hour. They'll stay that way until turned back in October. The idea of a seasonal time change is credited to Benjamin Franklin, but was first adopted in Europe. U.S. observance was inconsistent until 1966, when the Uniformed Time Act was passed. Now, the time change goes into effect across the entire U.S. - except for Hawaii and parts of Arizona and Indiana... and our neighbors in Metlakatla. The start of daylight saving is also a good time to check the batteries in your smoke detectors. Each year, there are 380-thousand house fires in the U.S., killing more than 34-hundred people and injuring another 17-thousand. Source U.S. Census Bureau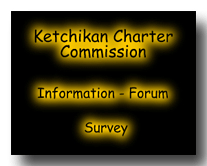 Ketchikan: Ketchikan Charter Commission Conducts Survey - In an effort to reduce the cost and size of government in a fair and equitable manner, the Ketchikan Charter Commission is asking you to fill out a questionnaire. For your convenience you may fill out the questionnaire online. This is a chance to help mold the future of Ketchikan. - Fill out the survey...
Published Tuesday - March 23, 2004 - 1:15 am
Viewpoints
Opinions/Letters

Herring: The foundation of the pyramid of life in southeast Alaska by Clay Slanaker - Ketchikan - 04/03/04


RE: Move the museum, enlarge the library by Robert D. Warner - Ketchikan - 04/03/04


Stop the destruction of herring stocks by Robert K. Rice - Ketchikan - 04/03/04


RE: '"R" For Republican by James Hanson - OR - 04/03/04


Read more Viewpoints


Publish A Letter
April 2004
Click on the date to read the stories & to view photos published on that day...

| | | | | | | |
| --- | --- | --- | --- | --- | --- | --- |
| S | M | T | W | T | F | S |
| | 29 | 30 | 31 | 1 | 2 | 3 |
| 4 | 5 | 6 | 7 | 8 | 9 | 10 |
| 11 | 12 | 13 | 14 | 15 | 16 | 17 |
| 18 | 19 | 20 | 21 | 22 | 23 | 24 |
| 25 | 26 | 27 | 28 | 29 | 30 | |
Ketchikan: KIC Tribal Leaders Work On Critical Funding Issues - In the wake of devastating news and gloomy forecast of extreme funding shortfalls in programs at Ketchikan Indian Community, President Stephanie Rainwater-Sande and Council Member David Jensen attended an Indian Health Service (IHS) Tribal Self-Governance Advisory Committee meeting on March 29 and 30 in Las Vegas, Nevada. According to information provided by KIC, the meeting was a Fiscal Year 2005 and 2006 budget strategy session to seek an end to the chronic under-funding of the Indian Health Service. - Read more...
Saturday - April 03, 2004
Ketchikan: Ketchikan Area Herring Update - According to information released by the Alaska Department of Fish and Game, an aerial survey Friday did not show any active spawn in the West Behm Canal area.
The gillnet fishery has not been place on any type of notice as of Friday and another aerial survey will be done Saturday morning. The R/V Kestral is expected in the West Behm Canal area by Sunday evening.
A survey was also done in the Duke Island/Cat Island/Mary Island area. No herring or spawn were seen. The Kah Shakes mainland shore was not surveyed Friday due to weather conditions. - Read more...
Saturday - April 03, 2004

Ketchikan: Bowl for Kids' Sake, The Big Day Arrives - After months of organizational work and planning, the Bowl for Kids Sake big event become a reality Sunday at the Ketchikan Entertainment Center.
Sunday's event is part of the 24th annual Bowl For Kids' Sake campaign of Big Brothers Big Sisters of Southeast Alaska. Bowl For Kids' Sake is about fun and about helping kids. It's the largest national fund-raising campaign for Big Brothers Big Sisters and an integral funding component for most BBBS local agencies over the years. This is the first time this annual event will be held in Ketchikan. - Read more...
Saturday - April 03, 2004
Alaska: Parasite Kills Moose in Delta - According to the Alaska Department of Fish and Game, a newly discovered parasite that affects the nervous system has most likely killed at least two moose and possibly more near Delta Junction. - Read more...
Saturday - April 03, 2004
Columnist
Michael Reagan: Subsidized Propaganda - Liberal talk radio has arrived - again. .... Call it what you want, but this is nothing but a propaganda machine for the Democrat Party. People may think that conservative talk radio is a propaganda machine for the Republican Party but if it is it is only because we have earned the right to tell the GOP's side of the story the old-fashioned way - we've worked our tails off in the marketplace to become successful there. Neither the Republicans nor anybody else subsidized us. We did it on our own and it was anything but easy. Read more...
Saturday - April 03, 2004