Thursday
April 01, 2004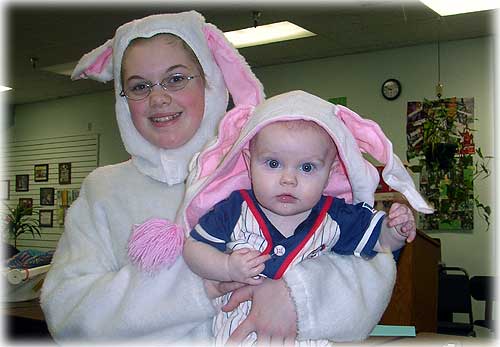 'Spring Bunnies'
Jonika and Svend-Karl
Front Page Photo by Gretchen Klein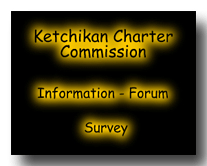 Ketchikan: Ketchikan Charter Commission Conducts Survey - In an effort to reduce the cost and size of government in a fair and equitable manner, the Ketchikan Charter Commission is asking you to fill out a questionnaire. For your convenience you may fill out the questionnaire online. This is a chance to help mold the future of Ketchikan. - Fill out the survey...
Published Tuesday - March 23, 2004 - 1:15 am
Viewpoints
Opinions/Letters

Trash Potpouri by Jerry A. Cegelske - Ketchikan - 04/01/04


"R: for Republican by Jay Jones - Ketchikan - 04/01/04


Say no to Murkowski's dividend tax by Rep. Eric Croft - AK - 03/31/04


Tough times mean Alaska's oil tax system must change by David Guttenberg and Les Gara - AK - 03/31/04


Read more Viewpoints


Publish A Letter
Alaska: Governor Announces Oil & Gas Leasing Off-shore of ANWR, NPR-A - Saying the State of Alaska will not submit to the dictates of America's extreme environmental community, Governor Frank Murkowski announced Wednesday he will begin the process of planning oil and gas lease sales in state waters off-shore of the Arctic National Wildlife Refuge and the National Petroleum Reserve-Alaska. His intention is to have the lease sales included in a state offering by October of this year. - Read more...
Thursday - April 01, 2004
Alaska: $525,000 Initiative To Help Restore & Conserve Salmon Habitat Announced - Alaska Congressman Don Young announced Tuesday that Agriculture Secretary Ann M. Veneman announced a $525,000 new initiative to help restore and conserve salmon habitat as part of the Wildlife Habitat Incentives Program (WHIP). The fiscal year 2004 funds will be used for the new Salmon Habitat Restoration Initiative, which is available in Alaska. - Read more...
Thursday - April 01, 2004
Alaska: Sen. Murkowski Says Congress Must Fix Compensation Fund For Ill Nuclear Workers - Saying the program has not worked as Congress intended, Alaska Sen. Lisa Murkowski said Congress must quickly develop improvements to the nuclear workers compensation program so that worker claims are processed more quickly and that workers then actually get the compensation the program has promised. - Read more...
Thursday - April 01, 2004
Alaska: House Strengthens Child Support Laws - The House of Representatives passed a bill Wednesday that will change child support laws in the state of Alaska. HB 514, sponsored by Representative Pete Kott (R-Eagle River), passed the House 34 to 4. - Read more...
Thursday - April 01, 2004
Alaska: House Passes Lifesaving Carbon Monoxide Detector Bill - The Alaska House of Representatives passed HB 351 sponsored by Palmer Representative Carl Gatto. This bill requires carbon monoxide detection devices to be installed in residences and dwellings. - Read more...
Thursday - April 01, 2004
Alaska: Alaska chickadees have proven themselves brainier than Colorado chickadees by Ned Rozell - A researcher at the University of California Davis compared black-capped chickadees from Anchorage to chickadees from Windsor, Colorado, and found that the Alaska birds cached more sunflower seeds and found the seeds quicker when they later searched for them. The Alaska chickadees also had brains that contained more neurons than Colorado chickadees. - Read more...
Thursday - April 01, 2004
Columnists
Ketchikan: An expose on the history of the Kah Shakes and West Behm Canal herring fisheries...
by Andy Rauwolf, John Harrington, and Lawrence "Snapper" Carson

It can easily be argued that herring are one of the most important resources in the world's oceans as a main source of food, near the bottom of the vertebrae food chain. They are also highly sought after by man.
In southeast Alaska, from the turn of the twentieth century until the early 1960s, hundreds of millions of pounds of herring were caught in the reduction fishery. At one time, 68 plants in Southeast supported over 2,000 workers year 'round. Try that for one week today! Although herring were never fished while spawning, it didn't prevent them from being severely depleted. - Read more...
Thursday - April 01, 2004
Dick Morris: Why Clarke Helped Bush - The 2004 contest is not between two men, two parties or even two ideologies so much as it is between two issues. The most recent Fox News/Opinion Dynamics poll (March 26, 2004) highlights the contrast.
Asked which candidate would do the better job of fighting terrorism and promoting homeland security, Bush beats Kerry by 52-27. But asked who would be best at creating and protecting jobs, Kerry prevails by 48-31. - Read more...
Thursday - April 01, 2004
The June Allen Column
is made possible in part by these sponsors. Cick on each name to visit each web site.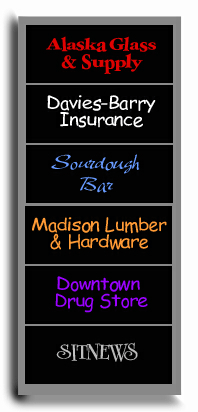 June Allen Column
More stories by June Allen...
---
E-mail your news tips, stories, news releases & photos to:
editor@sitnews.org

E-mail large photo files to
photos@sitnews.org

Edited by Dick Kauffman:
editor@sitnews.org

E-mail the Webmaster:
webmaster@sitnews.org

Copyright Applies - Please obtain written permission before reproducing photographs, features, columns, etc. that are published on Sitnews.

Published online since
August 2000

Sitnews
Stories in the News
©1999 - 2004
Ketchikan, Alaska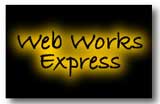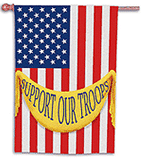 'Our Troops'
Wanted
Freelance Writers
Sitnews is interested in purchasing news and human interest stories about Ketchikan. E-mail the editor or call 247-8590.