25th Annual Ketchikan Spring Cleanup Week
by Jerry A. Cegelske
April 1, 2004
Thursday

Ketchikan, Alaska - The 25th Annual Ketchikan Spring Cleanup Week is from April 17th to the 24th this year. People should remember that they don't have to wait for Cleanup Week, they can bring materials any time the landfill is open.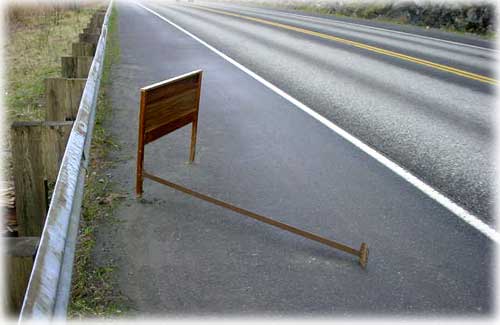 A bed frame near Wolf Point, the results of the neglect
and failure to secure a vehicle load.
photo by Jerry A. Cegelske
What is accepted?
RESIDENTIAL construction materials, yard trash, excavation (limited), furniture, scrap metal(boat trailers are ok if cut into sections no longer than six feet), appliances (refrigerators and freezers must have the doors removed), all fuel tanks (ends must be cut off and tanks cleaned and free of oily residue), household trash, and brush and pallets. Loads should be separated by materials above or charges may be applied to the entire load.
What is NOT ACCEPTED
Commercial trash, Household hazardous waste, and paint. The date for disposal of hazardous waste and paint will be April 30- May 1, 2004.
CITY RESIDENTS
Only 10 cubic yards of trash is allowed on your regularly scheduled garbage collection day. Construction debris, fuel tanks, refrigerators and freezers must be delivered to the landfill.
Junk Vehicles and Scrap Metal
Junk vehicles may be delivered to the Ward Cove Mill site after a voucher has been obtained from the Borough Public Works Dept. at 601 Schoenbar Road. Call Public Works at 247-5541 for more information and to obtain a voucher.
This is a great chance to get rid of the winters trash and those pesky trash problems that occur as fuel tanks and appliances wear out and the family car rusts into a junker.
One thing being stressed this year is the need for residents to secure their loads of trash to help reduce the trash and litter problem in Ketchikan.
The Ketchikan Gateway Borough Code 29.40.050 (b) reads in part:
A vehicle carrying material may not be driven or moved on a public highway or right-of-way unless it is constructed, loaded, or covered to prevent its load from dropping, sifting, leaking or otherwise escaping from the vehicle. A person who operates a vehicle from which an object has fallen or escaped that obstructs or may endanger travel upon a public highway or right-of-way shall immediately remove the object at the person's own expense or pay the cost of removal incurred by the Borough or another person or governmental entity.
The State and City have similar laws requiring the covering of loads. It is and will be enforced as one citation for an uncovered load was issued on Monday along with the littering citation for the vinyl dropped at mile 6 N Tongass Highway. The photo shows a bed frame near Wolf Point, the results of the neglect and failure to secure a vehicle load. How would you like to run into the bed frame with your vehicle. People are continuing to ignore the physics involved with materials exposed to the air passing a vehicle at 50 mph and the forces generated at that speed.
Anyone not covering their load and securing if from falling or blowing out of the vehicle is exposing themselves to the increased possibility of a lawsuit following an accident involving their trash. This will make the $110.00 paid for a citation seem like it was cheap. Why risk your future, cover and secure your load. You will be glad you did your part to protect yourself, your friends and neighbors as well as keep Ketchikan clean.
Note: Jerry A. Cegelske is a Code Enforcement Officer for the Ketchikan Gateway Borough.

E-mail your news & photos to editor@sitnews.org


Post a Comment View Comments
Submit an Opinion - Letter

Sitnews
Stories In The News
Ketchikan, Alaska