Ketchikan's Volunteers In Service To America
AmeriCorps' VISTA members: LaToya Gates, Sara Todd,
Amos Hopkins, Gwendolyn Elliot...
Clarke Stosich, Unit Leader of KRYF, is in background...
Front Page Photo by Gretchen Klein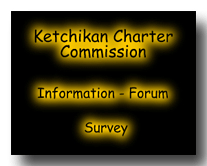 Ketchikan: Ketchikan Charter Commission Conducts Survey - In an effort to reduce the cost and size of government in a fair and equitable manner, the Ketchikan Charter Commission is asking you to fill out a questionnaire. For your convenience you may fill out the questionnaire online. This is a chance to help mold the future of Ketchikan. - Fill out the survey...
Published Tuesday - March 23, 2004 - 1:15 am
Viewpoints
Opinions/Letters

Protect The Children by Susan Bachant - Ketchikan - 04/02/04


Stop the herring fisheries before it is too late by Don Hoff Jr. -Hixson, TN - 04/02/04


Early And Adequate Funding For K-12 Education by Senator Gene Therriault - AK - 04/02/04


On Schools... by Rep. Carl Gatto - AK - 04/02/04


A teenage opinion on things by Archie Inoncillo - Ketchikan - 04/02/04


Don't give up... by Thomas D. Ferry - Ketchikan - 04/02/04


Trash Potpouri by Jerry A. Cegelske - Ketchikan - 04/01/04


"R: for Republican by Jay Jones - Ketchikan - 04/01/04


An expose on the history of the Kah Shakes and West Behm Canal herring fisheries... by Andy Rauwolf, John Harrington, and Lawrence "Snapper" Carson - 04/01/04


Read more Viewpoints


Publish A Letter
April 2004
Click on the date to read the stories & to view photos published on that day...

| | | | | | | |
| --- | --- | --- | --- | --- | --- | --- |
| S | M | T | W | T | F | S |
| | 29 | 30 | 31 | 1 | 2 | 3 |
| 4 | 5 | 6 | 7 | 8 | 9 | 10 |
| 11 | 12 | 13 | 14 | 15 | 16 | 17 |
| 18 | 19 | 20 | 21 | 22 | 23 | 24 |
| 25 | 26 | 27 | 28 | 29 | 30 | |
Ketchikan: Ketchikan's Volunteers In Service To America - AmeriCorps' Volunteers In Service to America (VISTA) members have been helping bring individuals and communities out of poverty for 35 years. Members serve full-time for a year in non profits, public agencies and faith based groups throughout the country, working to fight illiteracy, improve health services, create businesses, increase housing opportunities, or bridge the digital divide.
At present, four organizations in Ketchikan sponsor VISTA members. Gwendolyn Elliot is sponsored by WISH, LaToya Gates is sponsored by Big Brothers Big Sisters, Amos Hopkins is sponsored by SERRC/KYC, and Sara Todd is sponsored by the Ketchikan Regional Youth Facility. - Read more...
Friday - April 02, 2004
Nationwide: Take the Time to Help A Child; April Is National Child Abuse Awareness and Prevention Month - Sadly, child maltreatment is an unfortunate reality and more common that one may realize. In 2000, the U.S. Department of Health and Human Services, Administration for Children and Families, Children's Bureau reported that approximately three million reports of child maltreatment concerning five million children were made and that as a result of those investigations, approximately 879,000 children were found to have been victims of abuse or neglect. 63 percent of the children were victims of neglect, 19 percent of the children were victims of physical abuse, 10 percent of the children were sexually abused, and eight percent of the children were victims of emotional abuse.
The report also showed that age, race and gender are not factors in deciphering victims of child abuse. Infant to one-year- old toddlers are the highest age group in child abuse and neglect deaths and 85 percent of the children who have died because of child abuse and neglect were younger than six years of age. More than 51 percent of the victims were white, 25 percent of the victims were African American, 14 percent of the victims were Hispanic, two percent of the victims were American Indian/Alaskan Native, and one percent were Asian/Pacific Islanders. Boys and girls both experience neglect and physical abuse about evenly, however, the American Academy of Pediatrics reported that studies show that one in four girls and one in eight boys will be sexually abused before the age of 18. - Read more...
Friday - April 02, 2004
Alaska: Senate Asks House to Reconsider Education Package - The State Senate Republicans Thursday rejected an opportunity to fund Alaska classrooms with an additional $84.5 million say the Alaska Democrats. The House of Representatives unanimously agreed to the funding package several weeks ago. Senate Bill 283 contained several provisions added in the House. According to the Alaska Democrats, concurrence vote would have agreed to those changes, which include the K-12 and University education funding package. - Read more...
Friday - April 02, 2004
Alaska: Alaska Attorney General Files Securities Fraud Litigation Against America Online, Inc., and Time Warner - Attorney General Gregg Renkes filed a complaint in Juneau Superior Court Thursday against America Online, Inc. ("AOL"), Time Warner, Inc., Historic TW Inc., Ernst & Young, Morgan Stanley, and several former corporate officers of America Online. The complaint alleges that various State of Alaska funds incurred substantial losses in their investments in AOL, Time Warner, and AOLTimeWarner (AOLTW) stock because the defendants were negligent and misrepresented facts in connection with the merger of AOL and Time Warner. The State of Alaska lost over $70 million as a result. - Read more...
Friday - April 02, 2004