Ketchikan's Volunteers In Service To America
April 2, 2004
Friday

Ketchikan, Alaska - AmeriCorps' Volunteers In Service to America (VISTA) members have been helping bring individuals and communities out of poverty for 35 years. Members serve full-time for a year in non profits, public agencies and faith based groups throughout the country, working to fight illiteracy, improve health services, create businesses, increase housing opportunities, or bridge the digital divide.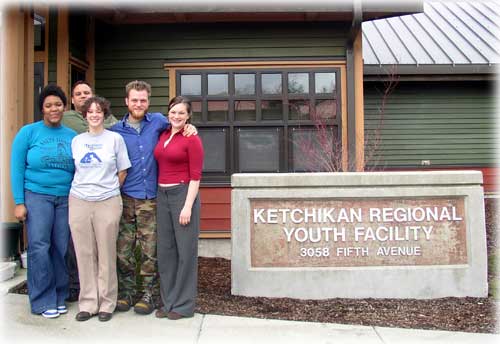 AmeriCorps' VISTA members: LaToya Gates, Sara Todd,
Amos Hopkins, Gwendolyn Elliot...
Clarke Stosich, Unit Leader of KRYF, is in background...
Photo by Gretchen Klein©

At present, four organizations in Ketchikan sponsor VISTA members. Gwendolyn Elliot is sponsored by WISH, LaToya Gates is sponsored by Big Brothers Big Sisters, Amos Hopkins is sponsored by SERRC/KYC, and Sara Todd is sponsored by the Ketchikan Regional Youth Facility.
Gwendolyn Elliot, 26 years old, is a VISTA resource coordinator at WISH (Women in Safe Homes) and is responsible for fund raising, grant writing, mentoring, and awareness campaigns. April is Sexual Assault Awareness month and Child Abuse Awareness month and Elliot is organizing these two campaigns. Elliot finishes her service April 30th.
LaToya Gates, 22 years old, is a VISTA outreach coordinator for Big Brothers/Big Sisters in Juneau. LaToya began her service in Ketchikan last August before moving to Juneau. Gates is the coordinator for the Up2Us program which is a partnership between Big Brothers Big Sisters of Southeast Alaska and the Boys & Girls Club of Juneau. In addition she assist in fund raising events such as Bowl for Kids Sake, and in outreach activities geared towards getting information out in Southeast communities of Ketchikan and Juneau about Big Brothers Bigs sisters.
Amos Hopkins, 24 years old, is a VISTA program coordinator at Southeast Regional Resource Center (SERRC). The job entails establishing a literacy and volunteer tutoring program, publicizing GED services, and other facets of asset based community development. SERRC also manages Ketchikan Youth Court and the VISTA volunteers have also been an asset to this program. Hopkins' work tends to carry over into other aspects of the community and encompasses such projects as the urban beautification initiative with "Project Ketchikan". Hopkins began his service November 2003.
Sara Todd, 26 years old, is a VISTA program consultant for KRYF (Ketchikan Regional Youth Facility) and is responsible for evaluating the Crisis Stabilization Unit program, and developing opportunities for involvement of parents and guardians of youth housed at KRYF and community members. Currently, Todd is working on plans to construct a sanctuary in the back of KRYF to provide outdoor activities to offer skill-building opportunities, promote pro-social behaviors, mentoring, and create educational opportunities for at-risk youth. Todd arrived in Ketchikan February 26, 2004.
The Ketchikan VISTAs encourage community members to volunteer their time in assisting with local projects. For those interested in volunteering, contact any of the VISTA sponsoring organizations for more information on various projects.
E-mail your news & photos to editor@sitnews.org


Post a Comment View Comments
Submit an Opinion - Letter

Sitnews
Stories In The News
Ketchikan, Alaska