Sexual Assault Awareness Month
April 23, 2004
Friday

Ketchikan, AK - April is Sexual Assault Awareness Month and Amos Hopkins, Gwendolyn Elliott and Sara Todd rallied at the tunnel Tuesday in an effort to promote awareness and recognition of sexual assault. Hopkins, Elliott and Todd are Volunteers In Service To America (VISTA).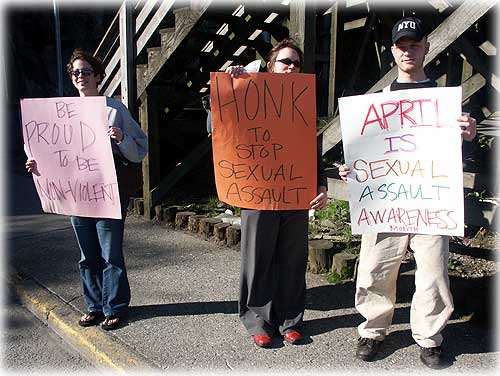 VISTA members rally to promote awareness & recognition of sexual assault...
Sara Todd is a VISTA program consultant for Ketchikan Regional Youth Facility;
Gwendolyn Elliott is a VISTA resource coordinator at Women in Safe Homes; and Amos Hopkins is a VISTA program coordinator at Southeast Regional Resource Center...
Photo by Dick Kauffman

Gwendolyn Elliott said, "Sexual Assault is a serious health concern around the world. Only 1/3 of rapes are reported, and rape remains the most under-reported of all major crimes. In Alaska, our rape rate is 2.4 times the national average and the number of reported child sexual assault cases is 6 times the national average." Elliott said, "80% of all rapes are committed by someone known to the victim."
For more information and for suggestions of what you can do to protect yourself, Elliott at Women in Safe Homes recommends these web sites:
AS 18.65.087 authorizes the Alaska Department of Public Safety to maintain a central registry of sex offenders required to register under AS 12.63.010 and to make this information about the sex offender available to the public. Persons who have been arrested or charged with a sex offense are not required to register unless the arrest or charge results in a conviction. The Alaska Department of Public Safety's list contains offenders who have registered and those who are required to register. The Alaska Department of Public Safety also provides this public information online; however, the department notes that positive identification of a person believed to be a sex offender cannot be established unless a fingerprint comparison is made.
Related Story:
E-mail your news & photos to editor@sitnews.org


Post a Comment View Comments
Submit an Opinion - Letter

Sitnews
Stories In The News
Ketchikan, Alaska