Ketchikan's Cruise Ship Industry
A light-hearted look at its origins
By June Allen
April 17, 2004
Saturday

Tourists are nothing new to Ketchikan. These seasonal visitors have been spilling out onto the downtown docks for more than a century now. They share certain traits: They're thrilled to find themselves in distant, exotic Alaska; they find Ketchikan quaint and charming; and, they are wide-eyed and excited as they board charter fishing boats, or climb into sightseeing coaches to rumble off over the city's trestle streets. The basic awe most people feel when seeing our little town remains constant, even after a century. The things that have changed over the years are the much larger numbers of ships and visitors visiting each summer and the numbers of attractions available to them.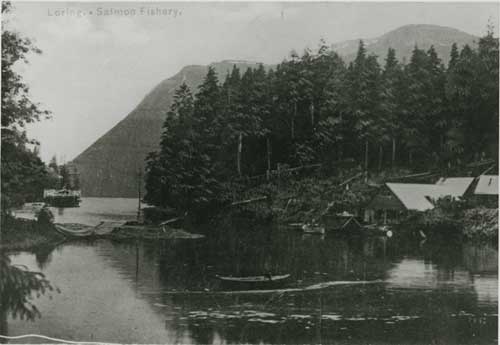 S. S. Ancon at saltery at Loring about 1880
Donor: Sixten Johanson - Photograph Courtesy Tongass Historical Society

At the turn of the 20th century, brand new Ketchikan was even then being visited by tourists and journalists. In The Ladies World Magazine of March 1905, travel writer Myra Drake Moore described the Ketchikan she visited the summer of 1904: "[Ketchikan] is the port of entry into Alaska it and its sister towns of Juneau and Skagway are all very much alike in architecture, and seem to be 'happen-so's'. Ketchikan," she archly wrote, "has accumulated itself."
Ketchikan had already begun plans to provide facilities for visitors back then. At the time of Ms. Moore's visit, the city's first two "luxury" hotels, the 1905 Stedman and 1906 Revilla (on the Ingersoll corner), were in the planning stages. Their stylish towers would become landmarks in the First City. The new hostelries catered to ever-increasing volumes and varieties of visitors as the 20th century rolled by, from tourists and traveling salesmen to sporting women and travel writers.
Display ads in the old Ketchikan Mining Journal from the earliest years of the town's existence confirm that almost every Ketchikan business - from wallpaper shop or insurance office to candy store to news store and liquor store to saloon - advertised "curios" in their businesses ads. Most curios in those earliest days were rock and ore samples, Native moccasins and baskets, and picture post cards.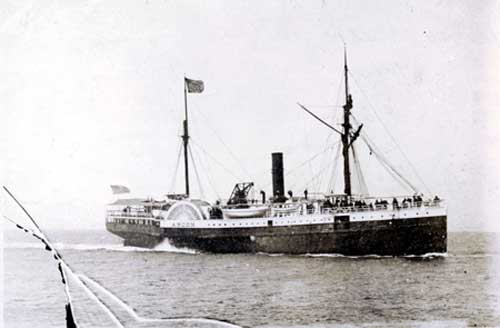 Steamship Ancon underway in Alaskan
waters, circa 1885
Donor: Bertha Hunt Wells - Photograph Courtesy Tongass Historical Society

For much of the first half of the 20th century, ship passage was the only way to get to or from Ketchikan! Visitors arrived via ship. Post World War II air travel ended that. By the mid-1960s, it had become apparent to some of Ketchikan's leaders that tourist ship and air traffic to Alaska was increasing at a steady rate! Ketchikan wanted a piece of the Alaska tourism pie. But there was not unanimous agreement about how to go about attracting visitors to the First City and what to show them once they arrived.
At that time, the Chamber of Commerce ­ a Ketchikan business-booster institution since at least 1902 when it was called the Commercial Club ­ became curious about the potential of tourism. The Chamber invited Chuck West to speak to the Ketchikan Chamber about the possibilities of attracting tourism in larger numbers to the First City. Fairbanksan West, the grand-daddy of Alaska tourism, arrived to speak to the membership. West had begun a travel agency that he promoted into a lucrative cruise ship line and hotel chain. The Chamber's question to him: Was there was a possibility that West would add Ketchikan to his tourism itinerary?
At that luncheon meeting, the ruddy-faced and plain-spoken West stood at the head of the table in the Stedman Hotel's Totem Room and said, frankly, "You don't have anything here for visitors to see or do!" He shrugged. "Yes, you have the most totem poles, but Vancouver - in Canada - has better ones!" Some of the Chamber members were offended by his direct approach. But others saw the wisdom of his criticism. The town's totem poles were listing, peeling and in too many cases rotting in beds of weeds.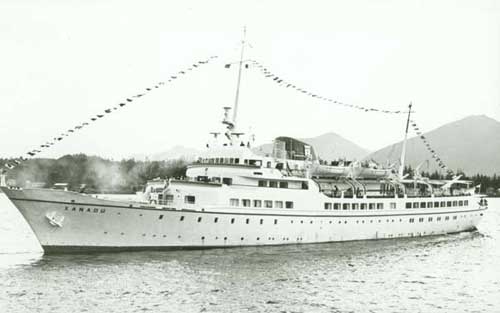 Cruise ship Xanadu on Tongass Narrows - Date unknown
Photographer: Otto C. Schallerer
Donor: Fred Greuder, Photograph Courtesy Tongass Historical Society

And Ketchikan did indeed have a fine collection of totem poles. In the late 1920s, with permission from the Native owners, many of the poles had been rescued and floated to town from abandoned Native villages south of the city via a project of Ketchikan's American Legion Post No. 3. With help and advice of Tlingit families, those poles had been restored, painted and raised in various locations about town. Then in the 1930s the Civilian Conservation Corp (the Depression era CCC) built the Saxman totem park and Totem Bight park to feature many of the totem poles. But by the 1960s, some of the valuable totem art was in sad repair.
At the time Chuck West visited Ketchikan, the Alaska Native Claims Settlement Act was still in the future. Before the Native community took charge of the poles, the Chamber of Commerce had donated paint and volunteer manpower to spruce up the poles each spring. The era of new respect and appreciation of the Native Alaskan culture and arts was just around the corner when poles would be painted in the traditional colors by Native Alaskan craftsmen.
Chuck West's frank and honest remarks at that Chamber meeting were not without value and sparked the beginnings of attempts to attract the new cruise ship industry to town. The Chamber organized a visitor & convention committee within its structure. But, as in any organization, operating funds were never quite enough to cover all the committees and projects. The Chamber did what it could. Some of the monies raised (by the late Bill Baker) for the 1973 Airport Dedication, for example, were funneled to the visitor & convention committee. It was appropriate, because the new airport brought in additional tourist dollars.
But to attract tourism in a larger way, it was felt that longer-term, proactive projects were needed. There were a number of businessmen in town who felt that the Chamber was not doing enough to promote interest in the tourism industry. Knowing that there would be some ill will if the Chamber was fragmented by a new tourism bureau, businessman Carl Porter ­ staying loyal to the Chamber but recognizing the needs of a new Visitors Bureau, acted as middleman between the two organizations. He successfully negotiated an agreement whereby Visitors Bureau members would first have to be Chamber members. The diplomatic political move made the breaking away of the tourism-oriented a little less divisive and painful.
On Jan. 30, 1976, the Articles of Incorporation for the Ketchikan Visitors Bureau (KVB) were signed by the first board of directors. Those directors were William Pauli, Len Laurance, Tom Sawyer, Anne Shrum and Ollie Hanger, all familiar names. They had little or no money but they had an abundance of optimism and energy. One of the bureau's first projects was sprucing up the island's two totem parks.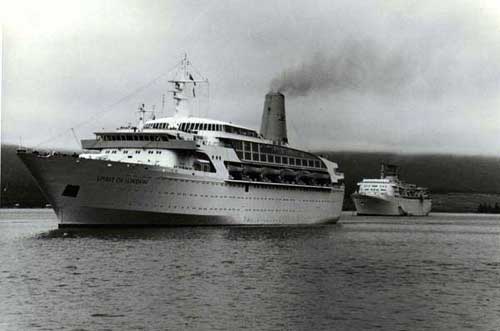 Spirit of London, Tongass Narrows - Date unknown
Photo Courtesy Tongass Historical Society

Cliff Taro of Southeast Stevedoring and local bus transport's Kenny Eichner and Ollie Hanger got in touch with down-south contacts as they worked to bring ships to town. Travel agent Len Laurance and his wife Judy jumped into the gap in the hospitality area and began tours for ferry passengers, and longtime local merchants Tom Sawyer and Anne Shrum shared their talents and support in the effort to make cruise ship tourism a reality. Boots Adams organized the first greeter effort. Dolly Arthur's red-light-district Creek Street house of ill repute was groomed to become one of the city's most popular attractions. Saxman was encouraged to join the tourism efforts.
Ollie Hanger started a charter boat organization to arrange fishing experiences for visitors. Hanger would also work hard to promote the later construction of the Totem Heritage Center, a project he considered to be of the most importance.
By the summer of 1976 three ships were stopping in Ketchikan each season. The small ship, the Xanadu, tied up at the downtown dock. But the larger Fair Sea and Fair Sky anchored out and lightered in to the Ellis Air dock. Eichner's yellow school buses became tourist season tour buses, with local drivers who knew the town well. Tom Sawyer provided the creative talent for receptions and bought a 12 x 12-foot Lindal Cedar cabin to be placed on the downtown dock to serve as the first Visitors Bureau building. Volunteers manned it at first.
Then in 1978 the Visitors Bureau's first executive director was hired - Dale Fox, a Ketchikan boy who had graduated shortly before from the University of Alaska Fairbanks. The personable, fresh-faced youth of those years - Kayhi Class of 1970 - is now a slightly heavier adult with lines in his face that he swears are all laugh lines - no frown lines at all! These 26 years later, he enjoys telling some of the stories of his five years with the KVB.
"In those first years I was on the job I made sales calls on cruise line officials whenever and wherever we could find them," he says. "We operated on the 'rumor' system ­ if we heard that such and such line 'might' come to Alaska, I would be in their New York or wherever offices selling them on the idea of including Ketchikan as a port of call!"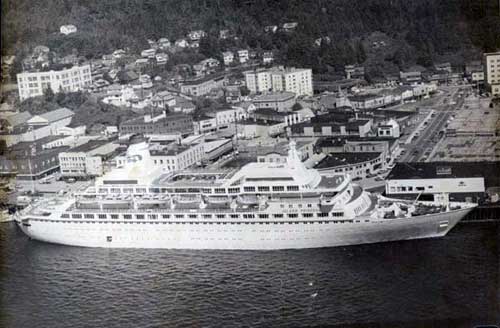 Island Princess - Mid 1970s
Photo Courtesy Tongass Historical Society

The strategy apparently worked. By 1980 ten cruise ships were stopping at the First City, making 110 calls and bringing some 63,000 people to town. Five years later in 1985 there were 18 ships calling each summer; the City of Ketchikan soon saw the need for dock upgrading and repairs. In 1990, 23 ships stopped at Ketchikan, bringing a quarter of a million visitors to town! On the millennium year of 2000, 38 ships made 461 calls, bringing more than half a million visitors into Ketchikan. By now, tourist numbers must be reaching close to three-quarters of a million mark.
When Dale Fox left to pursue other interests, his assistant Leeta Rice became the KVB director. She was followed by an interim director or two, and then about 1990 by Susan Wilcox and then Don Clothier and finally by today's popular executive director Patti Mackey. The little Lindal cabin was succeeded by a roomier dock office and more recently by today's much larger building. Cruise ship tourism became an important industry in Ketchikan.
The Ketchikan Visitors Bureau story is a boot-strap story of optimistic businessmen who were willing to face out-of-pocket expenses, ready to go out on a limb, and dedicated to working the long hours needed to boost the community's eroding economy. It's a can-do story not uncommon in Ketchikan. It's Ketchikan's own Field of Dreams: The cruise ship tour pioneers "built it, and they came!" They came at a time when the town's once lucrative fisheries industry was only a memory and they came just in time to fill at least part of the gap left by the sudden departure of the forest products industry.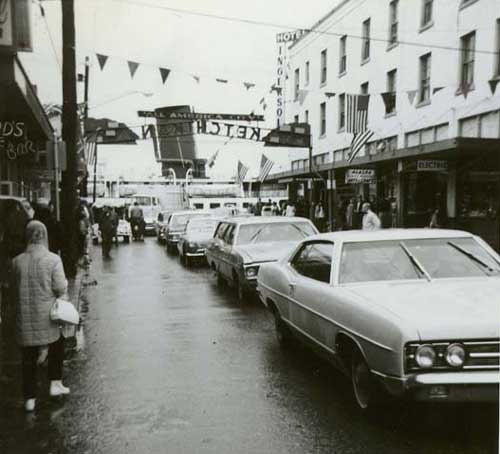 Mission Street Mid 1960's
Photograph courtesy Tongass Historical Society

Yes, Ketchikan's streets are overcrowded from May to September, traffic is a challenge and tempers are short. But tourists say the funniest things! Their comments and questions are hilarious enough to make up for any inconvenience or loss of ten minutes in traffic. Try these on for a good chuckle:
"What's the elevation here?" When told it's at sea level at dockside, the tourist replied, "Oh? I thought it must be higher, you know, because the clouds are so low."
Another teaser "I see Tom Sawyer's store over there. I don't suppose your Tom Sawyer is kin to.?"
"How do you folks celebrate Christmas up here?"
Pleased to meet a real Alaska native, the tourist's question was, "How long have you been an Indian?"
An amateur archeologist, looking at piling at low tide, "Hmmm. Curious. I see that at some time in the past the water was much deeper here." [Well, yeah, like six hours ago.]
And then there's the infuriating, "Where do you live in the wintertime?"

But forgive them. They know not what they say. Just smile and say "Welcome to Ketchikan!" It makes for a pleasant day.
And send funny tourist questions or comments you've overheard to me at june@sitnews.org and I'll include them in a story at the end of the season. OK?
---
This June Allen Story Is Made Possible In-Part By These Sponsors:


| | | |
| --- | --- | --- |
| | | |
| | | |

june@sitnews.org
Copyright © 2004 June Allen
All rights reserved.
Not to be reprinted in any form without the written permission of June Allen.
Post a Comment View Comments
Submit an Opinion - Letter

Sitnews
Stories In The News
Ketchikan, Alaska