9th Annual Alaska Hummingbird Festival
April 16-18, 2004
Front Page Photo by Kip Tyler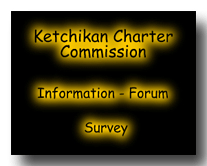 Ketchikan: Ketchikan Charter Commission Conducts Survey - Click here to complete the survey... Survey published Tuesday -03/23/04
Survey ends Sunday, April 18th
Viewpoints
Opinions/Letters

Comparing the Big Dig & Gravina/Pennock Island Bridge by Don Hoff Jr. - Hixson, TN - 04/16/04


Frightening What Is Found In Ditches! by Jerry A. Cegelske - Ketchikan - 04/16/04


RE: Gentlemen by Charles A. Mackey - Ketchikan - 04/16/04


RE: Extinct Gentlemen by Lynden Cothary - Ketchikan - 04/16/04


AMHS Building -- Ward Cove, Alaska by David Landis - Ketchikan - 04/16/04


Photos of Ketchikan by Lee Marmon - Laguna. NM - 04/16/04


Are single gentlemen extinct? by Brandi Conway - Ketchikan - 04/16/04


Gravina Bridge by Thomas Ferry - Ketchikan - 04/16/04


Read more Viewpoints


Publish A Letter
April 2004
Click on the date to read the stories & to view photos published on that day...

| | | | | | | |
| --- | --- | --- | --- | --- | --- | --- |
| S | M | T | W | T | F | S |
| | 29 | 30 | 31 | 1 | 2 | 3 |
| 4 | 5 | 6 | 7 | 8 | 9 | 10 |
| 11 | 12 | 13 | 14 | 15 | 16 | 17 |
| 18 | 19 | 20 | 21 | 22 | 23 | 24 |
| 25 | 26 | 27 | 28 | 29 | 30 | |
Ketchikan: 9th Annual Alaska Hummingbird Festival - Celebrate the return of migratory birds from Central and South America to the southern panhandle of Alaska. The male Rufous hummingbirds begin arriving in Ketchikan in mid-March and are seen at feeders and flowers throughout Ketchikan by mid-April.
Festival events include guided bird hikes, art shows, a bird-banding station, and activities for children. Schedule: 9th Annual Alaska Hummingbird Festival - April 16-18, 2004
For more information, call festival headquarters at the Southeast Alaska Discovery Center at 907-228-6220. - Photo & Hummingbird Web Movie....
Friday - April 16, 2004
Alaska: Revenue Forecast Shows Highest Ever Oil Prices, But Continuing Deficit for State Budget Should be a Call to Act - Department of Revenue Commissioner Bill Corbus on Thursday released the spring revenue forecast for the State of Alaska, which shows a record all-time high price for Alaska North Slope crude oil at an average of $30.64 per barrel through March in FY2004. It projects the high prices will continue through FY2005, with an average price of $28.30.
"Alaska has been blessed by high crude oil prices, which have provided us with more than $520 million in revenue over what we would have received under OPEC's baseline of $22 per barrel," Corbus said. "However, even with the high prices, Alaska faces a budget deficit that needs to be solved now."
"This forecast document presents no reason to postpone closing the fiscal gap. If it shows anything, this forecast shows the high volatility of oil prices. Therefore it, is in reality a call to action to adopt a plan this legislative session that matches recurring revenues with expenditures going forward."
The Constitutional Budget Reserve Fund, the cash reserve the state uses each year to balance the budget, is now forecast to hit $1 billion in September 2007, and be depleted in May 2008, based upon a $2.3 billion annual budget. Several aspects of the annual revenue shortfall are to be found in the forecast document.
The purpose of the forecast is to provide the Governor, Legislature and citizens of the State of Alaska with a summary of state revenues and a forecast of future revenues. The revenue forecast is categorized into four major components: oil taxes, non-oil taxes and fees, federal dollars, and investment revenues. The forecast contains projections through FY2015. - Read more...
Friday - April 16, 2004