Wednesday
April 07, 2004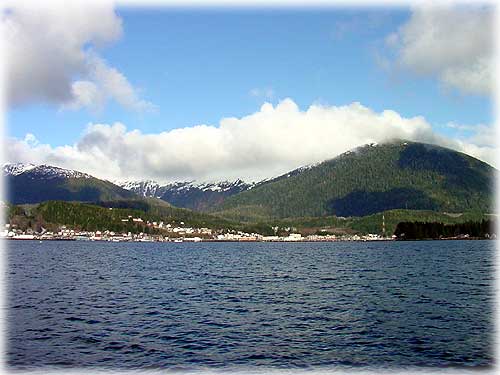 'From A Distance'
Front Page Photo by Gigi Pilcher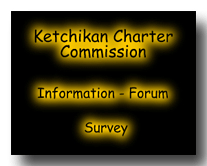 Ketchikan: Ketchikan Charter Commission Conducts Survey - Click here... First published Tuesday -03/23/04
Viewpoints
Opinions/Letters

Proposed Borough Budget Cuts by Dave Kiffer - Ketchikan - 04/07/04


"Thanks" to Ketchikan's Troop 4 of the Boy Scouts of America by Jerry A. Cegelske - Ketchikan - 04/07/04


"Extinction" of a herring stock not the inevitable outcome by Scott McAllister - Juneau - 04/07/04


Health Board, Not Health


Read more Viewpoints


Publish A Letter
April 2004
Click on the date to read the stories & to view photos published on that day...

| | | | | | | |
| --- | --- | --- | --- | --- | --- | --- |
| S | M | T | W | T | F | S |
| | 29 | 30 | 31 | 1 | 2 | 3 |
| 4 | 5 | 6 | 7 | 8 | 9 | 10 |
| 11 | 12 | 13 | 14 | 15 | 16 | 17 |
| 18 | 19 | 20 | 21 | 22 | 23 | 24 |
| 25 | 26 | 27 | 28 | 29 | 30 | |
Alaska: Alaska House of Representatives Passes Operating Budget - Tuesday the Alaska House of Representatives passed HB 375, the Operating Budget for FY05, containing funding for numerous departments and projects including: funding above the Governor's request for the Alaska Department of Fish and Game; 10 new investigators and 10 new Alaska State Troopers; over $200,000 above FY04 levels to fund public defenders in Alaska; full funding for disabled and senior services; full funding for women's shelters in Alaska; full funding for the Marine Highway System; and no cuts to the Department of Transportation. - Read more...
Wednesday - April 07, 2004
Petersburg: Agency Requests Information from Residents About Marine Mammal Shootings - The Commerce Department's National Oceanic and Atmospheric Administration's (NOAA) Law Enforcement Field Office in Petersburg, Alaska, has received complaints of marine mammals having been illegally shot or shot at over the past several months. - Read more...
Wednesday - April 07, 2004

Ketchikan: Listen to this story... After more than twenty years without a herring fishery in the West Behm Canal, the State Department of Fish and Game says gillnetters likely will begin fishing the area by the end of this week.
KRBD - Ketchikan Public Radio - linked Wednesday - April 07, 2004

Ketchikan: Listen to this story... The Ketchikan Gateway Borough Assembly Monday night voted to postpone taking final action on a $500,00 appropriation for upgrades to the Ward Cove building that is slated to become the new home of Alaska Marine Highway Headquarters. The delay came as cost estimates for repairs to the Borough-owned building were called into question. Deanna Garrison has this report.
KRBD - Ketchikan Public Radio - linked Wednesday - April 07, 2004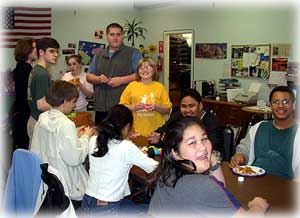 Egg Hunt Scheduled Saturday
Ketchikan Youth Court members take a break from stuffing 2,000 eggs with candies...
Photo by Gretchen Klein
Ketchikan: Egg Hunt Scheduled Saturday - Ketchikan Youth Court members have been stuffing 2,000 eggs with candies for the Easter Egg Hunt which is scheduled to take place at the Plaza Mall on Saturday, April 10th.
Revilla Island Prevention Coalition and the Plaza Mall are the hosting the Easter Egg Hunt Saturday and Ketchikan Youth Court, Parks and Recreation, Big Brothers Big Sisters, PATCHWORKS, AARP and the Ketchikan Senior Center are volunteering their time to man the event. - Read more...
Wednesday - April 07, 2004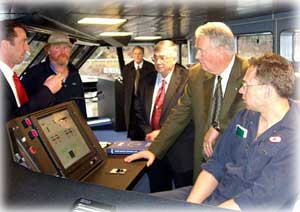 News in Photos
Governor Accepts Fast Ferry
On behalf of all Alaskans, Governor Frank Murkowski took delivery of the state's new fast ferry, the M/V Fairweather, from the vessel's builder, Connecticut's Derecktor Shipyards, during a brief onboard ceremony April 2 at the Auke Bay fetty terminal in Juneau. Above, the governor discusses the ship's control systems with (from left) Derecktor COO Gavin Higgins, Derecktor vessel delivery manager Mark Donahue, Alaska Transportation Commissioner Mike Barton, and ferry electronics manager Ken Andreasen. - Photo courtesy Office of the Governor
Alaska Science: Northern Crater Shows Prehistoric Deep Impact by Ned Rozell - To the rhinos and crocodiles of the far north, the day was like any other. They ate, swam and napped, unaware a celestial body was headed their way at 60,000 miles per hour. Suddenly, a wayward comet screamed into the atmosphere, struck Earth and created a bowl a mile deep and 15 miles in diameter. Haughton Crater was born. - Read more...
Wednesday - April 07, 2004
Internet: "Self-Googling" -- A Shrewd Form of Personal "Brand Management" - "Self-Googling" -- searching for your own name on the popular Google search engine -- may seem like an innocuous act of vanity, but a University at Buffalo communications professor recommends it as a shrewd form of "personal brand management" in the digital age. - Read more...
Wednesday - April 07, 2004
Columnist
Dick Morris: Kerry's Crash Continues - The latest daily tracking polls by Scott Rasmussen show that President Bush has moved up six points in the past week to take a three-point lead over Sen. John Kerry. The Bush surge is catalyzed by his negative ads, which castigate the Democrat's record on taxes and terrorism, and by the Kerry camp's abysmal failure to answer the charges effectively in paid advertising. - Read more...
Wednesday - April 07, 2004
The June Allen Column
is made possible in part by these sponsors. Cick on each name to visit each web site.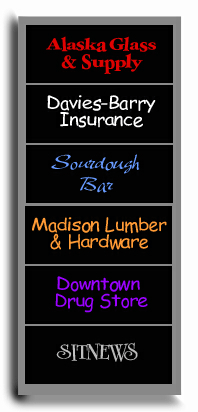 June Allen Column
More stories by June Allen...
---
E-mail your news tips, stories, news releases & photos to:
editor@sitnews.org

E-mail large photo files to
photos@sitnews.org

Edited by Dick Kauffman:
editor@sitnews.org

E-mail the Webmaster:
webmaster@sitnews.org

Copyright Applies - Please obtain written permission before reproducing photographs, features, columns, etc. that are published on Sitnews.

Published online since
August 2000

Sitnews
Stories in the News
©1999 - 2004
Ketchikan, Alaska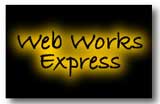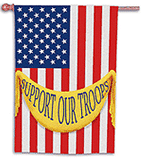 'Our Troops'
Wanted
Freelance Writers
Sitnews is interested in purchasing news and human interest stories about Ketchikan. For more information, e-mail the editor or call 247-8590.