Viewpoints
"Thanks" to Ketchikan's Troop 4 of the Boy Scouts of America
by Jerry A. Cegelske
April 07, 2004
Wednesday

I would like to say "Thanks" to Ketchikan's Troop 4 of the Boy Scouts of America for cleaning up mile 5 of the North Tongass Highway and to Nick Farstad and crew, Alaska Division of Highways for picking up the bags gathered by the Scouts and others. The Scouts and leaders worked Saturday in our typical Ketchikan weather (as the photos show) to make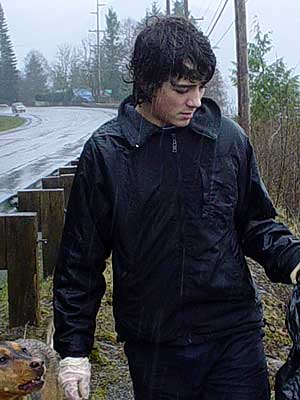 Spencer Round picking up in the pouring rain near Ward Cove Cannery...

Ketchikan a cleaner place to live.

Have you ever wondered about the people that litter? Who they are and what type of person they are, what are the habits of your typical litterer? In cleaning up Mile 5 with the Boy Scouts, Susan Round has formed some opinions and observations which follow:

On Saturday morning, I picked up Trash along the Boy Scout Troop 4 mile on North Tongass. I am not opposed to doing my civic duty, but I resent picking up litter because I never litter. I believe I can safely say the litter I have created in my entire 48 years wouldn,t fill a grocery sack. I can,t help it; it,s the way I was raised. In addition to the strict no-litter rules of my European mother, my childhood occurred during the Johnson Administration, the Great Society, and the anti-litter TV ad campaign was in force. The ads consisted of a little girl like me in a white dress pleading with us, Suzi Spotless says, Keep America Beautiful. Don,t Litter. I loved Suzi Spotless because we shared a name, and I grew up to be a devout non-litterer. So why do I have to spend my Saturday morning in the rain picking up YOUR mess!

You learn about people picking up their trash. For instance, when it comes to littering coffee cups, latte drinkers appear to be guilty as the non-designer coffee types. Smokers and beer drinkers are the most prolific litterers. Not only do they drop their countless bottles, cans, butts and empty cigarette packs, but I even found the discarded backings of their transderm patches. Go figure. Wine drinkers do not litter their empties. More refined personalities perhaps. In addition to beer and soda cans, drink cups, lids, and straws, butts and cigarette packs, as well as snoose cans, we found the obvious escaped trash from the back of the pickup trucks.

Please folks, if you consume carryout food and beverages in you vehicles, carry a trash bag and hold your stuff until you can dispose of it properly. If you cart your trash around with you in your truck beds, make certain its contain in sacks and weighted down so it won,t blow out. Use good judgment. Or if you insist on littering, consider spending your Saturday morning picking it up instead of me. Susan Round says, "Keep Ketchikan Beautiful, show some respect and quit acting like a creton."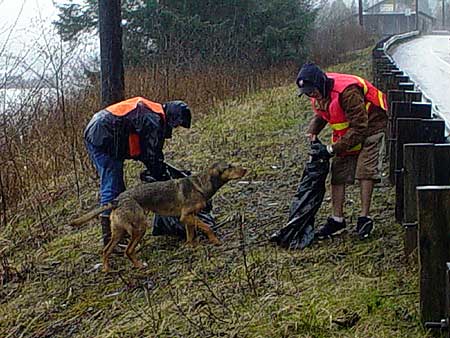 Kurt Benson, his son Aaron Benson, and Kia picking up trash .

If people took care of their trash groups like the Boy Scouts wouldn't have to work in the rain nearly as much nor as oftern as they do. I doubt the litterers have spent their Saturdays picking up trash, if they did, they wouldn't litter again!
Yesterday I was told of a pickup truck in the Tongass parking lot with trash in it. The ravens were having fun digging in the bags and scattering the trash. I grabbed my camera and took photos of the truck and the cans and papers scattered on the lot. After printing the pictures out, the next stop was the Ketchikan Police Department where I transferred the pictures and provided the information on the truck. They had previous dealings with the owner and he was aware of the law to have his load secured. It was nice to hear that they were aware of his knowledge of the law as I gave him two citations for littering on the North Tongass Highway. After the truck was moved and unloaded, I checked and photographed the litter still remaining on the dock and also gave that picture to the Police. That should be another citation due to his lack of concern for his litter.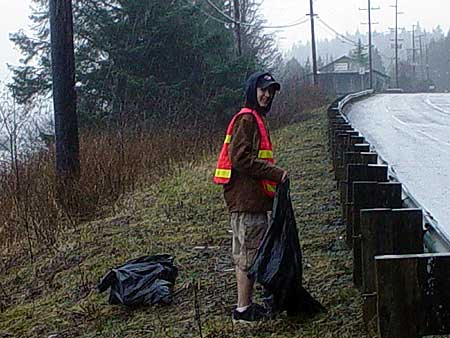 Aaron Benson picking up in the pouring rain.
As part of the continuing Gateway Borough Littering Education Program, I will be asking the courts to require litterers to conduct their own litter studies as they pick up trash others have kindly thought to dump along our roads and highways. I think it appropriate they share the experience of the Youth Court, the Society of American Foresters, and the Boy Scouts in picking up trash others have seen fit to allow in the ditches. The good thing about the Littering Education Program is that a litterer does not have to sign up! I take care of the paperwork and the fees run from $100-$200.00 per credit with additional fees for each day the litter remains. All it takes is to toss, allow to escape or dump trash as the case may be!
For a cleaner Ketchikan,
Jerry A. Cegelske
Code Enforcement Officer
Phone(907)228-6621
Ketchikan, AK - USA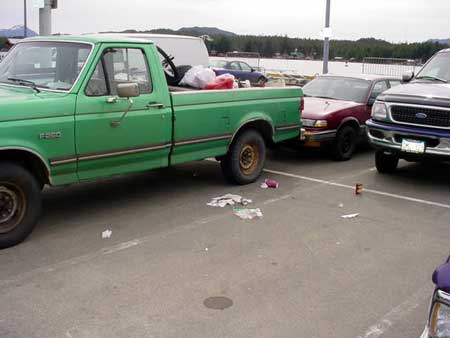 The uncovered load at the Tongass parking lot after the ravens worked on it.
Note: Comments published on Viewpoints are the opinions of the writer
and do not necessarily reflect the opinions of Sitnews.



Post a Comment -------View Comments

Submit an Opinion - Letter

Sitnews
Stories In The News
Ketchikan, Alaska