Island Princess - Mid 1970s
Photo Courtesy Tongass Historical Society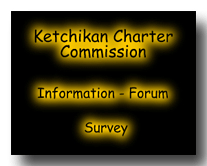 Ketchikan: Ketchikan Charter Commission Conducts Survey - Click here to complete the survey... Survey published Tuesday -03/23/04
Survey ends Sunday, April 18th
Viewpoints
Opinions/Letters

Free healthcare? by Cecelia Johnson - Ketchikan - 04/18/04


Speaking out against littering by Karen Ramsey - Ward Cove - 04/18/04


Single in Ketchikan by Erik Berglund - Ketchikan - 04/18/04


1804 or 2004? by Don Hoff Jr. - Hixson, TN - 04/18/04


New "Paperless Ballots" Threaten Fair Elections by Sen. Johnny Ellis and Rep. Les Gara - AK - 04/17/04


RE: Are single gentlemen extinct? by Myra Callahan - Ketchikan - 04/17/04


RE: Comparing the Big Dig & Gravina Bridge by Thomas Ferry - Ketchikan - 04/17/04


Read more Viewpoints


Publish A Letter
April 2004
Click on the date to read the stories & to view photos published on that day...

| | | | | | | |
| --- | --- | --- | --- | --- | --- | --- |
| S | M | T | W | T | F | S |
| | 29 | 30 | 31 | 1 | 2 | 3 |
| 4 | 5 | 6 | 7 | 8 | 9 | 10 |
| 11 | 12 | 13 | 14 | 15 | 16 | 17 |
| 18 | 19 | 20 | 21 | 22 | 23 | 24 |
| 25 | 26 | 27 | 28 | 29 | 30 | |
Ketchikan's Cruise Ship Industry
A light-hearted look at its origins
by June Allen
Tourists are nothing new to Ketchikan. These seasonal visitors have been spilling out onto the downtown docks for more than a century now. They share certain traits: They're thrilled to find themselves in distant, exotic Alaska; they find Ketchikan quaint and charming; and, they are wide-eyed and excited as they board charter fishing boats, or climb into sightseeing coaches to rumble off over the city's trestle streets. The basic awe most people feel when seeing our little town remains constant, even after a century. The things that have changed over the years are the much larger numbers of ships and visitors visiting each summer and the numbers of attractions available to them.
At the turn of the 20th century, brand new Ketchikan was even then being visited by tourists and journalists. In The Ladies World Magazine of March 1905, travel writer Myra Drake Moore described the Ketchikan she visited the summer of 1904: "[Ketchikan] is the port of entry into Alaska it and its sister towns of Juneau and Skagway are all very much alike in architecture, and seem to be 'happen-so's'. Ketchikan," she archly wrote, "has accumulated itself."
Ketchikan had already begun plans to provide facilities for visitors back then. At the time of Ms. Moore's visit, the city's first two "luxury" hotels, the 1905 Stedman and 1906 Revilla (on the Ingersoll corner), were in the planning stages. Their stylish towers would become landmarks in the First City. The new hostelries catered to ever-increasing volumes and varieties of visitors as the 20th century rolled by, from tourists and traveling salesmen to sporting women and travel writers.
Display ads in the old Ketchikan Mining Journal from the earliest years of the town's existence confirm that almost every Ketchikan business - from wallpaper shop or insurance office to candy store to news store and liquor store to saloon - advertised "curios" in their businesses ads. Most curios in those earliest days were rock and ore samples, Native moccasins and baskets, and picture post cards. - Read the rest of this story by June Allen...
Saturday - April 17, 2004

Ketchikan: U.S. Sen. Murkowski Kickoffs Ketchikan Campaign - Senator Lisa Murkowski (R) kicked off her Ketchikan campaign for the United States Senate Friday evening with a family event held at the Alaska Marine Lines Warehouse.
According to information provided by the Murkowski campaign, Senator Lisa Murkowski filed her 1st quarter financial report with the Federal Election Commission (FEC) on April 14, 2004. The campaign raised over $540,000 during the last three months. The total amount raised for the Senator's election now nears $2.5 million.