U.S. Sen. Murkowski Kickoffs Ketchikan Campaign
April 17, 2004
Saturday

Ketchikan, AK - Senator Lisa Murkowski (R) kicked off her Ketchikan campaign for the United States Senate Friday evening with a family event held at the Alaska Marine Lines Warehouse.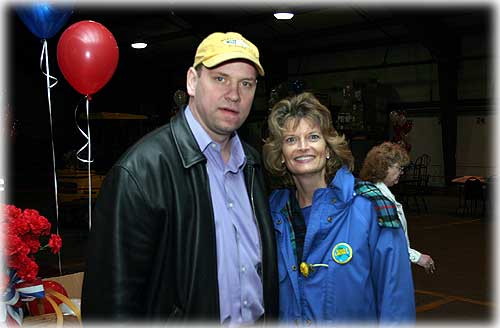 Paul Axelson and U.S. Senator Lisa Murkowski
Photo by Carl Thompson

According to information provided by the Murkowski campaign, Senator Lisa Murkowski filed her 1st quarter financial report with the Federal Election Commission (FEC) on April 14, 2004. The campaign raised over $540,000 during the last three months. The total amount raised for the Senator's election now nears $2.5 million.
"I'm thrilled that so many Alaskans realize the importance of my election to the Senate. This race is of critical importance to Alaska and the generosity of all my supporters is greatly appreciated. After months of advertising and great events we have over $1.5 million cash on hand," Senator Murkowski said.
Quoting a news release, the number of individual Alaskan contributors is up 29% over last year with the total number of Alaskan donors reaching 58% of all campaign contributors. "The great percentage of Alaskan contributions to this race is very important to me. Alaskans have expressed how important it is to have a unified Congressional Delegation in Washington D.C.," Senator Murkowski noted. "Ted, Don and I are fighting for Alaska every day as one voice doing what is right for Alaska. Our seniority is crucial for Alaska and it is important we have the best team possible in Washington D.C."
Based on her opponents' releases, Murkowski estimates that her campaign still maintains a large cash on hand advantage by more than $600,000.
Other candidates for Alaska's U.S. Sentate seat include Tony Knowles (D), Don R. Wright (D); Scott A. Kohlhass (AK Libertarian); Jim Dore (R); and Daniel DeNardo (AK Independence).
Source of News Release & Information:
Lisa Murkowski for U.S. Senate Campaign
Web Site


Alaska Division of Elections (Candidates List)
Web Site
E-mail your news & photos to editor@sitnews.org


Post a Comment View Comments
Submit an Opinion - Letter

Sitnews
Stories In The News
Ketchikan, Alaska