Saturday
October 30, 2004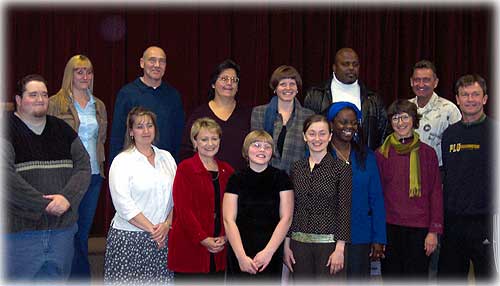 'Ketchikan's 2004 Asset Builders'
Front Page Photo Courtesy PATCHWorks
Viewpoints
Opinions/Letters

"Just Say No" to proposition No. 2 by Lynda Adams - Sunday


Where to put students next year by Dave Lieben - Sunday


Absenteeism in most jobs will get you fired by Bob Ciminel - Sunday


David Landis for Senate by Rick Rohlman - Sunday


Re: Let's Put A New Alaskan Team Together by Rick Grams - Sunday


Kerry's Liberal Record by Mark Neckameyer - Sunday


David Landis Is Best Choice For State Senate by Bill Taylor - Saturday


Distorting Kerry's Voting Record Does a Disservice to Voters by Paul Gronke - Saturday


Campaign Literature by Ty Rettke - Saturday


Possible to Impeach a Presidential Candidate? by Mark Neckameyer - Saturday


Re: Best Choice for the Senate by Dave Kiffer - Saturday


RE: Clarification by Lilian Filanis - Saturday


Let's Put A New Alaskan Team Together by Don Hoff Jr. - Saturday


More Viewpoints/ Letters


Publish A Letter
Ketchikan: Building Assets Brings Sweet Rewards; PATCHWorks Honors Residents at Annual Asset Builder Awards Ceremony - PATCHWorks hosted their 4th annual Asset Builder Awards ceremony Tuesday to recognize individuals in the Ketchikan community who continually make a difference in the lives of young people through asset building. Masters of Ceremonies Marketia McElroy and Jessica Bernard, both students at Kayhi, reminded the crowd of close to 100 youth and adults that being an "asset builder" is easy and can be as simple as volunteering to be a mentor or role model for just one young person.
The developmental assets model is a framework of 40 Developmental Assets which are concrete, common sense, positive experiences and qualities essential to raising successful young people. These assets have the power during critical adolescent years to influence choices young people make and help them become caring, responsible adults. - More...
Saturday - October 31, 2004
Alaska: Native Leaders to Work with Governor for Rural Alaska; Will Cooperate on Infrastructure Funding, Energy Costs, Local Government - Alaska's top Alaska Native regional corporation leaders agreed Friday to join with Alaska Governor Frank Murkowski in efforts to improve the economy in rural Alaska by prioritizing energy and transportation infrastructure and improvements, making the regions more energy self-sufficient and improving the economic viability of smaller communities.
"This was a very cordial, very productive meeting with the leaders' of Alaska Native corporations," the governor said. "We all share a common commitment to providing opportunities for the people of rural Alaska, and I am very pleased at the chance to work with them on issues that are so critical for their shareholders and other Alaskans." - More...
Saturday - October 31, 2004
Alaska: Global climate change threatens reindeer, caribou; International network to track climate change effects on subsistence resource - Global climate change could threaten the most important terrestrial subsistence resource in the circumpolar north - reindeer and caribou.
To assess the effects of climate change on reindeer and caribou - Rangifer is the scientific name - and the communities that depend on them, the University of Alaska Fairbanks (UAF) Institute of Arctic Biology (IAB) and Environment Canada's Canadian Wildlife Service are hosting a workshop in Vancouver, British Columbia, Canada, October 31 and November 1, to launch the CircumArctic Rangifer Monitoring and Assessment network (CARMA). - More...
Saturday - October 30, 2004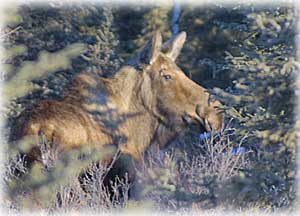 A moose's nose includes a unique
adaptation for underwater feeding...
Photograph by Ned Rozell
Alaska: Why is a moose's nose so big? by Ned Rozell - A wolverine without tenacity is just a big weasel. A grizzly without a taste for flesh is an oversized koala. A moose without a big nose is a broad-antlered elk. The quality that makes the moose one of the stars of Alaska wildlife is also the subject of a recent study. Why, asked scientists from Ohio, does the moose have such a big nose?
And, one might ask, why do scientists from Ohio care?
It can tell them about evolution, says Lawrence Witmer. Witmer is a biologist and professor of anatomy at Ohio University. As part of a study of unusual noses on dinosaurs and modern animals, Witmer and his colleagues examined the enigmatic nose of the moose. - More...
Saturday - October 30, 2004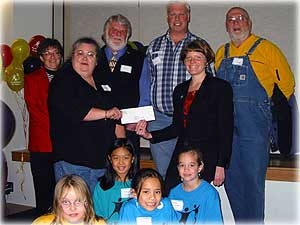 Among those pictured are
CHARR Board Member KJ Harris,
George Tipton, Wes Loe,
Gretchen Klein and "Littles"...
Photo courtesy BBBS of Ketchikan
Ketchikan: Citizens launch Little Moments Big Magic Society for Big Brothers Big Sisters of Ketchikan; Donors pledge multi-year gifts to benefit local program - One hundred and fifty Ketchikan citizens attended the first annual Big Magic Luncheon of Big Brothers Big Sisters of Ketchikan Thursday. At the event, eight local citizens became founding members of Ketchikan's Little Moments Big Magic Society with CHARR underwriting the event with a generous donation of $5,000. - More...
Saturday - October 30, 2004
Columnists

Dick Morris: Why Bush Will Win - Here's a two-part test to determine who will win on Tuesday:
a) Ask yourself: What is the issue we are talking about these days? Are we focused on terrorism and Iraq, or on health care and jobs? The answer is obvious: terrorism and Iraq. - More...
Saturday - October 30, 2004

Dave Kiffer: Halloween in Ketchikan... Now that's scary! - Halloween has always been somewhat of a dicey proposition for Ketchikan.
After all, you can spend hours coming up with the perfect costume (Goretex Fairy Princess or Helly Hansen Superhero) and the weather (October is the cruelest month in these parts) will force you to cover it up. Things have gotten a little better in recent years with the city-wide indoor Halloween party at the mall every year but in the old days (or "back in the day" as the new cliche would have it) it was a matter of bundling up and trudging up and down the local streets to gather enough candy to get good and sick on later ( I know what of I speak on that one!). Today, some neighborhoods still carry on that tradition, Jackson Street most notably.- More...
Saturday - October 30, 2004
Ghost Stories: None received for publication...
Sunday - October 31, 2004
---

Vote
Nov. 2nd

2004 Official Election Pamphlet


2004 General Election Official Candidate List


2004 General Election Ballot Measures (pdf)


Polling Places



Paid for by Stedman for Senate
125 Main Street, #265
Ketchikan, Alaska 99901



Paid for by David Landis
for State Senate Campaign
1920 Tongass Avenue, Lower
Ketchikan, Alaska 99901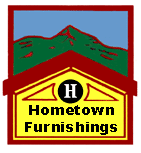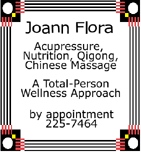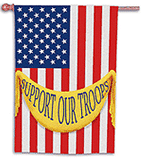 'Our Troops'