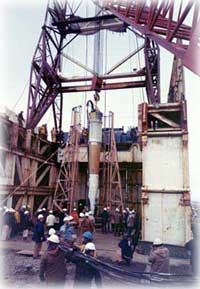 On Alaska's Amchitka Island, the canister for the CANNIKIN event is lowered downhole to test the warhead design for the Spartan ABM interceptor.
Photo: Lawrence Livermore National Laboratory
Alaska: Senate Passage of Complete Aid Fix For Amchitka/Nuclear Workers Welcomed - U.S. Sen. Lisa Murkowski Saturday welcomed Senate passage of a series of major changes to the federal legislation designed to compensate employees who became ill while and after working on federal nuclear energy programs, such as the workers in Alaska who worked on the three Amchitka Island nuclear bomb tests decades ago. - More...
Monday - October 11, 2004
Columnists

Joann Flora: Weight Management In the 21st Century: Part 1, Identifying the Problem - Greetings, Sitnews readers. It's good to be back with you after a summer layoff. In the coming months, I plan to present some new and relevant topics concerning health and welcome your ideas for new columns. The first is a series on weight management. In September, I had occasion to attend a national conference on the treatment and prevention of obesity. I have been concerned about the ever increasing weight of our population, particularly among our children, and wished to understand the cause of this epidemic and which options are currently being employed. As you may imagine, this is a pretty expansive topic and one article will not address it all. Let's begin by trying to understand the nature of obesity and identifying the problem. - More...
Monday - October 11, 2004

Dick Morris: The President Is Back - The president finally showed the guts, determination and focus that earned him victories in the three debates with Al Gore. He finally did his homework. He focused on his briefing points and mobilized his rhetoric to win the second debate. - More...
Monday - October 11, 2004

Dave Kiffer: Hope springs eternal - One of the great advantages to growing up in Ketchikan is that you don't necessarily have to become obsessed with the success or failure of a professional sports team.
Sure, there are more Mariners-Seahawks-Sonics fans here than anything else, but it's not like if you grew up in Chicago and had to depend on the success of either the Cubs/White Sox or Bears for your sense of self worth. When I worked in Boston in the mid 1980s, there were at least three suicides attributed to the Red Sox' dramatic collapse against the Mets in the 1986 World Series. Just a sad reminder that fan is short for fanatic. - More...
Monday - October 11, 2004

Bob Ciminel: A Prophet in Her Own Time - I first became aware of the religion of Islam in the mid-1950s while a fifth grade student at St. Alphonsus parochial school in the riverside community of Springdale, Pennsylvania.
Now, before you Roman Catholics out there get your feathers ruffled, this is not going to be a diatribe against the Catholic Church. Although I left the Catholic Church - if anyone can really "leave" the Church - and have been a Methodist since the early 1970s, I have no quarrel with it. When I use a term like "brainwashing" to describe Catechism class, I am using it as a good connotation of what I learned there and how I've applied it to my life. - More...
Monday - October 11, 2004