Fish Or Cut Bait
A Prophet in Her Own Time
by Bob Ciminel
October 11, 2004
Monday

I first became aware of the religion of Islam in the mid-1950s while a fifth grade student at St. Alphonsus parochial school in the riverside community of Springdale, Pennsylvania.
Now, before you Roman Catholics out there get your feathers ruffled, this is not going to be a diatribe against the Catholic Church. Although I left the Catholic Church - if anyone can really "leave" the Church - and have been a Methodist since the early 1970s, I have no quarrel with it. When I use a term like "brainwashing" to describe Catechism class, I am using it as a good connotation of what I learned there and how I've applied it to my life.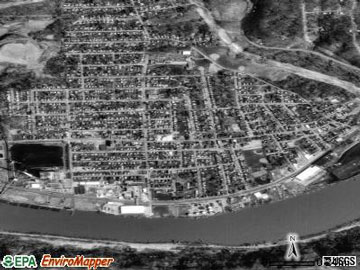 Springdale, PA
Photo courtesy the US Geological Survey
The community of Springdale is historically noteworthy for two reasons. It contains the cemetery that holds most of the remains of the 181 victims of the 1904 Harwick Mine Disaster, which led to the creation of the Carnegie Hero Fund, and it is the birthplace of author Rachel Carson, whose book, "Silent Spring," started the environmental movement.
Tucked along the west bank of the Allegheny River 17 miles up river from Pittsburgh, over the last two centuries Springdale transitioned from an Indian village to what locals referred to as "Power City." When I lived there, Springdale was bracketed by two electric power plants, Colfax Station on the south and Springdale Station on the north. My friends and I used to jump on the coal train that ran between Colfax Station and Harwick Mine. We couldn't do that at Springdale Station; it received coal through two mine tunnels bored underneath the river from the Logan's Ferry Mine over on the opposite bank.
In 1901, the Diocese of Pittsburgh created St. Alphonsus Parish by opening a church and school in downtown Springdale. The school was administered by the Sisters of Divine Providence, who taught classes there for over 90 years. St. Alphonsus School closed in 1995 when enrollment dropped to 42 students. When I attended St. Alphonsus, enrollment was at its peak with more than 500 students attending classes in two shifts in the school's 16 classrooms.
My introduction to Islam came during one of our daily Catechism lessons where we learned about the history and liturgy of the Roman Catholic Church. The lecture - I say lecture because Catechism at the fifth grade level was not a discussion; the sister talked and we listened - was about other religions and their beliefs. Of course, with fifth graders, she could not go into specifics; we barely understood our own faith, which was mysterious enough with the Mass still being conducted in Latin.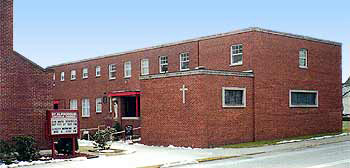 St. Alphonsus School
Photo courtesy St. Alphonsus Parish
Basically, I remember that Protestants were okay because they believed in God and Jesus Christ, but they didn't pray to the saints and their ministers could marry, so they would have a difficult time getting into heaven. The Jews were bad because they crucified Christ and still would not accept Him as the Messiah. Even back then, I could not understand how the Jews could be God's chosen people and yet could never be allowed into heaven unless they renounced their faith and converted to Catholicism. I had friends who were Jewish and we had many arguments over whose religion was better. What I remember is that a person's friendship became more important than his or her faith and we just left it at that. So, yes, I was brainwashed at St. Alphonsus, and it continued at St. Philip's, St. Pius X, and Bishop Canevin High School, although our high school religion class was more open to discussion and we could challenge some of our long-held beliefs.
What sticks in my mind most clearly about my time at St. Alphonsus was what my Catechism teacher told us about Islam. I had forgotten her words over the intervening half century, but on September 11, 2001 I recalled them and realized that she was a prophet. Our teacher told us that Islam was the greatest threat to Christianity - not to the Catholic Church, but to Christianity.
What I see happening in the world today in the name of Islam is frightening. The bombings and beheadings carried out in the name of Allah, and condoned and encouraged by some Islam's religious leaders, go far beyond Mohammad's goal of proselytizing and converting non-believers; they have become theater. That Islam has reached the depths of depravity is evident in the number of Muslims killing each other in sectarian violence or for political gain. Nothing I learned at St. Alphonsus led me to believe that it was permissible to kill Methodists, Presbyterians, or Jews because of their religious beliefs. We were encouraged to learn about other religions to try and understand what formed their core; to learn why we were different and why, in some respects, we were the same. We were encouraged to invite our non-Catholic friends to attend church with us, not to kill them.


ciminel@sitnews.us
Bob Ciminel ©2004
All Rights Reserved


Post a Comment View Comments
Submit an Opinion - Letter

Sitnews
Stories In The News
Ketchikan, Alaska