Tuesday
September 28, 2004
'Civic Center Sunset'
Front Page Photo by Carl Thompson
Viewpoints
Opinions/Letters

Re: "Time to leave Iraq" by Lilian Filanis - 09/28/04


Re: How To Save Our Harbors by Peg Travis - 09/28/04


Thank You for Trash Cleanup by Jerry Cegelske - 09/28/04


Re: The "Elite" media is even further to the left... by Glen Thompson - 09/28/04


Re: The "Elite" media; KIC; and Where are... by Brandi Conway - 09/28/04


More Viewpoints/ Letters


Publish A Letter
Ketchikan Regular Election
Tuesday - Oct. 5th

Candidates & Ballot Proposition Voter Information

Alaska: Governor Reports "Alaska Wild Salmon" Marketing Success - The State of Alaska is succeeding in building national brand awareness for Alaska wild salmon through an innovative matching grant program started last year, Governor Frank H. Murkowski said in a press conference Monday. Murkowski, Legal Seafoods CEO Roger Berkowitz, and NorQuest Seafoods President John Garner joined the governor to talk about the significant impact the state's matching grant salmon marketing program has had on building consumer brand awareness for Alaska wild salmon.
In 2003, the governor called on private industry to match $10 million of state funds to more effectively market Alaska salmon to the Lower 48. The Alaska Salmon Marketing Program is a key component of the Salmon Revitalization Strategy, initiated by Governor Murkowski with funding provided by Senator Ted Stevens. It is a multi-level, multi-year plan designed to spur increased productivity and innovation in the Alaska fishing industry. - More...
Tuesday - September 28, 2004
Ketchikan: UAS Ketchikan Essay Contest Winners Announced - Three talented and creative people won the University of Alaska Southeast Ketchikan campus 50th Anniversary Essay Contest. Winners were announced at the Commemorative Event held on Saturday, September 25 at the main campus, located at 2600 Seventh Avenue - Read...
Tuesday - September 28, 2004
Southeast Alaska: Intensive search continued for float plane occupants - Coast Guard helicopter crews, assisted by Angoon Search and Rescue, Civil Air Patrol (CAP), Good Samaritan and Harris Air aircrew teams, continued searching Monday for a charter float plane and its five occupants missing since last Monday afternoon. - More...
Tuesday - September 28, 2004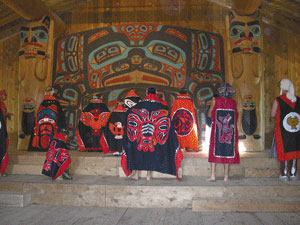 Mescalero Apache dancers performed twice
at the tribal house in Saxman...
Photo by Yeda Hicks
Ketchikan: Mescalero performers go north to Alaska - Eight Mescalero students went kayaking and saw seals, whales and hundreds of eagles this summer - during a cultural exchange trip to Alaska.
The students were members of the Mescalero Apache School Performing Arts Group, ranging from eighth grade through graduating seniors, and their guide was teacher John Vlaun, who used to live in Ketchikan.
The performing arts group has performed around the Southwest, won the Governor's Choice Award at the State Fair last year in Albuquerque, and performed at the opening ceremony at the Gathering of Nations, the largest pow-wow in the country.
For the students the trip to Alaska meant not only seeing a new part of the world and new experiences but also meeting Native Alaskans, performing for them and watching them perform.- More...
Tuesday - September 28, 2004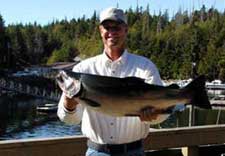 Randy Rush weighs in an 18.0 pound Silver. Rush is from Scottsdale, Arizona.
Photo courtesy Knudson Cove Marina,
photo by Misty Pattison
Ketchikan: 21 Pound Silver Holds Lead; Ketchikan Little League Silver Salmon Derby Ends Sept. 30th - The latest standings as of mid-day Sunday, September 26th, has Terril Howard of Ketchikan in first place with a 21 pound Silver Salmon. Listed in second place is Cynthia Stern of Grandby, Colorado with her 19.6 pound Silver Salmon and in third place is Stephanie Pattison of Ward Cove with an 18.4 pound Silver. Weighing in an 18.0 pound Silver and claiming the fourth place position is Randy Rush of Scottsdale, Arizona. Also weighing in an 18.0 pound Silver and in fifth place is Richard Atwood of Ward Cove, Alaska. - More...
Tuesday - September 28, 2004
Columnists

Howard Dean: The Myth of Corporate Accountability - In recent years, thousands of good-paying American jobs have been sent overseas. Free trade has made it much easier for corporations to do business elsewhere, but free trade does not make it easier to protect workers and the environment elsewhere. This results in lost American jobs and downward pressure on American wages and benefits; leading to just what short-sighted leaders in the world business community hoped for - to make quarterly results better. - More...
Tuesday - September 27, 2004

Dave Kiffer: Ketchikan Flashback - Last month my family and I spent a few days in Wenatchee, Washington. It was hot (105 degrees), dry (maybe a foot of rain a year) and everything Ketchikan is not. But it did give me a great, big Ketchikan flashback.
It happened after I parked the rental car downtown for awhile. When I came back out of the store, there was a big yellow slash on the front tire.- More...
Tuesday - September 27, 2004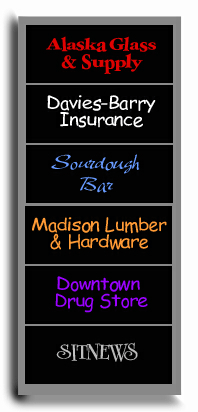 The June Allen Column
is made possible in part by these sponsors. Cick on each name to visit each web site.
June Allen Column

John Koel, Baker to Banker; An eccentric philanthropist John Koel was a well-known figure in Ketchikan from the day he arrived in 1901 to the day he died in 1946. The eldest son of German immigrants who settled in the Midwest, Koel was a 38-year-old confirmed bachelor, a slight man with high cheekbones, a small mustache and a tidy bankroll he had saved to finance his adventure in Alaska. A baker by trade and already a canny businessman when he alighted on the steamship dock, he quickly toured the new city of Ketchikan and almost immediately opened the OK Bakery on Dock Street, near the intersection with Main Street. - Read the rest of this story by June Allen...
Tuesday - September 07, 2004

Harold Gillam: A Tragic Final Flight; Ketchikan remembers the search

Ketchikan's 'Fish House Tessie'; She was proud of the nickname

Fairbanks: Golden Heart City; A story of its founding

Remembering 'Swede' Risland (1915-1991);The town's most memorable logger

Alaska's Deepwater Highway; A part of Alaska history

Ketchikan's American Legionnaires; Here's to 'the boys' of Post #3 -

Ketchikan's Cruise Ship Industry; A light-hearted look at its origins

Ketchikan's First City Players; Did you hear that applause?

A biography of Alaska's herring: A little fish of huge importance...

Read more stories by June Allen...

Copyright Applies - Please obtain written permission before reproducing photographs, features, columns, etc. that are published on SitNews.
---







Paid for by David Landis
for State Senate Campaign
1920 Tongass Avenue, Lower
Ketchikan, Alaska 99901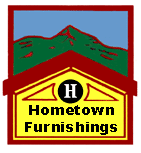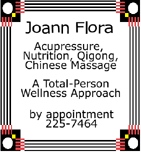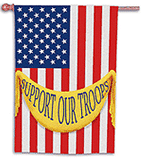 'Our Troops'