Friday
September 10, 2004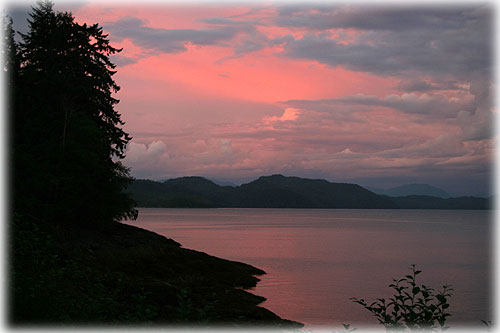 'Sunset'
Front Page Photo by Carl Thompson
Viewpoints
Opinions/Letters

Re: Land swap slime ball maneuvers by Rick Grams - 09/10/04


Conflict of Interest? Under whose definition? by Bobbie McCreary - 09/10/04


The damage continues by Jerry Cegelske - 09/10/04


More Viewpoints/ Letters


Publish A Letter
September 2004
Click on the date to read the stories & to view photos published on that day...

| | | | | | | |
| --- | --- | --- | --- | --- | --- | --- |
| S | M | T | W | T | F | S |
| | 30 | 31 | 01 | 02 | 03 | 04 |
| 05 | 06 | 07 | 08 | 09 | 10 | 11 |
| 12 | 13 | 14 | 15 | 16 | 17 | 18 |
| 19 | 20 | 21 | 22 | 23 | 24 | 25 |
| 26 | 27 | 28 | 29 | 30 | | |

Ketchikan: Ribbon-Cutting for Ketchikan's 3rd Avenue Extension Announced - The Alaska Department of Transportation and Public Facilities announced Thursday that Governor Frank Murkowski will officially dedicate the 3rd Avenue extension in Ketchikan on Wednesday, September 15th at 10 a.m. The ribbon-cutting ceremony will take place at about midpoint on the project. The public is invited to attend.

The $16.6 million project connects 3rd Avenue between Washington Street and Schoenbar Road in Bear Valley. It is approximately one mile long, located directly above Ketchikan's 2nd Avenue residential area in steep, forested terrain. The project includes the innovative use of roller compacted concrete to construct the difficult central segment of the project. The RCC embankment is approximately 90 feet high at its maximum, and supports approximately 1,000 feet of the new roadway. RCC technology has a long history in dam construction, but fairly limited use in highway construction. It's use on the Ketchikan project is a first for Alaska. - More...
Friday - September 10, 2004

Alaska: Governor calls for federal action against fish farming - Alaska Governor Frank H. Murkowski is asking the U.S. Department of Commerce for a five-year moratorium on new finfish farming and for other concessions before considering any changes to encourage aquaculture in federal waters.

In Alaska, coastal communities have traditionally lived off the bountiful fish resources of our sea and marine finfish farming threatens that livelihood as well as consumer confidence in wild Alaska salmon, Murkowski said. - More...
Friday - September 10, 2004
Ketchikan: New UAS Ketchikan Distance Delivery Project Announced; Project will assist rural and Native Alaskans in pursuit of post-secondary education - he University of Alaska Southeast Ketchikan campus has been awarded a five-year development grant under the US Department of Education Strengthening Institutions Program. Out of 260 eligible applications, UAS Ketchikan was one of only 53 funded. - More...
Friday - September 10, 2004

Ketchikan: 15 Alaska Tribes to Receive Over $5 million in Indian Housing Block Grants; Local tribes receive largest grants - Alaska Congressman Don Young recently announced the release of over $5 million in Native American Housing Assistance and Self-Determination Act (NAHASDA) funds through the U.S. Department of Housing and Urban Development. These grants will go to 15 of Alaska's 229 tribes. Of the 15 tribes, the largest recipients are the Ketchikan Indian Corporation receiving $1,168,627 and the Metlakatla Housing Authority receiving $1,437,591.- More...
Friday - September 10, 2004

National: Newly Released National Survey Reports Most Adults with Substance Abuse Problems Are Employed; Youth Turning Away from Marijuana, as Perceptions of Risk Rise - Health and Human Services Secretary Tommy G. Thompson announced Thursday that there is a five percent decline in lifetime use of marijuana among American youth between the ages of 12 and 17. Current use of marijuana plummeted nearly 30 percent among 12 and 13 year olds. The findings were included in the 2003 National Survey on Drug Use and Health released Thursday. - More...
Friday - September 10, 2004

Columnists

Dick Morris: Beyond The Bush Bounce - President Bush enters September with a remarkable double-digit lead as a result of one of the most successful conventions in recent years. The key to the GOP success was, of course, its focus on terrorism, reminding Americans what a dangerous world we inhabit. The Republicans also moved to the center, featuring pro-choice and socially moderate orators like Rudy Giuliani, Sen. Zell Miller and Gov. Arnold Schwarzenegger. - More...
Friday - September 10, 2004

Michael Reagan: Choosing the Battleground - The passengers and the crew of a plane due to travel from an Egyptian resort to Moscow refused to fly when two Chechnyan women got on board. The Egyptian authorities, however, asked that the women be allowed to get on the plane. Guess what? They got on the plane. They then acted suspiciously, locking themselves in the toilet right after they boarded and as a result they were kicked off the aircraft. Rightly so. - More...
Friday - September 10, 2004

Phoebe Newman - A Piece of My Mind: WHERE ARE WE? FLORIDA? Last time I voted in the local elections, I paid careful attention to the candidate selections. I voted my conscience, I voted my hope, and now I've been told I was simply a dope.- More...
Friday - September 10, 2004
Ketchikan Regular Election
Tuesday - Oct. 5th
Filing for local office began August 10th and ends Sept. 7th at 5:00 pm.
City Council
Two 3-year seats & One 1-year seat

Tom Coyne filed 08/10/04: Council 3-Year Term

Lew Williams filed 08/16/04: Council 3-Year Term

George Lybrand filed 08/17/04: Council 1-Year Term

Assembly
Two three-year terms

Mike Painter filed 08/10/04: Assembly 3-Year Term

John A. Harrington filed 08/30/04: Assembly 3-Year Term

Glen Thompson filed 08/31/04: Assembly 3-Year Term

Richard "Dick" Coose filed 09/07/04: Assembly 3-Year Term
School Board
Two three-year terms & One 1-year term
Joel W. Jackson filed 09/02/04: School Board - 3-Year Term
Dave Lieben filed 09/03/04: School Board - 3-Year Term
Keith Smith filed 09/07/04: School Board - 1 - year Term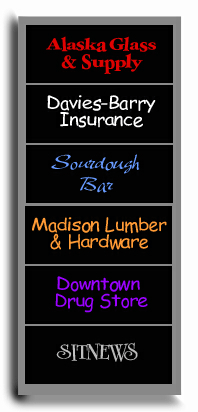 The June Allen Column
is made possible in part by these sponsors. Cick on each name to visit each web site.
June Allen Column

John Koel, Baker to Banker; An eccentric philanthropist John Koel was a well-known figure in Ketchikan from the day he arrived in 1901 to the day he died in 1946. The eldest son of German immigrants who settled in the Midwest, Koel was a 38-year-old confirmed bachelor, a slight man with high cheekbones, a small mustache and a tidy bankroll he had saved to finance his adventure in Alaska. A baker by trade and already a canny businessman when he alighted on the steamship dock, he quickly toured the new city of Ketchikan and almost immediately opened the OK Bakery on Dock Street, near the intersection with Main Street. - Read the rest of this story by June Allen...
Tuesday - September 07, 2004

Harold Gillam: A Tragic Final Flight; Ketchikan remembers the search

Ketchikan's 'Fish House Tessie'; She was proud of the nickname

Fairbanks: Golden Heart City; A story of its founding

Remembering 'Swede' Risland (1915-1991);The town's most memorable logger

Alaska's Deepwater Highway; A part of Alaska history

Ketchikan's American Legionnaires; Here's to 'the boys' of Post #3 -

Ketchikan's Cruise Ship Industry; A light-hearted look at its origins

Ketchikan's First City Players; Did you hear that applause?

A biography of Alaska's herring: A little fish of huge importance...

Read more stories by June Allen...

Copyright Applies - Please obtain written permission before reproducing photographs, features, columns, etc. that are published on SitNews.
---
Ketchikan Charter Commission

Website
Next Meeting
Sept. 10th, 6 pm City Council Chambers

Agenda &
Info Packet
Scheduled Meetings:
Sept. 17th, 6 pm regular meeting
Sept. 17th, 7 pm Public Hearing
September 24, 6 pm All meetings will be held in the City Council Chambers

Download the Draft Charter Petition
(201 pages, 944KB)
Ad & web pages provided by Sitnews as a Public Service...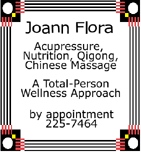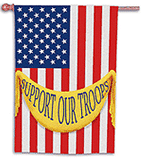 'Our Troops'