Friday
September 03, 2004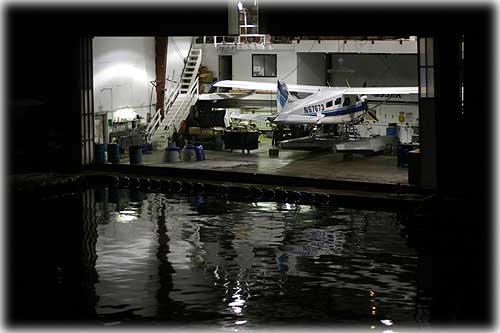 'Routine Maintenance'
Front Page Photo by Carl Thompson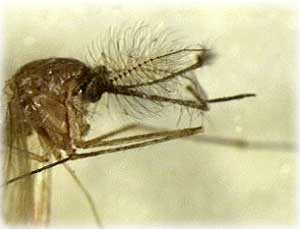 West Nile virus is spread by mosquitoes such as this one, Culex pipiens, also known as the northern house mosquito. -- Photo courtesy Iowa State University Entomology Department.
Alaska: Is Alaska the Next Stop for West Nile Virus? by Hector Douglas - As Alaska's mosquito season winds down with the onset of colder temperatures, state health officials are breathing a sigh of relief. After a summer of testing suspect birds for the presence of West Nile virus, none were found to be carrying the disease, which is transmitted in the wild through infected mosquitoes. But will the virus, which so far this year has killed more 28 people and sickened more than 1,000 people in the United States, ever make it to Alaska?
In less than six years West Nile virus has reached all the way across the United States from New York City to Los Angeles. West Nile virus, also known as WNV, has showed up in all but a few states. But can West Nile virus travel north to Alaska? The answer depends on the biology of birds and mosquitoes, says James Kruse, an entomologist with the U.S. Forest Service in Fairbanks. - Read more...
Friday - September 03, 2004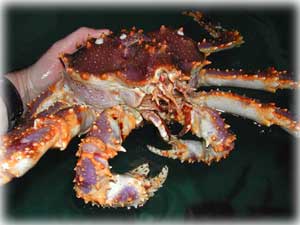 Blue King Crab, Paralithodes platypus
Photo by Scott Van Sant, courtesy NOAA
Alaska: Researchers Studying Blue King Crab - NOAA Fisheries researchers are busy in their Kodiak, Alaska laboratory becoming world experts on blue king crabs.
In 2003, the North Pacific Research Board funded the first of three years year of blue king crab research by Dr. Bradley Stevens, Sara Persselin, and Julie Matweyou at NOAA's Kodiak Fishery Research Center.
The project, titled "Essential Habitat for Blue King Crab: Development of Cultivation Techniques for Blue King Crab Larvae," began in July 2003. In October of 2003, 18 egg-bearing female blue king crabs (Lithodes platypus) were collected near the Pribilof Islands and transferred to holding tanks at the Kodiak Fishery Research Center. The female crabs were kept in chilled seawater at temperatures between 3 and 5 degrees Celsius until they began releasing larvae in March, 2004. The larvae were collected 24 hours after hatching and placed in glass beakers. By the following month, researchers had started experiments in blue king crab rearing. - More...
Friday - September 03, 2004
Viewpoints
Opinions/Letters

Cry Wolf by Elroy C. Edenshaw Jr. - 09/03/04


Open Letter: SAVING HOLE IN THE WALL AND KNUDSEN COVE HARBORS by Ken Bylund - 09/03/04


Where is the money for treatment centers? by Patti Fay Hickox- 09/03/04


Zell Miller on Zell Miller by Geri Brady Kelly- 09/03/04


Great job Ketchikan! by Neil Gray- 09/03/04


More Viewpoints/ Letters


Publish A Letter
September 2004
Click on the date to read the stories & to view photos published on that day...

| | | | | | | |
| --- | --- | --- | --- | --- | --- | --- |
| S | M | T | W | T | F | S |
| | 30 | 31 | 01 | 02 | 03 | 04 |
| 05 | 06 | 07 | 08 | 09 | 10 | 11 |
| 12 | 13 | 14 | 15 | 16 | 17 | 18 |
| 19 | 20 | 21 | 22 | 23 | 24 | 25 |
| 26 | 27 | 28 | 29 | 30 | | |
Ketchikan Regular Election
Tuesday - Oct. 5th
Filing for local office began August 10th and ends Sept. 7th at 5:00 pm.
City Election Info
City Council: Two 3-year seats & One 1-year seat
Tom Coyne filed 08/10/04: Council 3-Year Term
Lew Williams filed 08/16/04: Council 3-Year Term
George Lybrand filed 08/17/04: Council 1-Year Term
KGB Election Info
Assembly - Two three-year terms
Mike Painter filed 08/10/04: Assembly 3-Year Term
John A. Harrington filed 08/30/04: Assembly 3-Year Term
Glen Thompson filed 08/31/04: Assembly 3-Year Term
School Board - Two three-year terms & One 1-year term
Joel W. Jackson filed 09/02/04: School Board - 3-Year Term
Dave Lieben filed 09/3/04: School Board - 3-Year Term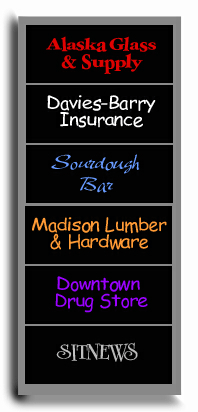 The June Allen Column
is made possible in part by these sponsors. Cick on each name to visit each web site.
June Allen Column

Harold Gillam: A Tragic Final Flight; Ketchikan remembers the search - Harold Gillam was among the boldest of those gutsy pioneer bush pilots who painted Alaska's early aviation history on an enormous canvas of rugged and unforgiving wilderness often cradled in the foulest, most extreme weather on the planet.
Oldtime pilots said that there were three kinds of Alaska weather: clear and unlimited, called Pan Am weather; then ordinary weather, and lastly, there was "Gillam weather." While more prudent pilots sat out the worst days, the quiet-loner Gillam would shake his head and say, "The weather's never as bad as it looks." - Read the rest of this story by June Allen...
Tuesday - August 17, 2004

Ketchikan's 'Fish House Tessie'; She was proud of the nickname

Fairbanks: Golden Heart City; A story of its founding

Remembering 'Swede' Risland (1915-1991);The town's most memorable logger

Alaska's Deepwater Highway; A part of Alaska history

Ketchikan's American Legionnaires; Here's to 'the boys' of Post #3 -

Ketchikan's Cruise Ship Industry; A light-hearted look at its origins

Ketchikan's First City Players; Did you hear that applause?

A biography of Alaska's herring: A little fish of huge importance...

Read more stories by June Allen...

Copyright Applies - Please obtain written permission before reproducing photographs, features, columns, etc. that are published on SitNews.
---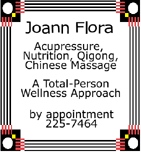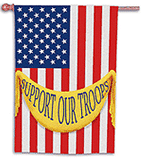 'Our Troops'
Ketchikan Charter Commission

Website

Download the Draft Charter Petition
(201 pages, 944KB)
Scheduled Meetings:
Sept. 3rd, 6 pm
Sept. 10th, 6 pm
Sept. 17th, 6 pm regular meeting
Sept. 17th, 7 pm Public Hearing
September 24, 6 pm All meetings will be held in the City Council Chambers
Ad & web pages provided by Sitnews as a Public Service...