Tuesday
August 31, 2004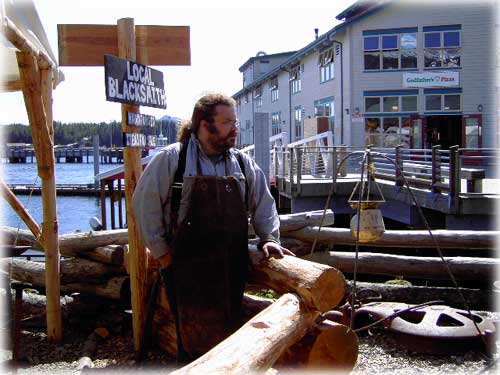 'Local Blacksmith'
Front Page Photo by Kathy Stack - More...
Viewpoints
Opinions/Letters

Sorry to the Pollster by Ken Lewis - 08/31/04


Town's most memorable logger by LeeAnn Heath - 08/31/04


RE: Squeezed out by L. Ably - 08/31/04


More Viewpoints/ Letters


Publish A Letter
Ketchikan
Tonight: Jaes H. Dickson, from the Institute of Biomedical and Life Sciences & Junterian Museum, University of Glasgow, Scotland, and Petra J. Mudie, from the Geological Survey of Canada, Dartmough, Nova Scotia, will present a free program tonight at the Southeast Alaska Discovery Center at 50 Main
St. from 7-8pm on the "Reconstruction of the last days of an Ancient man found in a North American Glacier" (Tatshenshini-Alsek Park, B.C.).
Alaska: EPA cancels registration for pesticide products containing diazinon - The Alaska Department of Environmental Conservation is informing Alaska consumers and retailers that EPA is canceling product registration for all residential pesticide products containing the active ingredient diazinon. Products with diazinon as the active ingredient will no longer be allowed to be sold in Alaska as of December 31, 2004. EPA will phase out some uses of diazinon in commercial agriculture over the next two to five years. - More...
Tuesday - August 31, 2004
Alaska: DHSS Seeks Innovative Proposals to Promote Healthy Marriages in Alaska; Welfare-to-work success brings Federal bonus funds to Alaska - The Alaska Department of Health and Social Services is seeking proposals from community and faith-based organizations for programs and services designed to support the formation and maintenance of married, two-parent families. Funding for the Healthy Marriages Initiative totals $500,000 and is offered in grants of up to $50,000 per organization. - More...
Tuesday - August 31, 2004
Ketchikan: UAS Ketchikan Business Training Needs Assessment Underway - The University of Alaska Southeast Ketchikan is surveying the business community in Southern Southeast Alaska. The purpose of the survey is to determine the current and future training needs of industries in the area. The results of the survey will assist UAS Ketchikan in offering relevant and necessary training to businesses and their employees.
The University of Alaska Southeast Ketchikan has a long history of offering vocational and technical training to the communities served. The University will continue to respond to community needs for trade, technical and vocational education.
The survey will be mailed to all local business the week of August 30th. Businesses are asked to respond by September 13. To request a survey or for more information, please contact Wendy Gierard at UAS Ketchikan. - More...
Tuesday - August 31, 2004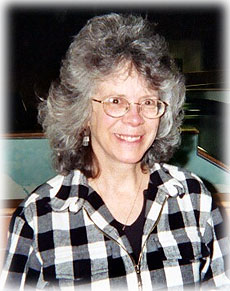 Odette Foster, traditional
dance caller and instructor...
Photo courtesy Carol Alley
Ketchikan: Contra and Squares Dances being revived in Ketchikan as "Sweet Second Saturdays" - The Contra and Squares Dances are being revived in Ketchikan as "Sweet Second Saturdays" every second Saturday at the United States Coast Guard's Upper Base Crow's Nest. The first dance of the season is the 11th of September, featuring live music by "Paddy's Leather Breeches", and a guest caller from Juneau, Odette Foster.
Odette Foster, traditional dance caller and instructor, who will be calling the opening dance for Ketchikan's new Second Saturday Dance series has called dances twice before in Ketchikan. She has been calling contra dances for sixteen years. Foster helped start Juneau's New England Barn Dance series in 1988 and the Thursday Night Contras dances in 1989. She's called dances in Anchorage for the Dancing Bears, and has also been a guest caller in Fairbanks, Sitka, Haines, Skagway, Whitehorse, Seattle and Portland. - More...
Tuesday - August 31, 2004
Columnists

Howard Dean: The First Americans are Last in Health Care - A serious health care crisis is gripping a segment of our nation at rates astronomically higher than any other group in America. According to a study conducted in 2003, American Indians and Alaska Natives face a diabetes rate which is 249 percent higher than average, a tuberculosis rate 533 percent higher than average and an alcoholism rate 627 percent higher than average. - More...
Tuesday - August 31, 2004

Dick Morris: Bush Bounce A'Building - After one of the weakest convention performances in memory, John Kerry has had the worst post-convention period since Walter Mondale found himself defending Geraldine Ferraro's husband's business accounting in 1984.
Even before the gavel pounded opening the 2004 Republican Convention, the Kerry bounce was over and President Bush entered the first day of his conclave with a lead in most national polls. (He's four ahead in the L.A. Times poll and three up in Rasmussen's daily tracking survey.) - More...
Tuesday - August 31, 2004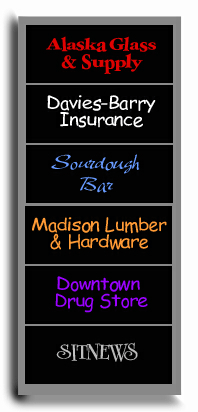 The June Allen Column
is made possible in part by these sponsors. Cick on each name to visit each web site.
June Allen Column

Harold Gillam: A Tragic Final Flight; Ketchikan remembers the search - Harold Gillam was among the boldest of those gutsy pioneer bush pilots who painted Alaska's early aviation history on an enormous canvas of rugged and unforgiving wilderness often cradled in the foulest, most extreme weather on the planet.
Oldtime pilots said that there were three kinds of Alaska weather: clear and unlimited, called Pan Am weather; then ordinary weather, and lastly, there was "Gillam weather." While more prudent pilots sat out the worst days, the quiet-loner Gillam would shake his head and say, "The weather's never as bad as it looks." - Read the rest of this story by June Allen...
Tuesday - August 17, 2004

Ketchikan's 'Fish House Tessie'; She was proud of the nickname

Fairbanks: Golden Heart City; A story of its founding

Remembering 'Swede' Risland (1915-1991);The town's most memorable logger

Alaska's Deepwater Highway; A part of Alaska history

Ketchikan's American Legionnaires; Here's to 'the boys' of Post #3 -

Ketchikan's Cruise Ship Industry; A light-hearted look at its origins

Ketchikan's First City Players; Did you hear that applause?

A biography of Alaska's herring: A little fish of huge importance...

Read more stories by June Allen...

Copyright Applies - Please obtain written permission before reproducing photographs, features, columns, etc. that are published on SitNews.
---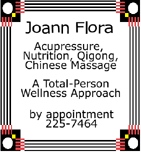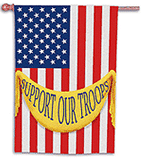 'Our Troops'
Ketchikan Charter Commission

Website

Download the Draft Charter Petition
(201 pages, 944KB)
Scheduled Meetings:
Sept. 3rd, 6 pm
Sept. 10th, 6 pm
Sept. 17th, 6 pm regular meeting
Sept. 17th, 7 pm Public Hearing
September 24, 6 pm All meetings will be held in the City Council Chambers
Ad & web pages provided by Sitnews as a Public Service...
Ketchikan Regular Election
Tuesday - Oct. 5th
Filing for local office began August 10th and ends Sept. 7th at 5:00 pm.
KGB Election Info
Assembly - Two three-year terms
Mike Painter filed 08/10/04: Assembly 3-Year Term
John A. Harrington filed 08/30/04: Assembly 3-Year Term
Glen Thompson filed 08/31/04: Assembly 3-Year Term
---
School Board - Two three-year terms & One 1-year term
---
City Election Info
City Council: Two 3-year seats & One 1-year seat
Tom Coyne filed 08/10/04: Council 3-Year Term
Lew Williams filed 08/16/04: Council 3-Year Term
George Lybrand filed 08/17/04: Council 1-Year Term
Provided as a public service by Sitnews...