Saturday
August 28, 2004
Ketchikan: Governor & First Lady Celebrate 50th Wedding Anniversary - Congratulations to Alaska's Governor and First Lady who are celebrating their 50th wedding anniversary today. On August 28, 1954, Frank and Nancy Murkowski were married in Ketchikan in a double ring ceremony. Almost fifty years later, members of the Murkowski family surprised the couple during the Fourth of July parade in Ketchikan by displaying Happy Anniversary signs. Photographer Carl Thompson was present to capture the moment. - More...
Saturday - August 28, 2004
Ketchikan: Listen to this KRBD story... The Ketchikan Fire Department has ordered McGraw Construction to correct what it calls major violations of state and city fire codes on the renovation of Schoenbar Middle School. As Deanna Garrison reports, McGraw says the company is working to comply with the codes and that most of the issues have already been addressed.
KRBD - Ketchikan Public Radio - linked Saturday am - August 28, 2004
POW: Listen to this KRBD story... Most of Prince of Wales Island was without long distance, internet and cell phone service for much of Friday. From Craig, Jay Marble reports.
KRBD - Ketchikan Public Radio - linked Saturday am - August 28, 2004
Ketchikan: Listen to this KRBD story... Beginning next week, the Ketchikan Gateway Borough will begin fining people who leave garbage exposed in the back of their pickup trucks. As Deanna Garrison reports, the new law affects vehicles parked in airport parking lots.
KRBD - Ketchikan Public Radio - linked Saturday am - August 28, 2004
Craig: Listen to this KRBD story... Craig may be one of the first cities to join a new program that allows communities to purchase halibut and sablefish individual quotes, or IFQs. Jay Marble has this report.
KRBD - Ketchikan Public Radio - linked Saturday am - August 28, 2004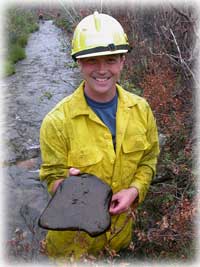 Mike Booz of the University of Alaska Anchorage's Environment and Natural Resources Institute holds up a rock with caddis fly larvae clinging to the underside.
Photo by Ned Rozell
Alaska: Fingerprinting the waterways of Alaska by Ned Rozell - With the blackened forest exploding in dust with every step, four scientists hiked to the muskeg bank of this clear-running stream off the Steese Highway with a goal of finding its personality and how fire might have altered it.
Was the stream rich with wriggling larvae that fish prefer, or was it home to fewer insects, possibly a sign of human disturbance? Was the creek flowing cold from the chilled groundwater that fed it, or had the charred tundra warmed it? How much nitrogen and other dissolved nutrients did the water hold?
After a few weeks of hard work in hip boots and time in the lab, the scientists would know a lot more about Cripple Creek, one of 11 Cripple Creeks in Alaska. This one, flowing into the Chatanika River, is part of a larger study on the Tanana River watershed, where scientists are trying to take the chemical, biological, and physical fingerprint of 50 streams to use in future comparisons.
The project is part of a national program of stream monitoring in the western United States. Doug Dasher of the Alaska Department of Environmental Conservation's Water Quality Division was supervising the sampling of the Tanana watershed streams, hoping to check out 50 of 200 potential waterways in the summers of 2004 and 2005. An active fire season in the Interior had added chaos to Dasher's schedule, but his stream specialists had by mid-August visited creeks from Manley to the Alaska Range and sampled 28 by the time they reached Cripple Creek. Active fires and dried-up creek beds added to the challenge of the sampling teams, which included students from UAA and UAF. - More...
Saturday - August 28, 2004
Ketchikan Regular Election
Tuesday - Oct. 5th
Filing for local office began August 10th and ends Sept. 7th at 5:00 pm.
City Election Information

City Council: Two 3-year seats & One 1-year seat

Tom Coyne filed 08/10/04: Council 3-Year Term
Lew Williams filed 08/16/04: Council 3-Year Term
George Lybrand filed 08/17/04: Council 1-Year Term

KGB Election Information

Assembly - 2 three-year terms

Mike Painter filed 08/10/04: Assembly 3-Year Term

School Board - Two three-year terms & One 1-year term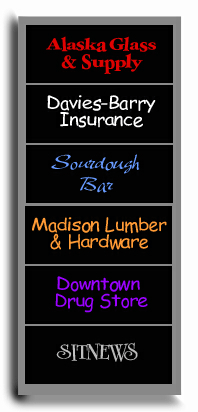 The June Allen Column
is made possible in part by these sponsors. Cick on each name to visit each web site.
June Allen Column

Harold Gillam: A Tragic Final Flight; Ketchikan remembers the search - Harold Gillam was among the boldest of those gutsy pioneer bush pilots who painted Alaska's early aviation history on an enormous canvas of rugged and unforgiving wilderness often cradled in the foulest, most extreme weather on the planet.
Oldtime pilots said that there were three kinds of Alaska weather: clear and unlimited, called Pan Am weather; then ordinary weather, and lastly, there was "Gillam weather." While more prudent pilots sat out the worst days, the quiet-loner Gillam would shake his head and say, "The weather's never as bad as it looks." - Read the rest of this story by June Allen...
Tuesday - August 17, 2004

Ketchikan's 'Fish House Tessie'; She was proud of the nickname

Fairbanks: Golden Heart City; A story of its founding

Remembering 'Swede' Risland (1915-1991);The town's most memorable logger

Alaska's Deepwater Highway; A part of Alaska history

Ketchikan's American Legionnaires; Here's to 'the boys' of Post #3 -

Ketchikan's Cruise Ship Industry; A light-hearted look at its origins

Ketchikan's First City Players; Did you hear that applause?

A biography of Alaska's herring: A little fish of huge importance...

Read more stories by June Allen...

Copyright Applies - Please obtain written permission before reproducing photographs, features, columns, etc. that are published on SitNews.
---
Ketchikan Charter Commission

Website

Download the Draft Charter Petition
(201 pages, 944KB)
Public Hearing noon Saturday, August 28th in the City Council Chambers.
Ad & web pages provided by Sitnews as a Public Service...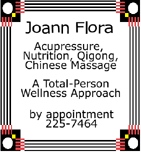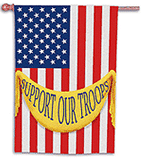 'Our Troops'