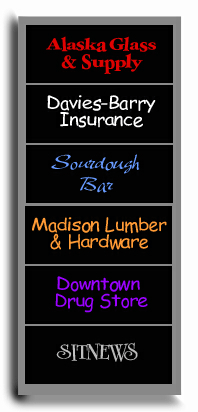 The June Allen Column
is made possible in part by these sponsors. Cick on each name to visit each web site.
June Allen Column

Ketchikan's 'Fish House Tessie'; She was proud of the nickname - Not everyone in town knew "Fish House" Tessie, but those who met her never forgot her! During her many years working in Ketchikan's waterfront cold storages, Tessie learned every bit as much about North Pacific fish - from dock to distributor to dinner plate - as any captain of the fisheries industry! She could pitch in at the slime line or stand in for the boss on occasion. - Read the rest of this story by June Allen...
Wednesday - August 04, 2004

Fairbanks: Golden Heart City; A story of its founding

Remembering 'Swede' Risland (1915-1991);The town's most memorable logger

Alaska's Deepwater Highway; A part of Alaska history

Ketchikan's American Legionnaires; Here's to 'the boys' of Post #3 -

Ketchikan's Cruise Ship Industry; A light-hearted look at its origins

Ketchikan's First City Players; Did you hear that applause?

A biography of Alaska's herring: A little fish of huge importance...

Read more stories by June Allen...

Copyright Applies - Please obtain written permission before reproducing photographs, features, columns, etc. that are published on SitNews.