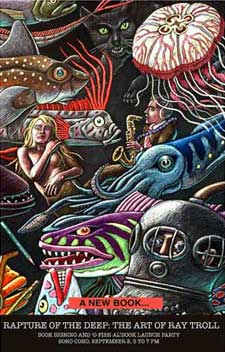 New Book Released
by Local Artist Ray Troll
Viewpoints
Opinions/Letters

Leask Lake's Namesake by June Allen - 08/27/04


For those of us old enough to remember the Sixties by Mark Neckameyer - 08/27/04


More Viewpoints/ Letters


Publish A Letter

Front Page Archives
Ketchikan: New Book Released by Local Artist Ray Troll - For more than two decades, Ketchikan artist Ray Troll has been luring, hooking, and landing fans around the world with his zany, irreverent, and often surreal art. - More...
Friday - August 27, 2004
Alaska: Finalists for 2005 Alaska Teacher of the Year Named - Alaska Commissioner of Education & Early Development Roger Sampson has named five finalists for the 2005 Alaska Teacher of the Year honor. - More...
Friday - August 27, 2004
Alaska: BP Exploration, State Reach Tax Settlement; State to receive $18 million - BP Exploration in Alaska will pay the state $18 million under an agreement to settle two years' worth of disputed production taxes, the two sides announced. The payment is expected to be made Thursday. - More...
Friday - August 27, 2004
Alaska: Support for Faith-Based Agencies Announced - Governor Frank Murkowski on Wednesday announced the creation of the Alaska Office of Faith-Based and Community Initiatives to work with grassroots community and faith-based organizations to deliver assistance to Alaskans in need.
"We want to focus on helping people to help themselves. We will now build on the work of the Faith-Based and Community Initiatives Task Force and create a permanent state office to manage this important effort," Murkowski said. - More...
Friday - August 27, 2004
Columnist

Michael Reagan: A New Low in Democrat Hypocrisy - This latest bit of Hollywood show business - sending former Senator and triple amputee Vietnam vet Max Cleland in his wheelchair to Texas to hand deliver a letter to President Bush demanding that he disavow the message of the Swift Boat Veterans for Truth and order them to stop their advertising - is a new low in Democrat hypocrisy.
To begin with, President Bush doesn't have the power to stop the Swifties from running advertisements, a fact demonstrated by the veterans themselves when they said that they would not stop their campaign to show American voters John Kerry's true nature even if ordered to do so by the President of the United States. - More...
Friday - August 27, 2004