Friday
August 20, 2004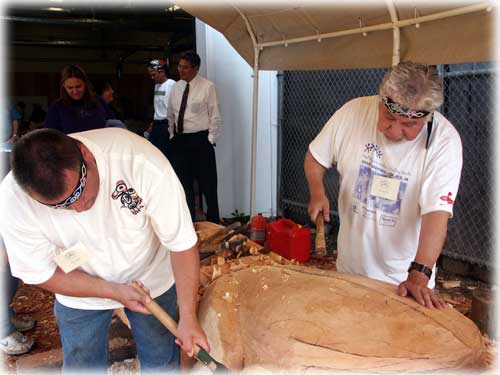 'Gathering of Carvers'
Fred Lauth Sr. from Seattle and Stan Marsden from Craig...
Front Page Photo by Dick Kauffman... More photos
Viewpoints
Opinions/Letters

More public trash cans by Leila Kheiry - 08/20/04


RE: A view from 'mainland' Alaska by Dave Kiffer - 08/20/04


A view from 'mainland' Alaska by June Allen - 08/20/04


More Viewpoints/ Letters


Publish A Letter
August 2004
Click on the date to read the stories & to view photos published on that day...

| | | | | | | |
| --- | --- | --- | --- | --- | --- | --- |
| S | M | T | W | T | F | S |
| 01 | 02 | 03 | 04 | 05 | 06 | 07 |
| 08 | 09 | 10 | 11 | 12 | 13 | 14 |
| 15 | 16 | 17 | 18 | 19 | 20 | 21 |
| 22 | 23 | 24 | 25 | 26 | 27 | 28 |
| 29 | 30 | 31 | | | | |
Ketchikan: IFA Building Second Ferry - Proposals are being solicited by the Inter-Island Ferry Authority for engineering, construction, testing and delivery of the MV Stikine, a 197 foot passenger/vehicle ferry that will be utilized for year-round service in Southeast Alaska. It was announced Thursday by IFA board chair Dennis Watson, who is also mayor of Craig. - More...
Friday - August 20, 2004
Ketchikan: Rescuers save missing hunter - A Coast Guard rescue helicopter crew from Air Station Sitka located and rescued a lost hunter Wednesday afternoon north of Klawock on Prince of Wales Island in Southeast Alaska after teaming with the Alaska State Troopers (AST), U.S. Forest Service officials (USFS) and volunteers. - More...
Friday - August 20, 2004
Alaska: St. Paul Island Native Corporation Allowed to Continue Federal Work - The General Service Administration has agreed to allow Tanadgusix Corp., the Native corporation for St. Paul Island also known as TDX, and an Hawaiian shipyard to continue to work for the U.S. government. - More...
Friday - August 20, 2004
Ketchikan: Listen to this story... House District One candidates sounded off on the State fiscal gap during a candidate forum this week on KRBD. As Deanna Garrison reports, the candidates discussed a number of fiscal solutions, including a state sales and income tax, a head tax on cruise ship passengers, and use of permanent fund earnings.
KRBD - Ketchikan Public Radio - linked August 20, 2004
Ketchikan: Listen to this story... The State of Alaska has pulled off the auction block two Ketchikan harbors. As Deanna Garrison reports, the State decided to put off the sale of the Hole-In-The Wall and Knudson Cove harbors after harbor users requested time to come up with alternatives for keeping the facilities in public ownership.
KRBD - Ketchikan Public Radio - linked August 20, 2004 - Listen to More KRBD stories...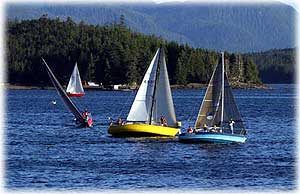 KORC XXIV races last week...
Photo by Quie Emery
Ketchikan: Wednesday Night Sailboat Racing.. Fun is the Goal & Sportsmanship is the Rule - Part 3 by Mary Lynn Dahl - Sailing is different from most other sports as it allows sailors to compete well into their retirement years. It is a sport requiring mental skills as well as physical skills, giving an older, more experienced sailor an advantageous edge to use in every race. In addition, sailing as a sport is different in another way; it requires competitors to know and follow a complex set of rules of the game that rely heavily on honor and integrity, the keys to good sportsmanship.
The "Racing Rules of Sailing" which most racing clubs in the US use, are those published and promoted by US Sailing. Racing sailors spend quite a bit of time learning these rules and using them to design a racing program that is competitive and fair.
The most fundamental rules of sailing are classified into 5 categories: 1. Safety, 2. Fair Sailing, 3. Acceptance of the Rules, 4. Decisions to Race and 5. Drugs (an anti-doping rule). - More...
Friday - August 20, 2004
Ketchikan: New Group Hosts Hike to Leask Lakes; Kicks Off Collaborative Effort to Maximize Ketchikan's Value from Use of Backyard Treasure - The new Ketchikan-based Leask Users Coalition is leading a hike to Leask Lakes, which is just a 20-minute drive and short hike from Ketchikan. The hike, to familiarize folks with the area, is scheduled for Saturday, August 20th.
Leask Lakes is a little gem hiding is our own backyard. It is close enough that you get there in a short time, but far enough away that you feel you have totally stepped out from the hustle and bustle of it all. This hike is a great chance to get a taste of the place, said Bill Rotecki, a long time Ketchikan resident, carpenter and Leask Users Coalition co-chairman.
The Alaska Mental Health Trust, mandated to maximize profit from their lands, has plans to log Leask Lakes and export the logs in the round beginning next year. - More...
Friday - August 20, 2004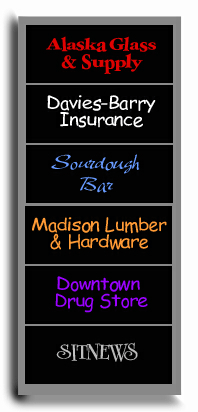 The June Allen Column
is made possible in part by these sponsors. Cick on each name to visit each web site.
June Allen Column

Harold Gillam: A Tragic Final Flight; Ketchikan remembers the search - Harold Gillam was among the boldest of those gutsy pioneer bush pilots who painted Alaska's early aviation history on an enormous canvas of rugged and unforgiving wilderness often cradled in the foulest, most extreme weather on the planet.
Oldtime pilots said that there were three kinds of Alaska weather: clear and unlimited, called Pan Am weather; then ordinary weather, and lastly, there was "Gillam weather." While more prudent pilots sat out the worst days, the quiet-loner Gillam would shake his head and say, "The weather's never as bad as it looks."
There were, of course, times the weather was indeed as bad as it looked and Gillam had his share of heart-stopping takeoffs, hairy landings, and more than a few minor accidents and serious crashes as well. But it was said that he had cat's eyes and could fly in the winter darkness as well as the daylight. Early in his career the lucky pilot had been given the nickname "Thrill 'em, spill 'em, no kill 'em Gillam." - Read the rest of this story by June Allen...
Tuesday - August 17, 2004

Ketchikan's 'Fish House Tessie'; She was proud of the nickname

Fairbanks: Golden Heart City; A story of its founding

Remembering 'Swede' Risland (1915-1991);The town's most memorable logger

Alaska's Deepwater Highway; A part of Alaska history

Ketchikan's American Legionnaires; Here's to 'the boys' of Post #3 -

Ketchikan's Cruise Ship Industry; A light-hearted look at its origins

Ketchikan's First City Players; Did you hear that applause?

A biography of Alaska's herring: A little fish of huge importance...

Read more stories by June Allen...

Copyright Applies - Please obtain written permission before reproducing photographs, features, columns, etc. that are published on SitNews.
---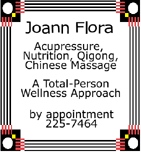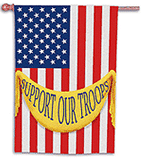 'Our Troops'
Ketchikan Charter Commission
Meeting Agendas & Information Packets

Download the Draft Charter Petition (201 pages, 944KB)
The Charter Commission will be holding Public Hearings on August 13th at 7 pm, August 20th at 7 pm and August 28th at noon in the City Council Chambers. We'd certainly appreciate hearing from the residents of Ketchikan.
Ad & web pages provided by Sitnews as a Public Service...