New Group Hosts Hike to Leask Lakes; Kicks Off Collaborative Effort to Maximize Ketchikan's Value from Use of Backyard Treasure
August 20, 2004
Friday

Ketchikan, Alaska - The new Ketchikan-based Leask Users Coalition is leading a hike to Leask Lakes, which is just a 20-minute drive and short hike from Ketchikan. The hike, to familiarize folks with the area, is scheduled for Saturday, August 20th.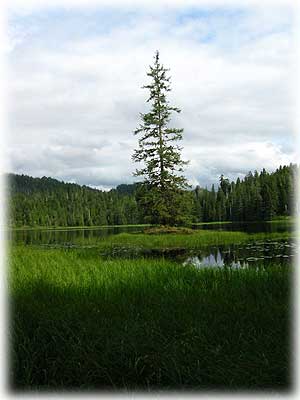 Hike to Leask Lakes offers scenic views...
Photo by Mike Sallee
Leask Lakes is a little gem hiding is our own backyard. It is close enough that you get there in a short time, but far enough away that you feel you have totally stepped out from the hustle and bustle of it all. This hike is a great chance to get a taste of the place, said Bill Rotecki, a long time Ketchikan resident, carpenter and Leask Users Coalition co-chairman.
The Alaska Mental Health Trust, mandated to maximize profit from their lands, has plans to log Leask Lakes and export the logs in the round beginning next year.
Efforts to safeguard portions of Leask Lakes while selectively developing timber, recreation and other resources have a long history of community support. Today's Leask Users Coalition is a group of Ketchikan residents representing a host of interests including recreation, Native culture, tourism, sport fishing, value-added timber manufacturing, conservation and hunting.
The Leask Users Coalition is working toward a win-win situation where the community has access to the parcel and the Mental Health Trust gets its needed revenues. commented Rotecki.
The Alaska Mental Health Trust and the Leask Users Coalition have agreed that Ketchikan can benefit from more than timber plans that would cut and export the wood in the Leask Lakes area. In the short time since the Leask Users Coalition has been around, the groups have worked together to develop funding sources and management plans that highlight traditional forest uses for the public, including timber harvesting, fish and wildlife habitat, watershed benefits and recreational opportunities.
Rotecki said the fate of Leask Lakes has been up in the air for over 20 years. Now working together, the there seems to be a real chance to find solutions. People in Ketchikan can join the hike to see how awesome Leask Lakes is, and can join in this win-win prospect, said Rotecki.
According to the Leask Users Coalition, the Leask Lakes parcel, a nearly 5,000 acre area of temperate rainforest, muskeg, lowland lakes and meadows, is packed with untapped potential for use by Ketchikan businesses and residents. The area is rich in fish and wildlife for hunting, fishing, trapping, viewing and subsistence. Leask Lakes can be the perfect link for a long-distance, cabin-to-cabin hiking circuit between Moser Bay, Wolf Lakes and the Naha Drainage. The unique open meadows around the lake make for a pleasant hiking or skiing, and motorized access can be possible. Leask Cove, on George Inlet, contains archeological resources, and offers tremendous draw as a potential tourist destination. Pockets of valuable timber may be selectively logged to supply local mills.
Hikers should meet at Lake Harriet Hunt at 9:00 a.m on Saturday.
Source of News & Photograph:
Ketchikan-based Leask Users Coalition


E-mail your news & photos to editor@sitnews.org


Post a Comment View Comments
Submit an Opinion - Letter

Sitnews
Stories In The News
Ketchikan, Alaska