Tuesday
August 17, 2004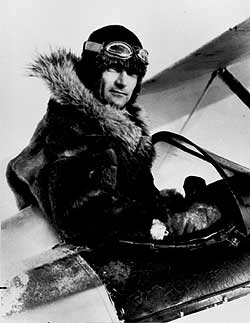 Harold Gillam in the cockpit of his
Ski-equipped Waco
Donor: Don Dawson...
Photo courtesy Tongass Historical Society
Harold Gillam:
A Tragic Final Flight
Ketchikan remembers the search
By June Allen
Harold Gillam was among the boldest of those gutsy pioneer bush pilots who painted Alaska's early aviation history on an enormous canvas of rugged and unforgiving wilderness often cradled in the foulest, most extreme weather on the planet.
Oldtime pilots said that there were three kinds of Alaska weather: clear and unlimited, called Pan Am weather; then ordinary weather, and lastly, there was "Gillam weather." While more prudent pilots sat out the worst days, the quiet-loner Gillam would shake his head and say, "The weather's never as bad as it looks."
There were, of course, times the weather was indeed as bad as it looked and Gillam had his share of heart-stopping takeoffs, hairy landings, and more than a few minor accidents and serious crashes as well. But it was said that he had cat's eyes and could fly in the winter darkness as well as the daylight. Early in his career the lucky pilot had been given the nickname "Thrill 'em, spill 'em, no kill 'em Gillam." - Read the rest of this story by June Allen...
Tuesday - August 17, 2004
Viewpoints
Opinions/Letters

Squeezed out by empire builders by Tom LeCompte - 08/17/04


Congratulations by Neil Gray - 08/17/04


Customer Service by Karen Ramsey - 08/17/04


More Viewpoints/ Letters


Publish A Letter
August 2004
Click on the date to read the stories & to view photos published on that day...

| | | | | | | |
| --- | --- | --- | --- | --- | --- | --- |
| S | M | T | W | T | F | S |
| 01 | 02 | 03 | 04 | 05 | 06 | 07 |
| 08 | 09 | 10 | 11 | 12 | 13 | 14 |
| 15 | 16 | 17 | 18 | 19 | 20 | 21 |
| 22 | 23 | 24 | 25 | 26 | 27 | 28 |
| 29 | 30 | 31 | | | | |
Alaska: Independent Experts Review Essential Fish Habitat in Alaska - Six independent experts from Canada, Australia and Norway have completed a report to the National Oceanic and Atmospheric Administration's National Marine Fisheries Service (NOAA Fisheries) on the science that underlies some of the agency's recent work on essential fish habitat in Alaska. The review examined the agency's draft analysis that concluded commercial fishing in Alaska has no more than minimal and temporary adverse effects on sea floor habitats.
"This peer review was necessary to ensure our final analysis is based upon the best available scientific information," said Jim Balsiger, NOAA Fisheries' Alaska Regional Administrator.
The review concluded that the model developed by the agency's Alaska Fisheries Science Center was a reasonable approach to determine the effects of fishing on ocean habitat features, and recommended a number of improvements to the way agency scientists assessed the influence of habitat disturbance on fish stocks. Overall, the reviewers thought fishery managers should be more cautious before concluding that fishing does not harm essential habitats. - More...
Tuesday - August 17, 2004

Listen to this KRBD story... The U.S. Forest Service on Monday released a record of decision for a timber sale on Gravina Island. The island is the home of Ketchikan International Airport. It is also home to one of three main sawmills still operating in Southeast Alaska and is a popular subsistence area for native tribes. Deanna Garrison reports.
KRBD - Ketchikan Public Radio - linked August 17, 2004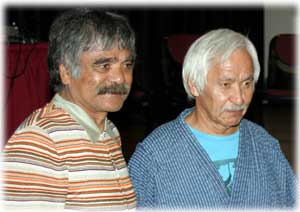 Master Carvers Fujito Takeki from Japan and Nathan Jackson of Ketchikan...
Photo by Carl Thompson

Ketchikan: 'Warming of the Hands' - Among the many people enjoying the food, music and social festivities of the "Warming of the Hands" dinner at the Ted Ferry Civic Center Monday evening were Master Carvers Nathan Jackson of Ketchikan and Fujito Takeki from Japan. One purpose of the dinner was to welcome the carvers. - More...
Tuesday - August 17, 2004
Columnist

Howard Dean: The Forgotten Crisis - As everyone who reads this column knows, I strongly opposed the war in Iraq because I did not believe the president was being truthful with us about the potential dangers Saddam Hussein posed to our safety. I also criticized the president for not using institutions such as the United Nations in a cooperative way to help accomplish a goal most Americans shared, which was to limit the destructive role Saddam played in the region and in his own country. - More...
Tuesday - August 17, 2004
---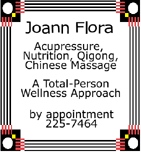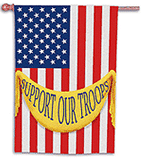 'Our Troops'
Ketchikan Charter Commission
Meeting Agendas & Information Packets

Download the Draft Charter Petition (201 pages, 944KB)
The Charter Commission will be holding Public Hearings on August 13th at 7 pm, August 20th at 7 pm and August 28th at noon in the City Council Chambers. We'd certainly appreciate hearing from the residents of Ketchikan.
Web pages provided by Sitnews as a Public Service...
Free Lance Writers Wanted
SitNews pays for local human interest & news stories. For more information or to discuss your story idea(s), e-mail or call 247-8590.
editor@sitnews.org