Ribbon-Cutting for Ketchikan's 3rd Avenue Extension Announced
September 10, 2004
Friday

Ketchikan, Alaska - The Alaska Department of Transportation and Public Facilities announced Thursday that Governor Frank Murkowski will officially dedicate the 3rd Avenue extension in Ketchikan on Wednesday, September 15th at 10 a.m. The ribbon-cutting ceremony will take place at about midpoint on the project. The public is invited to attend.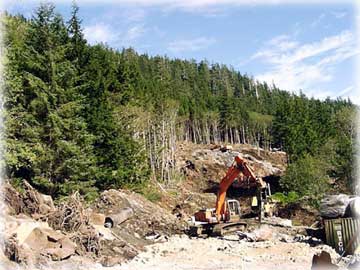 The appearance of the Third Avenue Extension Project two years ago.... Photo date September 17, 2002
File photo by Dick Kauffman
The $16.6 million project connects 3rd Avenue between Washington Street and Schoenbar Road in Bear Valley. It is approximately one mile long, located directly above Ketchikan's 2nd Avenue residential area in steep, forested terrain. The project includes the innovative use of roller compacted concrete to construct the difficult central segment of the project. The RCC embankment is approximately 90 feet high at its maximum, and supports approximately 1,000 feet of the new roadway. RCC technology has a long history in dam construction, but fairly limited use in highway construction. It's use on the Ketchikan project is a first for Alaska.
When open, the 3rd Avenue "bypass" will provide a long-sought second route for traffic from Ketchikan's west end to the downtown area, via Bear Valley.
Source of News:
Office of the Governor
Web Site

E-mail your news & photos to editor@sitnews.org


Post a Comment View Comments
Submit an Opinion - Letter

Sitnews
Stories In The News
Ketchikan, Alaska